The Historical Antiques of Hertfordshire

by Sir Henry Chauncy
Published 1700 and reprinted in 1826 and 1975
Full text of Volume 2 (1826 edition) on Google Books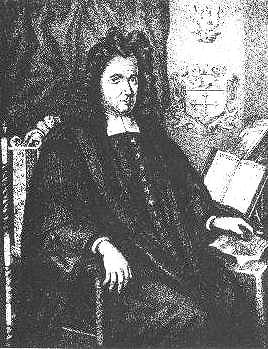 Sir Henry Chauncy
Only 500 copies of the first edition were printed in 1700 for "Ben Griffin in the Great Old Bailey, Sam. Keeble at the Turks-head in Fleet Street, Dan Browne at the Black Swan and Bible without Temple-Bar, Dan. Midwinter and Theo. Leigh at the Rose and Crown in St. Pauls Church-yard." It contains a frontispiece portrait of Sir Henry Chauncy, a folding map of Hertfordshire by Herman Moll and a number of double page plates of country seats, etc.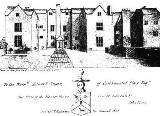 BARKHAMSTED MANNOR
A second edition was produced by John Morse Mullinger, of Bishops Stortford in 1826. It was in two volumes and included a folding map and 45 other plates. This was reprinted in 1975 and is unfortunately now out of print.
Volume 1 contains information on the hundreds of Braughing, Edwintree, Hertford, Odsey.
Volume 2 contains information on the hundreds of Broadwater, Cashio, Dacorum and Hitchin..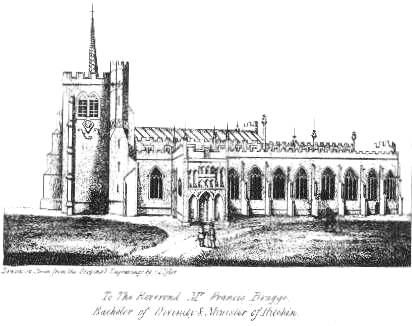 St Mary's Hitchin
The fact that almost all the engravings in this book are of county houses, with the name and arms of the owner gives a clue to the nature of the work. Only the very well-to-do would be able to buy this book and it is not surprising that it contains extensive information on the history of manor houses, their owners and occupiers, their family trees and their memorials in the churches. As such it is a valuable source of information to people researching ancestors who were "To the Manor Born". Many of the sources Chauncy used will no longer be available - but one must bear in mind that information collected from the owners of the properties are likely to give an overly rosy view of their ancestors. There is very little relating to the everyday life of the working man,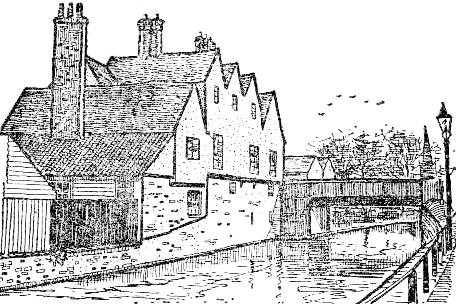 Lombard House, where Chauncy, the Hertfordshire historian, lived.
from AA's The Illustrated Road Book of England & Wales, 1965 edition
In the great, and by now classic, history of Sir Henry Chauncy, printed in 1700, you have a similar feeling for the slow, ample beauty and goodness of the earth. True, he was more of a scholar than John Norden. He delighted "in the study of old ledger-books, the ransacking of mouldy parchments, and examining over-worn and blind records." But there is nothing dry-as-dust about this lawyer's pen-portraits of the nobility and gentry, the squires and yeomen, the freeholders, copy holders and small-holders of Hertfordshire. They are drawn from life. His happiest recreation was to dine out with the lords and ladies of the manors of whom he was writing, inspecting their picture-galleries, tranquillise his pre-occupied mind with their chamber­ music, and note the improvements in their gardens, home farms and estates. Nor would this gentleman-of-the-long-robe despise the rough and tumble sports and pastimes of the common people. With a quick and approving eye, he watches them at their bull-baitings, bear-baitings and cock-fightings, their wrestling matches upon village greens, their Morris dances after sermon of a Sunday, their carols and glees and roundelays. He takes pains to commemorate jocular tenures, ancient customs, gleaners' rights, common rights, bridle and church and field paths, lest such hard-won privileges should be lost in the lapse of unregarding time.
A polite bow to our predecessors by Reginald Hine.
Sir Henry Chauncy lived at Ardeley Bury
Locating Books
At the time this page was last updated second hand copies of the 1826 and 1975 reprints could be ordered online
.
| | | |
| --- | --- | --- |
| December 2007 | | Page uppdated |
| December 2009 | | link to comparison page added |
| September 2012 | | Link to Ardeley Bury added |