Map of the County of Hertford
from an actual Survey by
A. Bryant
Originally published in 1822
Reprint: Hertfordshire Record Society, 2003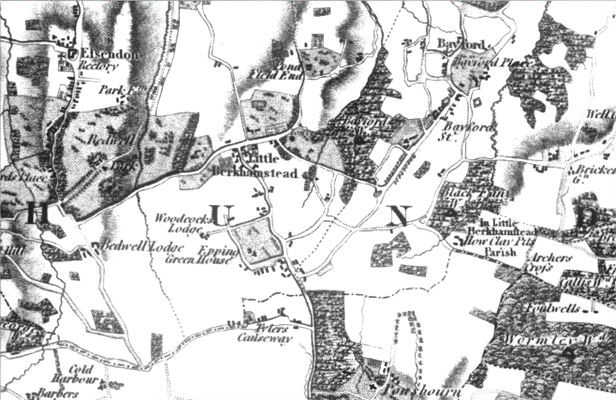 Detail showing Little Berkhamstead
For the parish of Sandridge the map shows: Sandridge, Bernards Heath, Sandridge Lodge [Marshalswick], Wheelers, Evans Farm, Nash's Farm, Caps Farm, Woodcock Hill, Fearfulls, Hammings Farm, Broxhill, Tower Hill Farm, Colemans Green, Samuels Farm, Chalkdell Farm, Lower Beech Hyde, Upper Beech Hyde, No Mans Land Farm, Hill End Farm, Pound Farm, Sandridge Bury, Cheapside Farm, Greens Farm.
~~~~~~~~~~~~~~~~~~~~~~~
This modern reprint is a valuable tool for anyone interested in old Hertfordshire. Bryant surveyed the county in 1820-21 and the map (on four sheets) is at the scale of 1½ inches to the mile. and is of excellent quality. This reproduction comes with a quick reference list to the main towns and villages in the county on the folder. Even more useful is the index which lists all the names one the map, including the many farms identified, as can be seen from the above list of names for Sandridge. The map is available from the Hertfordshire Record Society for £7.50 plus post and packing and is strongly recommended.