The Gentleman's Magazine

1731-1922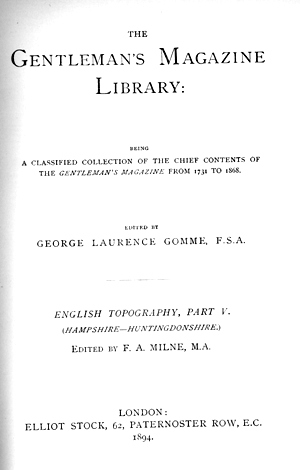 This magazine regularly included information on a range of topics, including topography, and also birth, marriage and death notices relating to the upper echelons of society.
George Laurence Gomme published a classified collection under the title The Gentleman's Magazine Library which reprints its "chief contents" between 1731 and 1868.
The fact that these contributions to the old Gentleman's Magazine on topographical subjects were written by people personally acquainted with the places they were describing gives a charm and value to them which otherwise they would not possess. Nowhere else are to be found notes on parish history of so peculiar an interest as these. They depict not only a state of things which, alas ! has to some extent disappeared, but which to a still greater extent has not been recorded elsewhere, and the future historian of these localities, as well as the visitor who cares for the history of places he is staying at, will do well to consult these collections.
Hertfordshire is included in English Topography, Part V, (Hampshire - Huntingdonshire) edited by F. A. Milne and published in 1894. There are extract relating to Ayot St Lawrence, Barnet, Berkhampstead (Berkhamsted), Bishops Stortford. Brent Pelham, Broxbourne, Cheshunt, Clothall, Flamstead, Hatfield, Hemel Hempstead, Hertingfordbury, Hinxworth, Hunsdon, Knebworth, Market Street (Markyate), Paul's Walden, Ridge, St Albans, Sawbridgeworth, Therfield, Thorley, Thundridge, Waltham Cross, Westmill, and Wheathampstead. This is available on a CD published by archiveCDbooks.
Of more use for dates before 1800 is Hertfordshire 1731-1800 as recorded in the Gentleman's Magazine which provides far more comprehensive cover, including the birth, marriage, death and bankruptcy notices.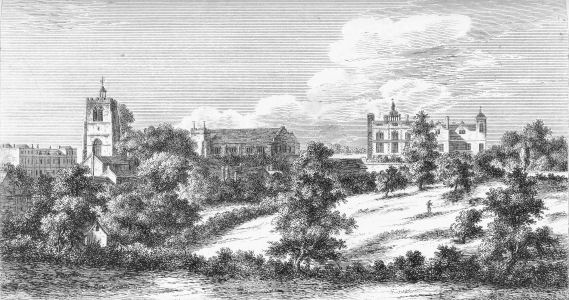 Hatfield - Gentlemans Magazine, April 1817
If you can add to the information given above tell me.