TRING
Death of Mrs. Batchelor. - Mrs. J. Batchelor only survived her husband week. After a long illness she passed away at advanced age on Saturday evening at her residence, Hastoe Villa. The funeral was on Wednesday at Akeman Street burying ground.
The Troops. - The training of the men of the 21st Division is being speeded up. Some of the companies are devoting most their time to a very thorough course of theoretical and practical exercised in long route marches. The men are exercised in long route marches. The men are entering with much spirit into this arduous training, which is preparing them for active service in the field.
Foreign Missions. - Collections for the Baptist Missionary Society were made at High Street Church on Sunday. The deputation this year was the Rev. Robert Glennie, one of the most experienced missioners of the Society. He gave much interesting and encouraging information as to the progress of the Society's work in the as to the progress of the Society's work in the some years. The usual missionary meeting had to be dispensed with under the exceptional circumstances this year.
The Organist at the Parish Church. - Mr. Lionel Thornett, who has been organist and choirmaster at the Parish Church since Whitsuntide. 1912, has left the town to take up work at Bingley, in Yorkshire, where he has been appointed organist at the Parish Church. Mr. Thornett is succeeded at Tring bv Mr. A. H. Baker, F.R.C.O., who takes up his duties on Sunday next. He comes with the recommendation of several prominent ecclesiastics and men of leading in the music world. Mr. Thornett's friends will wish for him and his family much success and happiness in their Yorkshire home, and will extend a generous and hearty welcome to his successor at Tring.
First Aid. - In connection with the very successful classes recently held in this subject. 14 presented themselves for the St. John. Ambulance Association's examination for the First Aid certificates, of whom the following passed:- Rev. Q. Beech, Messrs. C. Bushell, P. C. Godfrey, H. V. Maylin, G. Putnam, F. Reeve, D. Ewers, P. Bull, A. Brown, G. Langridge, H. White, H. A. Mullett and P. Woodley. A meeting of certified men will be held at the Cattle Market, Brook Street, on Tuesday next, the 26th inst., at 8.15 p.m., to consider the question of forming an Ambulance Division for this district. All men holding the First Aid certificate of the St John Ambulance Association are particularly requested to attend. Any further information can be obtained from Mr. S. S. Gettings
The Y.M.C.A. and the Soldiers. - The Y.M.C.A. did splendid work in providing recreation tents for the men while they were in camp at Halton. and their efforts were gratefully appreciated. Now that the soldiers are in billets the Association is still following them, and trying to be helpful to them. Mr. Arthur H. Johnson, the divisional secretary, and Mr. J. W. N. Orton have taken up their residence in Tring, and from the Y.M.C.A. rooms are directing operations with the object of providing rational and healthy recreation for the men and helping them physically, mentally and morally. On Monday evening there was crowded audience at the Museum annexe in Akeman-street, in response to an invitation to a conversazione scattered broadcast amongst the troops. The proceedings were varied, and included camp sing-song; a concert and dramatic sketches by the Warwick Repertoire Company from London; amusing competitions, and refreshments served by a band of lady helpers. The whole affair was a huge success - the men expressively describing it as "champion." We understand that this is one of a series of entertainments. We can promise the promoters a full house next time and include a camp promise the promoters full house next time.
The Church Army. - The annual collections for the work of the Church Army were made at the Parish Church on Sunday. The preacher was the Rev E. Rainbow, organising secretary. In the morning he based his remarks on "In the name of Jesus Christ of Nazareth walk; and he took him by the hand and raised him up." These words, the preacher said, described the work of the Church Army, which was a combination of religion and practical help. ... ... At the outbreak of the war the Church Army tried to apply its principles to help the soldiers. They started a fully-equipped hospital in the north of France, and sent out trained evangelists to minister to the spiritual wants of the patients. Where the new armies were being trained they erected recreation tents on sites given by the War Office for the use of the soldiers. These tents were 70 feet by 35 feet, and cost about £250 each. They also provided "huts of silence" for the use of the chaplains in the different camps, which cost about £130 each. He appealed for help to carry out this religious and beneficent work In the evening Mr. Rainbow spoke very earnestly on "Personal religion and present salvation."
TRING AND DISTRICT SPARROW CLUB.
The annual general meeting of the Tring and District Sparrow Club was held at the Rose and Crown Hotel on Monday evening. Mr. W. N. Mead presided, and congratulated the members on very successful year. Amongst the members present were Messrs. Q. S. Pratt, J. H. Pratt, C. E. Chilton, R. W. Bedford, H. Pratt, Leonard Newman (treasurer), and T. W. Fountaine (hon. secretary).
The accounts for the past year were approved and passed. Subscriptions of 46 working members amounted to £l9; 15. and of 7 hon. members to £2; total, £21:15. £9:13:8 1/2 was paid for 9,302 sparrows heads, and printing, stamps, etc., came to £2:1:6, leaving a balance in hand at the end of the year of £9:19:9 1/2.
The following gentlemen were elected a committee of management for the ensuing year: Messrs. W. Fulks, E. Grange. H. Chappin, P. E. Mead. Frank Bedford, H. W. Woodman, W. N. Mead, G. S. Pratt, L. J. Hawkins, J. H. Pratt, H. Pratt, C. E. Chilton, F. Grace, and R. Bedford.
Mr. T. W. Fountaine was re-elected hon. secretary. with a very hearty vote of thanks for his services during the past year. Mr. Leonard Newman was re-elected treasurer.
It was decided to continue the Club for another year, and several slight alterations to the rules were agreed upon. The meeting closed with a vote of thanks to the Chairman.
Chauffeur - Groom, Wanted; good references required; state wages, age, and whether married. - Herbert Grange, Tring.
Groom - Gardener, Wanted - Apply James Honour, Grove, Tring.
CHORAL SOCIETY'S CONCERT.
The Aldbury Choral Society gave an extremely interesting concert on Friday evening, 15th inst., and in the admirable programme provided for the occasion the patriotic note conspicuous. The management were fortunate in securing the services of a number of talented ladies and gentlemen and the audience was most appreciative and enthusiastic. Mrs. Pearson, who was in excellent voice, rendered delightfully "Come, sing to me", and in the second part received a well-deserved encore for "Little Grey Home in the West." She concluded with "Somewhere a voice is calling," sung with beautiful expression. Miss D. Ward sang "Land of Hope and Glory" with much feeling, and was loudly applauded. Her second song, most pleasingly rendered and greatly enjoyed, was "Dream o'Day Jill," "The Admiral's Broom" was given fine style by the Rev. G. Field. Captain Vivian D. Williams (5th Dragoons), who, though happily recovering, still bears the marks of his injuries received in the fighting line in France, is evidently very popular in Aldbury. He was vociferously applauded for his singing of "My Maggie," "The Freemen of England," given with much spirit by Mr. Herbert Hedges, appealed very strongly to the audience. Cammaert's "Carillon" was declaimed in French with evident feeling by Lieut. A. A. Piggott (13th Battalion Northumberland Fusiliers), who quite carried his audience with him. Elgar's illustrative music was ably played Mr. T. G. Dale, and did much to ensure tho success of the recital. Mr. J. G. Craufurd, whose reception proved him to be a local favourite, sang "Edinborough" and the quaint old English song, "Little Billie," which caused roars of laughter. "The Wolf "was contributed by Corpl. Wright (13th Battalion Northumberland Fusiliers, now billeted in the village). Corpl. Wright has a full, rich voice, of good compass, and he was loudly applauded. The humorous element was supplied by Mr. Monahan. He sang with great humour "Hush-a-bye, babby," which was well received. After "Slowly, but surely," he was forced to concede an encore, and responded with "Paper-bag Cookery." A cornet solo, "Twilight," was tastefully played bv Mr. Drake. Miss D. Ward, Mr. J. G. Craufurd, and Mr. Herbert Hedges joined forces in the traditional song "My man John," which caused much merriment. The amusing duologue "The geese, performed" by Miss F. Wood and Miss Goodhead, produced roars of laughter, especially the "Swan song." The Choral Society contributed Rathbone's "Come away" in a light and dainty manner, and successfully attacked the somewhat difficult harmonies of "Fain would I change that note" (Charles Wood). The concert closed with the soul-stirring selection "Our Empire in Arms" (A. Collard), spiritedly rendered by the Choral Society. The soloists were Mrs. Pearson, Miss D. Ward, and Mr. J. G. Craufurd. Cornet, Mr. Drake; drum, Corpl. Wright. The accompaniments were played by Mr. T. G. Dale (the energetic conductor of the Society) and Mr. Herbert Hedges. The proceeds of the concert were divided between the Belgian Relief Fund and the Choral Society
DEATHS
OSBORN - On Jan. 19th, 1915, Alice Osborn, 70 Akeman-street, Tring, widow of the late David Osborn, of Buckland Common, aged 79 years.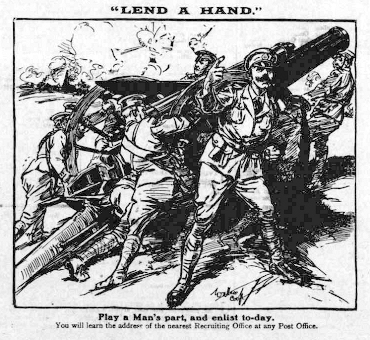 LONG MARSTON.
AN INTERESTING WEDDING.
A great deal of friendly interest was evinced in a wedding which was solemnised at All Saints' Church, Long Marston, on Jan. 12th, between Miss Edith Ives, eldest daughter of Mr. and Mrs. W. Roberts, and Mr. A. Proctor, the youngest son of Mr. and Mrs. John Proctor. Mr. Proctor was chorister at the Parish Church, and connected with other village institutions, and Miss Ives was organist. Consequently there were a large number of people present at the Church to witness the ceremony. Mrs. Rowdon presided at the organ, and the hymns were "The voice that breathed o'er Eden" and "How welcome was the call."
The bride, who was given away her eldest brother, James, wore cream dress of crepolin, with bridal veil, and carried a bouquet of orchids and carnations. Miss Doris Roberts (sister of the bride) and Miss Elsie Gregory (niece of the bridegroom) acted as bridesmaids, and wore violet dresses of crepolin, with white satin hats, and carried muffs of orchids and paper white narcissus. Their gold brooches were the gift of the bridegroom. Mr. E. Proctor was best man. A reception was held at the Parish Hall, where about 50 friends spent an enjoyable time. The newly-wedded couple left in the evening for their home at Grove, Tring. Mr. and Mrs. Proctor were the recipients of upwards of 50 useful and valuable presents, and included the following:
Mother of Bride - Bed and bedding.
Mother of Bridegroom Rug and bedding.
Mr. Ives and Miss Reed - Brass fender and fireirons and safe.
Miss A. Proctor - Down quilt.
Mr. E. Proctor - Dinner service and set of jugs.
Mr. John Ives and Miss Eggleton - Cheque, and tea service. Mr. and Mrs. E. Gregory - Coal-box.
Mr. and Miss L. Proctor - Clock.
Mr. and Mrs, L. Proctor - Salts and sugar sifter.
Mr. and Mrs. John Roberts - Cutlery.
Mr. and Mrs. A. Proctor - Table-cloth and towels.
Mr. and Mrs. C. Proctor - Tablecloth.
Rev. H. M. and Mrs. Rowdon - Cutlery.
Mr. H. Grange and family - Tea service.
Mr. D. Proctor and family - Lamp.
Doris - Table.
Bertie - Cheese dish.
Elsie, John, Dick, and Arnold - Cake ornament.
Miss M. Oakley - Biscuit barrel.
Mrs. Rood and Miss Chandler - Chair backs.
Mr. and Mrs. H. Gregory - Teaspoons.
The Maids at Grove - Pair of salts.
Mr. and Mrs. Mariner - Toilet set.
Mrs. H. Chandler - Pair of vases.
Mr. and Mrs. Hearn - Clock.
Miss N. Stevens -
Miss V. Chandler - Jam dish and spoon.
The Band - Cutlery.
Mrs. Oakley - Dinner service.
G.F.S. - Table-cloth.
Mrs. W. Ives - Coloured table-cloth.
Miss L. Gregory - Rug.
Mr. and Mrs. H. Saunders - Oak tray.
Mrs. Joe Chandler and Ted - Bread-board and knife.
Mr. and Mrs. Kingham - Cress dish.
Private G. Waugh - Milk Jug and sugar basin.
Hilda and Sybil - Teapot and tray.
Mr. Mills and Miss Mapley - Set of carvers.
Mrs. Rodwell and Elsie - Teapot,
Mrs. Chappin - Table-cloth.
Mrs. A. Chandler - Fruit dishes.
Mr. Dawe - Fender
Miss E. Roberts - Brushes.
Messrs. M. and J. Chapman - Teapot.
Miss E. Gregory - Jam dish.
Misses A. and B. Pheasant - Toilet mats and cushion.
Mrs. W. Mead - Afternoon tea-cloth.
Mrs. W. Jellis - Pair vases.
Mrs. Barrow - Glass dish.
Sergt. Whitfield and L.-Corpl. Hervey - Clock.
Mrs. Yates - Handkerchiefs.
Miss Hinton - Table-cloth.
Mr. James Chandler and family - Fruit dishes and jugs.
Mrs. Roberts -Bowl.
Mrs. Allen - Tea rosy.
Mr. and Mrs. C. Reeves - Set of jugs.
Mrs. Haynes - Table-cloth.
Mr. L. Reed - A Mirror