TRING IN WAR TIME.
Lieut.-General Sir Edward Hutton, C.B., who with conspicuous public spirit undertook the onerous task of organising the 21st Division of Kitchener's new Army, is laid aside by illness. The stress and strain involved in forming a division under the unprecedented circumstances which prevailed at the time might, well have daunted a younger man.
Sir Edward was born in 1848 - but he applied himself to the task with characteristic energy and thoroughness, and carried it on with conspicuous success. Now the veteran warrior has been compelled, at least temporarily, to relinquish the command. Sir Edward has an almost unique experience of raising and training troops in various parts of the world. As far back as 1879 he was fighting in the first Zulu war, and he was taking part in the first Boer war in 1881. He raised and commanded the mounted infantry corps in Egypt in 1882, and was engaged in the Nile Expedition in 1884-5. He was commander of mounted infantry, and in charge of special Transvaal column during the second Boer war. 1901 he was appointed to command the Australian Commonwealth forces, a post he resigned in 1904. Later he was in temporary command of the 3rd Division of the Aldershot Army Corps.
On March 22nd Brigadier-General H S. Fitzgerald, C.B., was appointed to the temporary command of the Division, and Brigadier-General G. Forestier-Walker, C.B., A.D.C., assumed temporary command on the 1st instant.
On Easter Sunday morning there was an open-air parade service for the troops in the Cricket Field, at which the Rev. Kenneth E. Kirk, C.F., officiated.
On Monday afternoon athletic sports, organised by the officers the 13th Battalion Northumberland Fusiliers, attracted a lot of spectators to Grove Park. There were some noteworthy individual performances.
Concerts were arranged for the troops at the Medical Inspection Hall [Victoria Hall] on Saturday and Tuesday evenings. There were appreciative audiences on each occasion.
The stern realities of war have been brought homo with startling force this week. At the end of last week news reached Tring of some severe casualties amongst the Herts Territorials, in which several Tring men were involved. Frank Marcham, son of Mr. Fred Marcham, of Western-road. was reported killed, and Fred Rodwell, son of Mr. W. J. Rodwell, of the Tring Brewery, badly wounded. Later particulars are that Marcham. Rodwell, Bruce, and Barber, all of Tring. were with others in a stable. Some of the men were chopping up wood to take back to the trenches when a shell, probably intended for the Battalion Headquarters, fell just inside the doorway, and exploded on striking the ground. Marcham and three others were killed instantaneously, and fragments of the shell struck Rodwell, with the result that ho has lost one eye and sustained other injuries. Barber is thought to have escaped injury, he was able to help the hospital, but there is some uncertainty to what happened to Bruce. Private Rodwell was later sent home, and is now in the military hospital, St. Gabriel's College, Camberwell. The doctors, happily, feel no anxiety at all about his ultimate recovery. Private Marcham was buried in the well-kept little cemetery near the base, the funeral being conducted one of the Chaplains. Every care is bestowed on this last resting-place of the dead heroes. Each mans name is painted on a cross above his head, and flowers are placed on the graves. Archibald Bishop, son Mr. Harry Bishop, is also reported wounded.
---
DIED OF STARVATION WITH A BANKING ACCOUNT.
Mr. Lovell Smeathman held an inquest on Saturday evening on body of Miss Eliza Barber, elderly lady, who was found dead the previous day at a cottage in Parsonage-place, where she had lived by herself.
Mr. K. Houchen was the foreman of the jury, and P.C. Parker Coroner's officer.
Mr. William Barber, of King-street, Tring, said his sister had not allowed either him or his wife to into the house for the past two or three years, he last saw her alive two or three months before. She had lived with her mother for some time, but left her about eight years ago; she would not go to her mothers funeral. She was between 63 and 64 years of age.
Mr. George Adams said he lived next door to the deceased, and used frequently to see her. He last saw her alive on Tuesday night, but did not speak to her. Recently she had lain in bed all day, but would get up in the evening and walk round the yard to the George Hotel dustbin. She would pick up cardboard boxes and other things to put on the fire. Witness never saw any food go to the house, but had seen deceased pick pieces of meat up out of the drain which Mrs. Burton had thrown out for the cats. No one called to see her, perhaps because she refused to see them. She seemed quite right in her mind, but the neighbours wanted to got rid of her because they were afraid she might set fire to the place, she often slept in front of the fire. Witness knew deceased had money, because he had seen her with a bank book.
P.S. H. Baldock described how effected an entrance to the house on Friday through an upstairs window, and found Miss Barber lying on the floor at the foot of the bed dead. She was fully dressed with the exception of one stocking. On searching the place he found £42: 16: 3 in money. In her dress pocket 15s. 3d., and £35: in gold tied in an, old cloth in a locked box; also 27s. in a tin box rolled up in some cloth in locked box. In a box in the bedroom was a Post Office Savings Bank book rolled up in a sheet, which showed she had £170:9:8 to her credit. He found no food in the house except a hard crust. The body was very emaciated. Witness knew deceased, and considered she was mentally deficient, but was quite capable of taking care of herself, except in the matter food. She was not bad enough to be put under restraint. In the house was plenty of good clothing, nearly a ton weight of it. practically all new.
Dr. R. E. Clarke, who was called in, said he found no marks of external violence, but the condition of the body was quite emaciated; there were no signs of fat anywhere. The body was quite cold; rigor mortis had passed off. He attributed death to cardiac failure due to starvation and neglect. From the evidence he had heard should say she was a woman with a "kink" somewhere, certainly not altogether of sound mind.
The jury returned a verdict that death was due to cardiac failure, the result of starvation and neglect, such starvation being the act of the deceased herself, she being a person to some extent mentally deficient.
Lord Rothschild's Death (reported last week) and Funeral were widely reported and full details are not included here but the following account of those attending the funeral from Tring is relevant.
On the day of the funeral, which is reported in another column, there were general signs of mourning in Tring. The flag at the Headquarters of the 21st Division was hoisted half-mast high, and at nearly all the places of business and at many private residences black boards were put up or blinds drawn
A large and representative party travelled from Tring to attend the funeral. Amongst them were Messrs R. W. Allison, H. C. Cook, C. Griffin, and W. Smith (members of the Urban Council). The Hon. Walter Rothschild, who succeeds to the title, is a member of the Council, and Mr. Richardson Carr (the chairman), was present with the family mourners. Representing various departments of the Tring Park Estate were Mr. J. Gander (Tring Park Estate Office), Mr. J. Timberlake (Hastoe Farm), Mr. F. Cawston (Home Farm office), Mr. W. M. Thomas (electrical engineer), Mr. Arthur Dye (Tring Park Gardens), Mr. T. Fowler (Stud Farm), Mr. H. Haystaff (building department), Mr. F. Bordycott and Mr. A. W. Greaves (hunting stables), Mr. W. Wilkins (Home Farm Lodge), Mr. J. Street (Reservoir keeper). Others present were Mr. C. Chappell (Dunsley Farm), Mr. Moses Pratt (Wick Farm), Mr. J. Clarke (Park Hill Farm). Mr. W. H. Woodmen (Wilstone Great Farm), Mr. G. S. Pratt (Church Farm, Marsworth), Mr. S. W. Jenney, J.P., Mr. Arthur Hedges, Mr. J. Pratt, Mr. E. Wright, Mr. J. Bly, Mr. A. H. Brown (Messrs G. T. De Fraine and Co.), Mr. G. Foskett, Mr. H. Hobson, Mr. H. Harlow (Messrs. Cash and Co.), Mr. H. Cosier, Mr. Arthur Gower. Mr. G. Cross, Mr. P. Ellis, Mr. A. H. Dawe, Mr. W. J. Dawe, Mr. W. Huckvale, Mr. G. C. Grace, Mr. J. L. Clement, and Mr. A. T. Sanders. Motor cars were waiting to convey the party from Willesden Junction to the Cemetery. Unfortunately the train was very late, and the travellers from Tring. including Lord Sandhurst, did not reach the Cemetery until the service was concluding.
---
The Bedfordshire Times of April 9th included a lengthy account of the Bedfordshire Agricultural Society's Annual Shire Hose Show - which was accompanied by this advert featuring one of the late Lord Rothschild's stallions.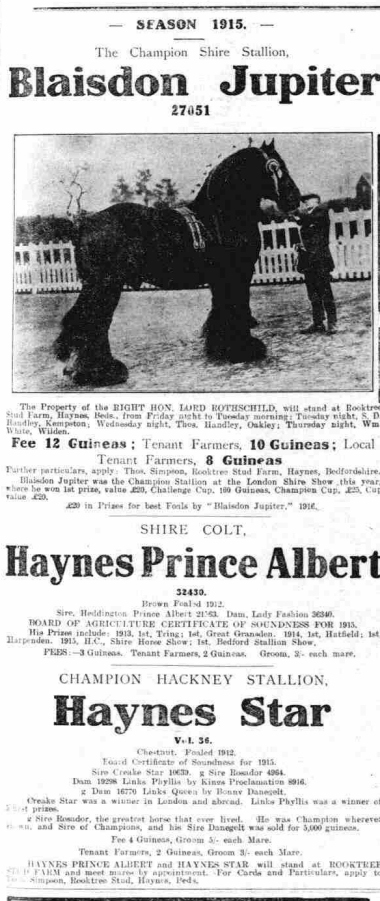 ---
CONSERVATIVE AND UNIONIST ASSOCIATION
They had the A.G.M. at the Constitutional Club on 29th March and as they had not heard of Lord Rothschild's death the agreed to ask him to continue to be their president. ... Elections were held ...
The vice-chairmen, Messrs. A. P. Boyson, F. J. Brown, H. R. G. Craufurd, Brig-Gen. Fenton. C.B., Messrs. S. W. Jenney and A. W. Vaisey, were re-elected on the proposition Mr. R. M. Vaisey, seconded by Mr. J. Woodmen. the proposition of Mr. K. M. Vaisey, seconded by Mr. G. E. Laughlin, the officers were re-elected en bloc. Members of the Central Association, Messrs. J. G. Williams, H. R. G. Craufurd, A. W. Barton, W. H. Copus. E. Houchen, H. A. Mullett, M. Pratt, and F. L. .Y. Ryder.
Committee: Tring, Messrs. C. D Alison, R. W. Allison. J. Baldwin, H. Bishop, J. Clarke, F. J. Cox, H. J. Fincher, J. Marsh, E. Martin H A. Mullett. W. J. Rodwell. R. M. Vaisey, D. Whiting, J. Woodman, R. Wright; Aldbury, Messrs. J. G. Craufurd, E. Edwin, W. Fulks; Long Marston, Messrs. J. Chandler, M. Chapman, E. F. Gregory. H. W. Woodman; Wigginton, Messrs. W. H. Copus. K Grange, M. Pratt. F. L. Ryder. T. Smith. Auditors. Messrs. R. W. Allison. E. Houchen, R. Wright.