Visit of the Shah of Persia to England, 1889

Visits to Hertfordshire and Buckinghamshire
From the Illustrated London News, No 2621, Saturday, July 18, 1889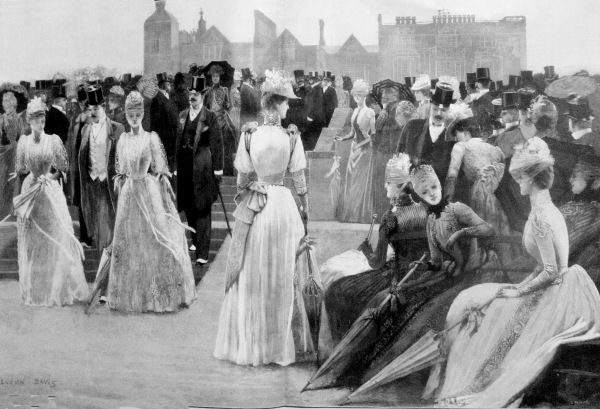 Garden Party in Honour of the Shah at Hatfield House
The Seat of the Marquis of Salisbury
The Marquis and Marchioness of Salisbury gave a garden party on Monday July 8, in honour of their Royal guest at Hatfield, where he had. on Sunday evening, again met the Prince and Princess of Wales and a party including the Duke and Duchess of Buccleuch. the Duchess of Manlchester, the Marquis and Marchioness of Londonderry, the Marquis and Marchioness of Lothian. Lord Cross. and Lord Hartington. Many others of the nobility, several of her Majesty's Ministers, and most of the Foreign Ambassadors. with a general company of nearly two thousand ladies and gentlemen, were at the garden party: and though the weather was dull and cloudy, there was no rain. The marble hall, in which luncheon was served, the grand staircase, and the apartments occupied by the Shah and by the Princess of Wales, were beautifully decorated with palms, ferns. and flowers. The Shah was much interested in the American feats of rifle-shooting performed by Captain G. H. Fowler and Miss Louie. In the evening his Majesty went to stay the night with Earl and Countess Brownlow. at Ashridge House. Berkhampstead; next day he lunched with Mr. Alfred de Rothschild, at Halton, near Tring, and went on to Waddesdon Manor, Aylesbury, where he was the guest of Baron Ferdinand de Rothschild. In passing through the town of Aylesbury the Shah received an address of welcome from the town, presented in front of the County Hall.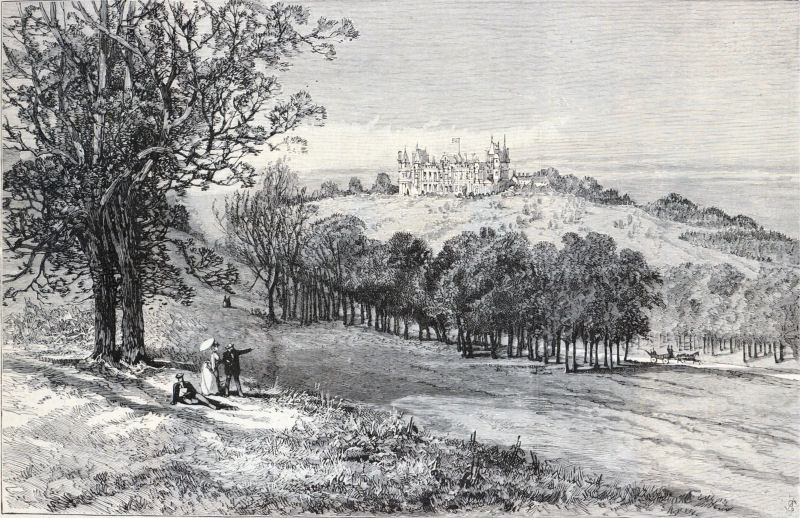 Waddesdon Manor, Aylesbury, the seat of Baron Ferdinand de Rothschild, Visited by the Shah
If you can add to the information given above tell me.
Page created August 2006