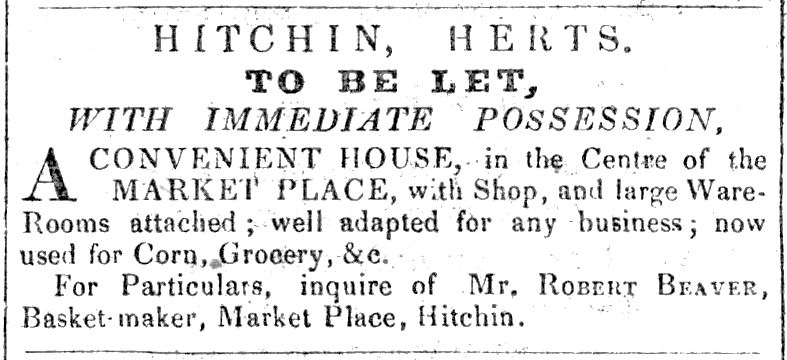 BEAVER: A Basket Making Family of Hitchin
Robert Crofts Beaver was the eldest son of George Beaver, a basket maker who was born in Witton, Huntingdonshire, in 1785 and married Amy Crofts at St Mary's, Hitchin on 23 October 1806. George is listed as a basket manufacturer in the Market Place in the 1823 Pigot's Directory (the earliest available) and the business continued in the family until at least 1882. George and Amy's children baptised at St Mary's were:
Robert Crofts Beaver (1807-1845) may have taken over the running of the business by 1841, as in the census his father George is simply listed as of "Independent Means" while Robert is recorded as the basket maker at the Market Place. Robert was buried at Hitchin on 1 December 1845.
George Beaver (born 1809) became a engineering and land surveyor in Hitchin with offices in the Market Place (1866), Brand Street (1878) and Tilehouse Street (from 1882)
John Beaver (1812-1827) was buried at St Mary's
Samuel Beaver (1814) (possibly died in infancy?)
William Beaver (1815-1888) continued the basket making business in the Market Place, where he is listed in 1851, Sometime before 1878 he moved to Swan Yard, and it is last listed in 1882, William dying in Hitchin in 1888.
Amy Beaver (baptised 1822 but born earlier)
Ann or Nancy Beaver (born 1823 fron census age)
Thomas Beaver (baptised 1824) left Hitchin and became a shopkeeper
John Beaver (baptised 1830) In 1866 he was listed as a basket maker in the Market Place with his older brother William. However he gave up basket making and became a tea dealer and grocer in the Market Place by 1878 and by 1882 was listed at postmaster.
Robert Beaver is listed as a 30 year old basket maker, born in Hertfordshire, in Hitchin in the 1841 census.
Robert Crofts Beaver (38), of the Market Place, was buried at Hitchin on 1 December 1845 and described as the son of George and Amey Beaver, [Herts Burial Index]
George Beaver marries Amy Crofts at ST Mary's Hitchin 23 Oct 1806
Children
Robert Crofts Beaver 14 Dec 1807
George 6 Oct 1809
John 12 Jun 1812 buried 28 April 1827 aged 14
Samuel 13 Feb 1814
William 25 Dec 1815
Amy 3 May 1822
Thomas 10 Dec 1824
John Beaver 25 March 1830
1823, 1828, 1839 Pigots - lists George Beaver as Basket Maker, Market Place, Hitchin
1851 William Listed as Basket Maker in the Market Place
1866 William & John listed at Basket Makers in Market Place, George as a Land Surveyor
1878 George Engineering & Land Surveyor, Brand Street, William, Basket Maker, Swan Yard, John tea dealer & grocer , Market Square
1882 William, basket maker, swan yard plus ...
William died aged 72 at Hitchin 1888
1882, 1886, 1890 George, engineering & land surveyor, Tilehouse St, John. postmaster, market place
1851 Census
BRAVER, George
Head
Married
M
66
1785
Retired Basket Maker

Witton
Huntingdonshire

BRAVER, Amy
Wife
Married
F
68
1783


Godmanchester
Huntingdonshire

BRAVER, William
Son
Unmarried
M
33
1818
Basket Maker Employing 4 Men

Hitchin
Hertfordshire

BRAVER, Amy
Daughter
Unmarried
F
32
1819
At Home

Hitchin
Hertfordshire

BRAVER, Nancy
Daughter
Unmarried
F
28
1823
At Home

Hitchin
Hertfordshire

---

Piece:
1710
Folio:


66
Page:
18
Registration District:
Hitchin
Civil Parish:
Hitchin
Municipal Borough:

Address:
Market Place, Hitchin
County:
Hertfordshire
1861 Census
BEAVER, George
Head
Married
M
76
1785
Retired Basket Maker

Witton
Huntingdonshire

BEAVER, Amy
Wife
Married
F
78
1783


Godmanchester
Huntingdonshire

BEAVER, George
Son
Unmarried
M
51
1810
Land Surveyor

Hitchin
Hertfordshire

BEAVER, Amy C
Daughter
Unmarried
F
43
1818


Hitchin
Hertfordshire

BEAVER, Ann
Daughter
Unmarried
F
39
1822


Hitchin
Hertfordshire

BEAVER, John
Son
Unmarried
M
31
1830
Grocer & Basket Maker

Hitchin
Hertfordshire

BEAVER, Emily S C
Granddaughter
F
11
1850
Scholar

Chelsea
Middlesex

RABNOTT, Martha
Servant
Unmarried
F
16
1845
House Servant

Hitchin
Hertfordshire

---

Piece:
819
Folio:


7
Page:
8
Registration District:
Hitchin
Civil Parish:
Hitchin
Municipal Borough:

Address:
Market Square, Hitchin
County:
Hertfordshire
BEAVER, William
Head
Married
M
49
1812
Basket Maker

Hitchin
Hertfordshire
VIEW

BEAVER, Elizabeth
Wife
Married
F
55
1806


Surrey
VIEW

---

Piece:
819
Folio:


35
Page:
30
Registration District:
Hitchin
Civil Parish:

Municipal Borough:

Address:
Bucklesbury
County:
Hertfordshire
Amy Beaver's death was registered June 1864 in Hitchin, aged 84