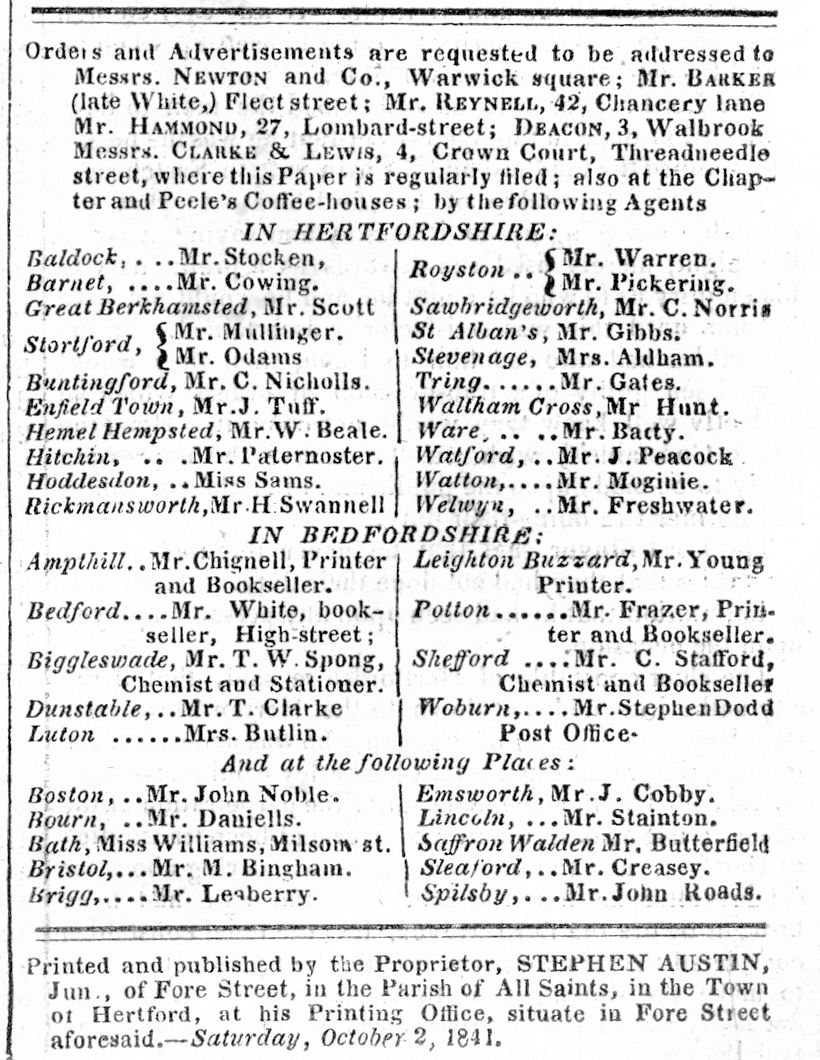 IN HERTFORDSHIRE

Baldock

Mr Stocken

Barnet

Mr Cowing

Great Berkhamsted

Mr Scott

Bishops Stortford

Mr Mullinger

Mr Odams

Buntingford

Mr C Nichills

Enfield Town

Mr J Tiff

Hemel Hempstead

Mr W Beale

Rickmansworth

Mr H. Swannell

Royston

Mr Warren

Mr Pickering

Sawbridgeworth

Mr C Norris

St Albans

Mr Gibbs

Stevenage

Mrs Aldham

Tring

Mr Gates

Waltham Cross

Mr Hunt

Ware

Mr Mr. Bacty

Watford
Mr J Peacock
Watton
Mr Moginie
Welwyn
Mr Freshwater
Printer and Published by the proprietor, STEPHEN AUSTIN, Jun., of Fore Street, in the Parish of All Saints, in the Town of Hertford, at his Printing Office, situate in Fore Street aforesaid. - Saturday, October 2, 1841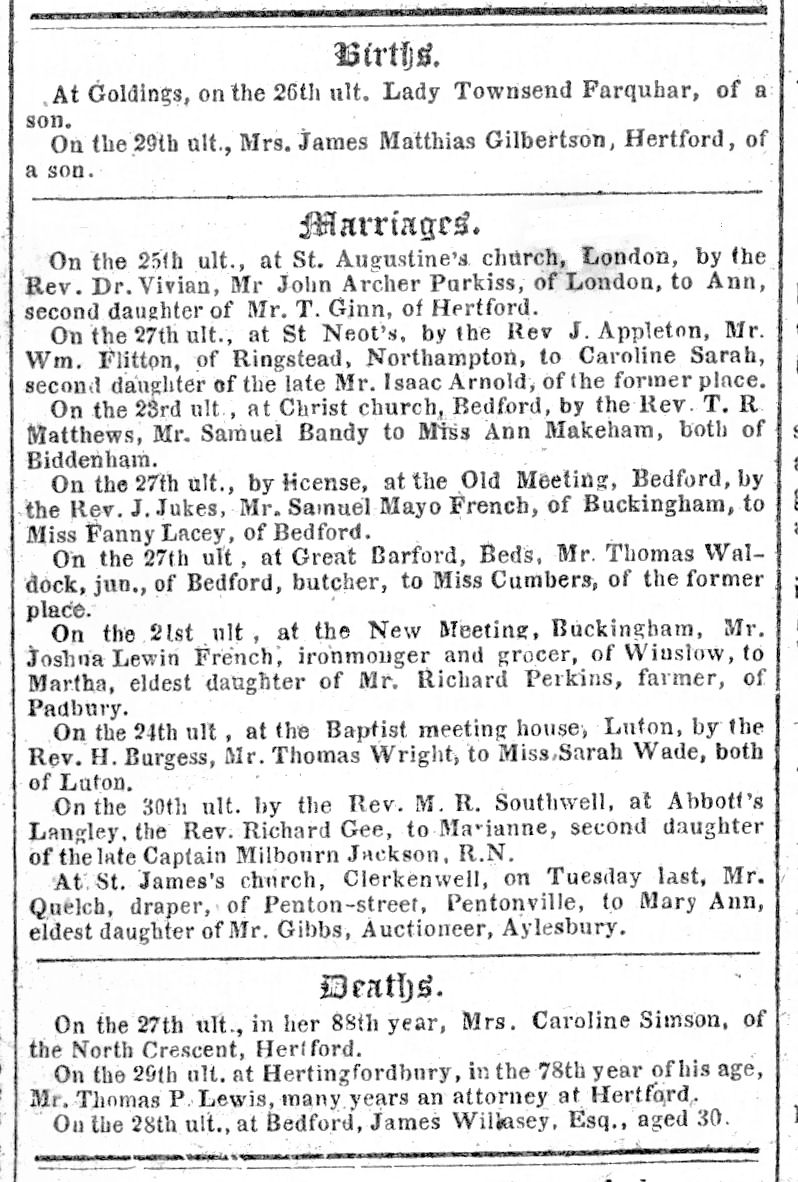 The Births, Marriage and Deaths entries reflect the emphasis on Hertfordshire and Bedfordshire.
HERTFORDSHIRE BIRTHS
At Goldings, on the 26th ult, Lady Townsend Farquhar, of a son.
On the 29th ult., Mrs James Matthias Gibertson, Hertford, of a son.
HERTFORDSHIRE MARRIAGES
On the 25th ult., at St Augustines church, London, by the Rev. Dr. Vivian, Mr John Archer Purkiss, of London, to Ann, second daughter of Mr T Ginn, of Hertford.
On the 30th ult. by the Rev. M.R. Southwell, at Abbots Langley, the Rev. Richard Gee, to Marianne, second daughter of the late Captain Milbourn Jackson, R.N.
HERTFORDSHIRE DEATHS
On the 27th ult., in her 88th year, Mrs Caroline Simson, of the North Crescent, Hertford
On the 29th ult. at Hertingfordbury, in the 78th year of his age, Mr Thomas P. Lewis, many years an attorney at Hertford.
The Quelch/Gibbs marriage is of particular interest. Mary Ann was the youngest daughter of John Gibbs, the publisher of the Aylesbury News, and the brother of Richard Gibbs, agent for The Reformer in St Albans. John Gibbs had similar political views to those expresses in The Reformer and may have arranged for some of the entries in his paper to be duplicated here.