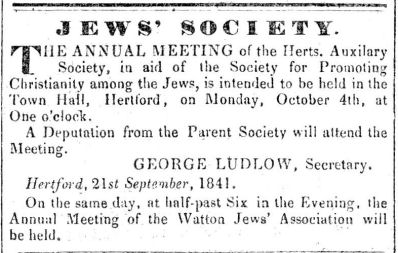 The London Society for Promoting Christianity among the Jews was an Anglican Society founded in 1809.
Note that there was a Watton Jews' Association, and the Rev. Edward Bickersteth was nominated in 1830 to the parish of Watton, in Hertfordshire, by John Abel Smith, Esq., of Woodhall Park, whither he removed from Barnsbury Park in the autumn of that year, and where he spent the remaining twenty years of his life. Besides the diligent work of a country pastor, he supported a number of societies, amongst others the Bible Society, the Society for Promoting Christianity among the Jews, the Pastoral Aid Society, and the Evangelical Alliance. [source]
The Bodlean Libriary hold the papers of the Bickersteth family, 1815-1976, including papers of Edward Bickersteth (1786-1850), rector of Watton, Hertfordshire, and his son Edward Henry Bickersteth (1825-1906), Bishop of Exeter, poet and hymnographer, and grandson, Samuel Bickersteth (1857-1937), priest.
=====
George Ludlow was christened at Chipping Sodbury on 30th August 1796, an apparently joined Christs Hospital School in 1815. In 1833 he is recorded as writing master. He became steward in 1841, resigning in 1878 after 63 years service.In 1881 he was described as an annuitant, JP, and blind, dying at Hertford in 1884. There are many references to him on Google which are not followed up here.
| | | |
| --- | --- | --- |
| January 2012 | | Page created |