Henry Ree was an Auctioneer in Water Row, Ware, in 1828 and in the High Street in 1839. (Pigots Directory)
He is listed as living in Water Row in 1841 and in Baldock Street in 1851, which reveals he was born in 1789 in Camberwell, Surrey, while his wife Sarah was born in 1786 at Bengeo, Herts.
In 1839 the landlord of the Saracen's Head, Water Row, was Evander Price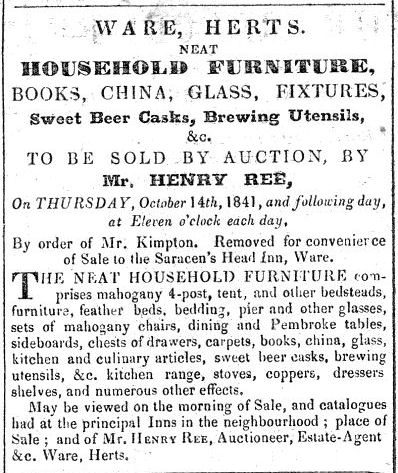 In 1828 & 1839 Thomas Kimpton was a maltster in Star Lane, Ware. (Pigots Directory)
Mr Thomas Kimpton (65) of independent means, was living in Star Lane in 1841.
George Jackson was an Auctioneer and Estate Agent of Fore Street, Hertford in 1823 and 1839. (Pigots Directory)
The 1851 census shows he was born in 1789 at Butsbury, near Biltering, Essex, and was living in Castle Street.
"Young's Agriculture, 44 vols" whill have included Arthur Young's General View of the Agriculture of Hertfordshire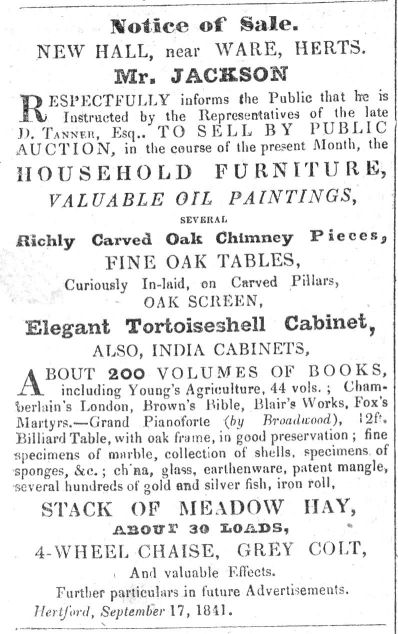 Daniel Tanner of New Hall, Ware, was buried at Ware on 24 May 1841, at the age of 45. He was probably the Daniel Tanner, Esq., of Lower Place, Holsden, Middlesex, who married Maria, only daughter of John Houghton, Esq., of the 14th King's Light Dragoons, at St. George, Hanover Square. (Morning Post, 1 August, 1833)
The 1841 census is very unclear but he was not at New Hall but his wife's name could be Maria, and the children were not born in Hertfordshire.