The church (St. John Baptist) is Early English., built of flint and stone. The roof is of chestnut, resting on stone corbels. It was restored by Sir Charles Barry. Two old monuments of great interest are in the chancel, against the S. wall. Each contains the recumbent figure of a female. In the church are several brasses of considerable antiquity. At the end of the N. aisle the remains of some paintings have been discovered. In the chancel there is an altar-tomb to Jolm Coghill and his wife Deborah. There is a quaint inscription to the memory of John Robinson, d. 1674, aged 24 years:
Death parts the dearest lovers for awhile,
And makes them mourn who only used to smile.
But, after death, our unmixt love shall tye
Eternal knots between my love and I.
J. R.
I. Sarah Smith, whom thou didst love alone.
For thy dear sake have laid this marble stone.
The inscription is below a female figure in a shroud, with a label issuing from her mouth, inscribed " Sarah Smith."
There are at Aldenham schools and almshouses founded and endowed by Richard Platt, a brewer, and an alderman of London, in 1599. There are an Upper or Grammar School, and two Lower Schools, and the governors are appointed by the Brewers' Company of London. [Tourist's Guide to Hertfordshire, 1891]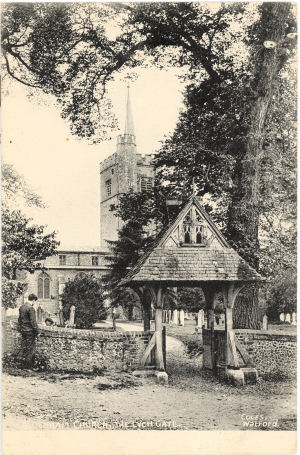 Aldenham Church Lych Gate
Coles, Watford
Posted 1909, back suggests circa 1905