Ashwell is a parish and large village, in Odsey hundred, Royston union and county court district, rural deanery of Baldock, archdeaconry of St Albans, and diocese of Rochester, situate among the chalk hills in the valley of the Rhee, at the extreme north of the county, 41 miles from London, 2 north-west from the Ashwell station on the Royston and Hitchin line, 4½ north east from Baldock, and 7 miles south-west from Royston; it is supposed to have been a Roman town or station, under the name Magrovinium: Roman coins have been found here, and at the time of the Norman survey it was a market town, and had several annual fairs: it now consists of several small streets of scattered houses and farms, irregularly placed, and the inhabitants are wholly engaged in agricultural pursuits.
Ashwell Fields, a large tract of common land, has been brought late cultivation. The thirty springs of the Cam rise in the village, and form the head of the river Cam, or Granta, which flows through the valley of the Rhee, passes by Cambridge, and joins the Ouse, three miles from the city of Ely.
On both sides of the river large beds of coprolites have been discovered; they are extensively worked, and after undergoing some chemical change, form the basis of a manure now largely used in agriculture.
The church of the Virgin Mary, an ancient Gothic building, has nave, chancel, aisles, porches, and a lofty square tower, surmounted by a finely tapering spire; about halfway up the latter an external gallery, resembling a ducal coronet, encircles it: there are 6 bells: the height of the tower and spire is 175 feet. The register dates from 1686. The living is a vicarage, yearly value £523, with residence, in the gift of the Bishop of Rochester, and held by the Rev. Henry William Hodgson, M.A., of Balliol College, Oxford.
There is a Free school, founded and endowed by Mr. Henry Colbron in 1655: he left £1,000 in trust to the Merchant Taylor's Company, who built the school and the master's house in 1681: the appointment of the master is vested in the Company. There is a school for girls, which was built in 1840, and is under the management of Mrs. Radcliffe.
There are chapels for Baptists, Independents, Wesleyans, and the Society of Friends.
At Harborough Banks, half a mile south, are the remains of a quadrangular entrencement, probably Danish. Mobb's Hole is a farm 2 miles north. Highley Hill is two miles south-east. The soil is chalky, but very favourable for the growth of barley. The population in 1861 was 1,507; the area of the parish is 3,852 acres of hilly land.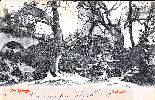 The Springs