| | | |
| --- | --- | --- |
| Augustus Smith and Berkhamsted Common | | |

Berkhamsted Common, Kingsway Real Photo Series - posted 1910
The following account comes from the first edition of A Short History of Berkhamsted
FOUR GENERATIONS of Berkhamstedians have chuckled over the story of Augustus John Smith's fight to save Berkhamsted Common from enclosure in 1866. It was really no laughing matter; the rights of the commoners had been flouted, and only a man of great bravery and wealth would have thought of hiring London labourers to smash down the iron railings.
Augustus Smith was ever a doughty fighter, and his part in the "Battle of Berkhamsted Common" has tended to over-shadow his other good works for Berkhamsted.
From his home, Ashlyns Hall, where he was born in 1804, Augustus Smith pulled many of the strings which reawakened the town in the reign of William IV and in early Victorian times. He campaigned to put our educational institutions in good order, notably Berkhamsted School, of which he was described as the refounder.
Besides helping the children of the more well-to-do residents, he championed a scheme which led to the establishment of a good parish school for poorer children. He wrote:
When I found youths, the progeny of hereditary' paupers, simply through being taught lo read, write and cypher, readily obtain in London apprenticeships in various trades, I felt the true or at least the main clue was discovered as to raising their education.
Augustus Smith did not limit his public work to Berkhamsted. In 1834 he acquired the Scilly Islands and lived there from 1853 until his death in 1872. Instead of absentee landlords, the Scillonians had a resident deeply interested in their affairs. He built schools, making education compulsory when compulsion was still unknown on the mainland, and raised the islanders' standard of living, sometimes using methods which evoked criticism and indeed hatred.
Elected Member of Parliament for Truro in 1857, Augustus Smith attracted much attention every year by asserting the rights of the public against the claim of the Crown and the Duchy of Cornwall to own the foreshore of our sea coasts.
It was this desire to protect public rights which impelled him to support the townspeople when Lord Brownlow was so ill-advised as to enclose Berkhamsted Common in 1866. -He had previously tried without success to dissuade Lord Brownlow from interfering with ancient rights. Tall iron fences were erected, excluding commoners from the waste.
Augustus Smith took drastic action. He hastily recruited a miniature army of Cockney "toughs" and Irish labourers and chartered a special train to convey them from Euston to Tring in the dead of night.
One hundred and twenty men, shouldering crowbars and other implements, marched two by two into the moonlight. Within an hour they reached the first of the 5-ft. high iron fences, made and erected by the Berkhamsted firm of iron-founders, Messrs. Wood and Son, beside the Ringshall road. This obstruction, and another long fence nearly a mile and a half away, from the old rifle range to Frithsden Beeches, was thrown down before daylight. The joints of the railings were loosened by hammers and chisels; crowbars did the rest.
Inhabitants of Berkhamsted and neighbouring villages flocked to the scene. To quote a newspaper report: "In carriages, gigs, dogcarts and on foot, gentry, shopkeepers, husbandmen, women and children at once tested the reality of what they saw by strolling over and squatting on the Common and taking away morsels of gorse to prove, as they said) the place was their own again. The cost of the three miles of iron railings is said to have been more than £1,000, and that of its removal must have been considerable."
While Berkhamsted folk celebrated the reopening of the Common, Lord Brownlow instituted legal proceedings against Augustus Smith. This defender of ancient rights won the case and the plaudits of the Press, and it is pleasant to add that ill-feeling between Lord Brownlow and the townspeople was short-lived. The owner of Ashridge and his advisers genuinely thought they were acting in the best interests of the district, and had previously made what a number of townspeople considered the very satisfactory offer of a recreation ground, stretching from Mill Street to Billet Lane between the Bulbourne and the railway, in lieu of common rights.
The history of Berkhamsted Common is long and too complex to be summarised in a short chapter. George H. Whybrow used his great scholarship and legal knowledge in writing The History of Berkhamsted Common, which appeared in 1934. It is already scarce and should be reprinted.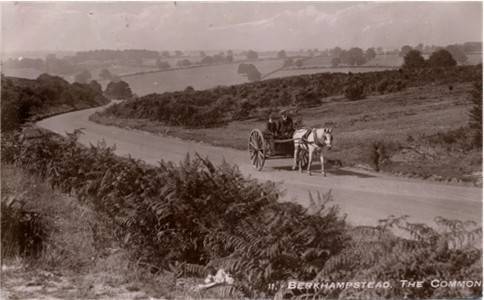 Berkhamsted Common - posted 1913
January 2003
Tim Churchill (tim @t tchurchill.freeserve.co.uk) writes: My gggfather, William Claridge, was a resident of Berkhamsted and an amateur painter and photographer. He was a friend of Augustus and also visited the Brownlows, as evidenced by his photo albums.

I have some pictures of Ashlyns Hall with people in the garden. Some of William's paintings are still hanging in the Abbey on Tresco, and again I have a few pictures of the gardens there taken around the 1850s.
July 2003
David Arnold (david @t arnold.spacomputers.com) is researching my wife's ancestry and one of her forebears was Samuel Smyth of Ashlyns Hall (1722-1789). You will find much more about the family in Burke's Peerage under the name of Smith-Dorrien-Smith of Tresco Abbey.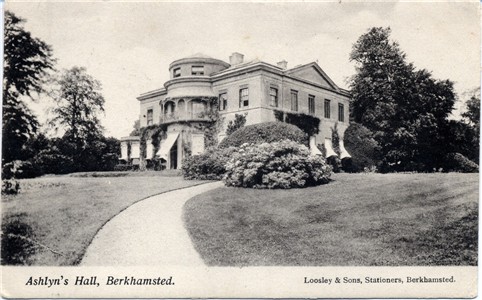 Ashlyns Hall - Published by Loosley, Berkhamsted - posted 1907
It was built towards the end of the 18th century
Page reorganised December 2008