Timson, Berkhamsted & South Africa, 1850-1930
July 2012
Terence Timson (timson_t @t mtn.co.za) of Johannesburg, South Africa, writes: I have gathered some information regarding my ancestors from Berkhamsted but am most interested in establishing any facts regarding their links to the Cooper company. My grandfather, Rowland Clunbury Timson, born about 1885, was the son of Samuel Rowland Timson and grandson of Samuel Timson. Both SRT and RCT represented Coopers interests here in South Africa (my father, also Rowland Clunbury, born in Berkhamstead in 1925 thinks his Dad was an Export Manager). But given that Charles Timson opened the American operation (and I also think there was an Australian connection), the link between the Timson family and Cooper company was vey strong indeed. I know for certain that Samuel was a clerk at the company and that Samuel Rowland's birth place is registered as Raven's Lane. Also I think there was an on-line labelling machine in the Cooper factory called a Rowland Press. Samuel Rowland became quite well to do and in the 1930's lived in Dennison House, Little Gaddesden which I have visited. I would appreciate any assistance you may be able to provide.
The link between William Cooper and the Timson family is because William Cooper's success was due to the fact that he was a good manager - and was able to select and train competent staff. William Cooper was born in Clunbury, Shropshire, in 1814 and when he came to Berkhamsted he initially lived in a house in Ravens Lane which he called Clunbury House, which soon found itself next to the biggest factory in the town. One of the activities associated with the Cooper "empire" was a printing works - which was know as the Clunbury Press.
Samuel Timson (Samuel Rowland Timson's father) was clearly a good businessman. He was a master tailor who became parish clerk and assistant overseer, and in 1871 was also involved as a school teacher. (The census entry is hard to read but may refer to a Freemason school.) He had a large family and you could expect his sons to be well educated in skills related to business activities. As parish clerk and as assistant overseer he would well have regular contacts with one of the biggest employers in the town. He may have also made suits for William Cooper. I do not know if William Cooper was a Freemason but his relative Richard Ashmole Cooper was Worshipful Master of the Berkhamsted Lodge in 1909, so the Freemasons could have supplied another important contact.
In 1871 Samuel's eldest son Samuel Rowland Timson, then aged 16, was commercial clerk to a manufacturing chemist - which, in the context of Berkhamsted at the time, meant that he worked for William Cooper. William Cooper still living in Clunbury House until about 1878, and may well have had his office in the house, where Samuel Rowland Timson would have worked. However changes were afoot. In 1871 William had been employing 14 men and 21 boys and this increased to 45 men and 30 boys by 1881. The elderly William moved out of Clunbury House, Ravens Lane, and his managing clerk - Samuel Rowland Timson was, in effect, promoted to live in a house which by now was part of a major manufacturing works. Samuel married Alice Day in Hemel Hempstead in 1880, became a Brother in the Berkhampstead Lodge, during the decade, and was Worshipful Master of the Lodge in 1890. In 1891 the family were still at Clunbury House, and Samuel's absence may mean he was overseas. The 1911 census lists the family as listing at the Kraal (a good S. African name!), with his son Rowland Clunbury Timson being Assistant Manager (presumably of Coopers), and Samuel again being absent. He is listed as Lieut. Col. Samuel Rowland Timson, The Krall, Whitehill, Berkhamsted, in 1922.
The following entries from the list of people leaving the UK on FindMyPast may all refer to Samuel Rowland Timson
Name
Date of Birth
Date
Leaving
Destination
TIMSON
S R
Unknown
M
1890
Liverpool
USA
New York
TIMSON
S R
Unknown
M
1892
Southampton
South Africa
Cape
TIMSON
S R
1866
M
1893
Southampton
South Africa
Port Elizabeth (Algoa Bay)
TIMSON
S Rowland
Unknown
M
1899
Southampton
Argentina
Buenos Aires
TIMSON
S R
Unknown
M
1903
Southampton
USA
New York
TIMSON
S R
Unknown
M
1912
Southampton
USA
New York
TIMSON
S R
1864
M
1914
London
South Africa
East London
TIMSON
S R
1855
M
1919
London
Australia
Sydney
Brother Charles Timson was visiting in Hemel Hempstead in 1881 when he was a commercial clerk (chemical) and by 1891 was probably the Charles Timson who left Liverpool for New York on 21 February 1891 and is said to have opened Cooper's American branch in Galverston, Texas, in 1890 - but perhaps the initial contact was made by Samuel Rowland Timson, who left Liverpool for New York on 21 June 1890. It would definitely explain his absence from the UK census. (Many other possible journeys are listed, and some may have involved several members of the family.)
Terence replied: ... I have today confirmed that Lt. Col. Samuel Rowland Timson did indeed live for a number of years at The Kraal, Whitehall, Berkhamsted. This information comes from the archives of the Royal Geographical Society of which he was a Fellow at the time. I wonder if 'The Kraal' still exists? I am not sure where Whitehall is, not having encountered any reference to it in my couple of visits to the area.

We have an etching of Denison House in Little Gaddesden with a Christmas and New Year message to our family from 'Sam and Theo' dated 1923. Logically Samuel Rowland must have moved there from The Kraal but we're not sure who 'Theo' was, given that he married Alice Day in 1880.
Early Cooper Advert

Yorkshire Herald

21 May 1859

First a brief note that most references I have found refer to White Hill, although some refer to Whitehall. The building itself was (if I remember correctly) red brick.
In 1868 William Cooper (who died 1885) was joined by his nephew, William Farmer Cooper (died 1882), who initiated the overseas trade. Later he was joined by two other nephews Henry Herbert Cooper (died 1891) and Richard Powell Cooper who became sole owner on his brother's death. In 1898 Richard's eldest son, Richard Ashmole Cooper became a partner and had moved to a large house called White Hill by 1901 which had previously been the home of Francis F Lidderdale. It would have been convenient for the works as the Cooper works were in Raven's Lane, which continues beyond the canal as Gravel Path, with White Hill being the mansion on the top of the hill. Richard Ashmole Cooper set up the Cooper Research Laboratory in the office building in Ravens Lane and took over the running of the business when his father died in 1913. It may even be at this period that research oriented livestock activities were carried out on the land at White Hill. Such research could have involved diseased sheep and they would need to have been contained in very well secured pens to avoid them escaping and infecting healthy sheep ... so, perhaps, what more appropriate name for a company with South African connections than "The Kraal"???
In the 1901 census Samuel Rowland Timson's children Blanche Muriel (16) was a boarder at a small school at Elm Grove, Berkhamsted; Rowland C Timson (14) was a boarder at Innocents School, Chesham Road, Berkhamsted; and Stanley D Timson (12) was at Berkhamsted School. It is possible that the family had already moved out of Clunbury House and their parents (who are not listed in the census) were abroad. In 1902 Samuel is listed as living in The Kraal, which the 1911 census shows it was the nearest house to White Hill - so may have been the unoccupied house near White Hill in the 1901 census. So at about this time an office building in Ravens Lane (Clunbury House?) became the research laboratory Samuel Timson moved into a house near (or actually in the ground of?) the house where Richard Powell Cooper lived. By 1908 Richard had moved across the valley to his father's house, Ashlyns Hall, and a Major Richard Mildmay Foot had moved into White Hill, pe4rhaps as a tenant.
Samuel is still listed as living at The Kraal until about 1922 and by Christmas 1923 had moved to Little Gaddesden. The was probably because of changes in the company. In 1925 the firm Cooper, McDougal and Robertson, was formed and about this time Clunbury House became the home of the Clunbury Press, the main research offices moved to a new building in Berkhamsted High Street, and White Hill was renamed Berkhamsted Hill and became the centre of the research farm. My first job (1962-65) was in an office in Berkhamsted Hill in what had been the kitchen wing, where I was processing research reports from South Africa. By the time I was there there were many farm buildings and specialised laboratories at the back of the house (all now redeveloped as modern housing) and if The Kraal was part of the complex I was unaware of the fact.
As to your query about "Theo" I note that Alice appears to have died in 1916 aged 65 (Death Certificate reference Dec 1916 Berkhampstead 3a 1026)
---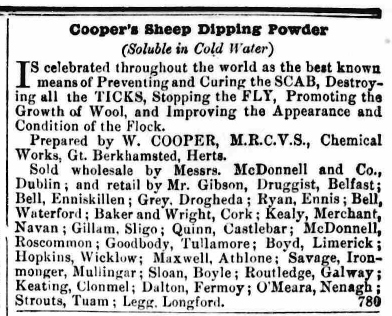 Farmers Gazette (Ireland) 9 June, 1866
John Ashmore Cullwick was born 8 December 1850 in Kings Norton, Warwickshire. In 1881 hew was a sugar merchant in a family business which went bankrupt in 1883. In 1891 he was a commercial traveller, and his wife Gertrude (41) were staying with her parents, Joseph (farmer) & Ann Lane, and 10 years later they were living with her widowed mother in Lichfield. In 1911 he was was a commercial traveller in sheep dip, visiting Frank Reynolds (55) managing director of a bacon factory in Devises, Wiltshire. He died on 27 August 1915 at Maney, Sutton Coldfield.
SWIM-BATH FOR SHEEP-DIPPING- DEMONSTRATION IN CORK.
On Saturday afternoon Mr J A Cullwick, representative of Cooper's Sheen Dip, gave a demonstration Cooper's Colonial Swim-Bath for the cure scab in Messrs Marsh and Sons' Depository, Copley street. The exhibition was under the patronage of the County Cork Agricultural Society and the County Cork Farmers' Association, and many members both bodies were present. It is claimed for the bath, which is recommended by the Herefordshire County Council, that it is a more effectual means of curing the scab and killing the ticks and fly than any amount of dressing or of dipping in the ordinary tub The bath, which was sunk in the ground flush with the surface, is an iron tank, 3ft 10in deep, 3ft 3in wide at the top, tapering to 16in at the bottom, and 9ft long, divided into two compartments by a screen or gate, which can be raised by a lever for the sheep to swim through on to a sloping exit after immersion for the requisite time. The sheep - one or more - is pushed into the first compartment of the bath, and there remains for a minute, every part, even the head and ears, being soused, a man using a crutch to pull or push the animal in any direction, and to insure every pmt the animal being well soaked. As soon as the minute is up a lever is pressed which raises the screen, under which the sheep swims into the second compartment, and finally on to some stops, up which the animal climbs on to a sloping floor composed sheets of corrugated iron, about 24ft in length, called the draining floor. During the demonstration, which took place at half-past two, a number ot sheep were operated upon, and the process was explained by Mr Cullwick. He said the wonder of the design was its simplicity. The bath was introduced from the colonies, where it had in general use for some years. If this system could be generally adopted of dipping, he thought it would lead to totally eradicating the disease scab from sheep. By this system one man could do with ease and comfort to himself what required five or six men with the old tub, and with safety to both man and sheep. Many the gentlemen present and who were all prominently connected with sheep-culture. seemed pleased with the process and asked many questions during the course of the demonstration.
Cork Constitution 5th October 1896
There is the description of a similar trial published in the Staffordshire Chroniclleof 12th September 1896
If you can add to the information given above tell me.