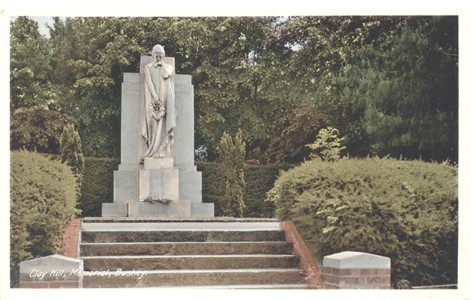 Clay Hill Memorial, Bushey
A sign to appear on houses in Bushey during the Exhibition
Bushey Museum and the Bushey Academy are putting on an exhibition between the 4th and 24th August, 2014, based on the war time experiences of the people who lived in Bushey. It will include a display of work on the First World War by students of the Academy. Details are given on the BusheyWorldWarOne web site.
An interesting idea is to display this sign on houses in Bushey where a soldier who died in the First World War lived. Perhaps other areas could take up the idea, perhaps even including the name of the soldier.
Bushey is famous for the number of artists that lived there. In the 1880s Hubert Herkomer, a Bavarian artist, opened an Art School in the village. Over a period of twenty years it was attended by about 600 international students. A number settled in the village and during the First World War they contributed to life on the Home Front and by serving overseas. Some examples of their work are given on the BusheyWorldWarOne web sit. There is an archive page with biographical details of some of the casualties, including Lieutenant Arthur Langton Airy (a Herkomer student) and Bertram Prewett, a renowned Bushey bell ringer, and further contributions relating to Bushey at the time are welcome.
In addition there is an appeal for help if you have information (photographs, letters sent home from the front, etc.) relating to anyone remembered on the Bushey war memorial at Clay Hill or the Church war memorials at St James, St Matthew, St Peter, St Paul, and the Bushey Methodist Church.
Hertfordshire Genealogy News, 28th February, 2014