War Memorials
After the First World War memorials went up in towns and villages across the country - and these were often supplemented by memorials in churches, and sometimes associated with large employers.
The following pictures show the town war memorial at Royston, adjoining the churchyard of the parish church, and the plaque in the Kneesworth Street Congregational Church.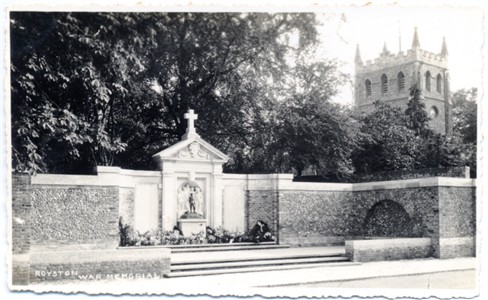 Royston War Memorial - postcard - no publisher or date info

From postcard of Kneesworth Street Congregational Church, Royston
A.E. Bishop / B. Carter / J.C.F. Dellar / T. Drage / O.W. Feast / F.C. Feast / F.D. Fisher / S.G. Gatward / G.T. Goodman / A.J. Humphrey / H.E. Norman / H.C. Pepper / E.J. Pigg / A.G. Pigg / W.A. Pettengell / R. Shaw / F. Thomas / R.D. Watson / A. Witts
Related Pages
War memorials and Rolls of Honour - Important online web site
John Dickinson's Paper Works - WW1 casualties
If you can add to the information given above tell me.
Page updated August 2006