Panshanger,

Hertingfordbury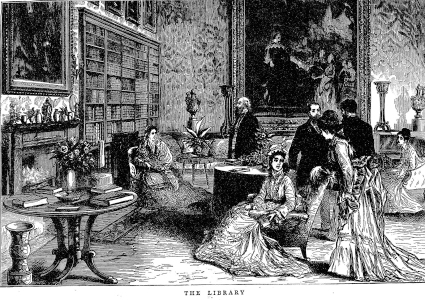 PANSHANGER. EARL COWPER'S COUNTRY SEAT
ABOUT a fortnight since their Royal Highnesses the Prince and Princess of Wales were guests at this elegant mansion, which is situated in Hertfordshire, a few miles from the county town, of which Earl Cowper is Lord High Steward. The Prince and some other gentlemen spent part of the time in shooting, and had excellent sport, bagging in one day no fewer than 760 pheasants, besides partridges, rabbits, and hares. The Princess planted a chestnut tree in the grounds in commemoration of the visit, ... [full article] .... Our engravings of Earl Cowper's seat represent the library at Panshanger and the south view of the mansion. Our engravings are from photographs by Messrs. Elsden and Son, Hertford.
The Graphic, 12 December, 1874
Panshanger (Terrace), Hertford

Published by Regal Art Publishing Co, city, London

RAPCO View No 2036
Click on post card images for bigger pictures
See Julian Grenfell, soldier & poet: letters and diaries, 1910-1915
See Humphry Repton's Red Books of Panshanger and Tewin Water, 1799-1800
See also The Panshanger Oak
I have more information waiting to be added to this page Tell me if you would like me to add it now
If you can add to the information given above tell me.
| | | |
| --- | --- | --- |
| January 2012 | | Page Created |
| July 2013 | | Red Book link added |
| February 2015 | | The Graphic engraving |