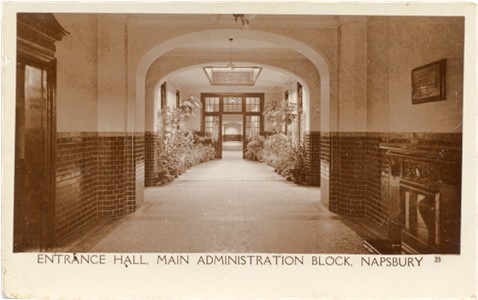 Entrance Hall, Main Administration Block, Napsbury
Unused and undated but back identical to the card of Ward M.1. of the Military Hospital
Andrew writes: I've managed to track down the Military Admissions and Discharge Registers for the County of Middlesex War Hospital at Napsbury for WW1. Go to the National Archives Website, open the Catalogue, type in the Ref. No. MH 106,when that comes up, click on the Sub Series "Hospital Admissions and Discharge Registers". When that comes up, scroll down until you come to "County of Middlesex War Hospital at Napsbury, click on the Sub sub series for the above mentioned and that gets you into everything pertaining to the Soldiers of WW1.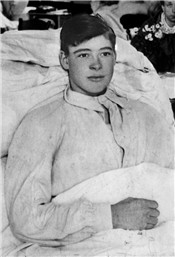 John Maple joined up under age went to France as a driver with the Royal Field Artillery. He was seventeen when he was wounded and was invalided to Napsbury War Hospital.
Picture and information supplied by his grandson, Ken Maple (music @t kmaple.co.uk)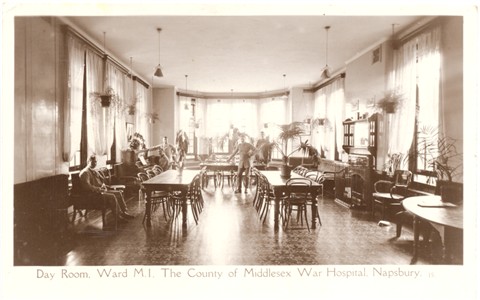 Day Room, Ward M.1., The County of Middlesex War Hospital, Napsbury
Sent by Fred. as above. Date unreadable but 1d postage suggest somewhat later.