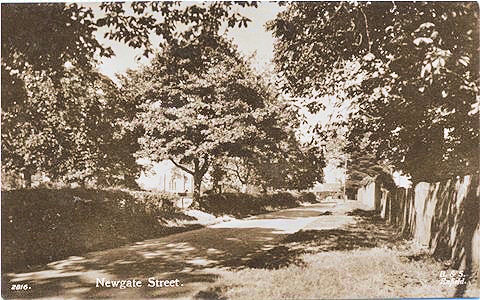 Newgate Street -1920s? postcard by B & S. Endfield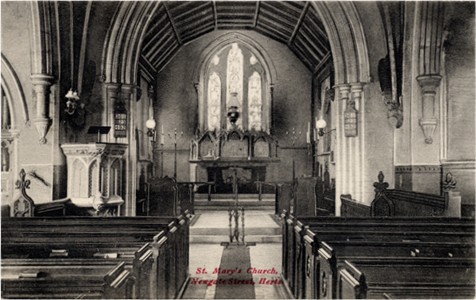 St Mary's Church, Newgate Street
NEWGATE STREET is le Newgate in 1371 and Neugatestret in 1468 and was the home of Christiana de Neugate in 1255. The gate may have been an entrance into Hatfield Chase.
The Place-names of Hertfordshire
Newgate Street is a hamlet of Hatfield parish, 6 miles south-east and 4 north-west from Cheshunt, St Mary's church, built in 1847 at the cost of the late Thomas Mills esq. of Tolmers, is a cruciform structure of Bath stone, in the Early English style, consisting of chancel, originally apsidal, nave, trancepts, south porch, and a detached western tower with broach spire, containing one bell: all the windows are stained, the west window being a memorial to the founder, who died in 1862: the new chancel to take the place of the apsidal chancel was erected in 1887 by the Mills family, together with organ chamber and vestry under the superintendence of Mr H Hardwicke Langston, architect, London. The church will seat about 150 persons. The register is a perpetual curacy, net yearly value £76, with residence, in the gift of Joseph Trueman Mills esq. of Stockgrove, Leighton Buzzard, and held since 1900 by the Rev. Henry Willes Southey M.A. of Caius College. Cambridge.
Kelly's Directory for Hertfordshire, 1902
For old pictures of Tolmers, including The Coach & Horses Public House, the Post Office, St Dominic's Priory (later the Ponsbourne Hotel), Newgate Street & Tolmers Tea Rooms see A Tolmers picture gallery, by Daphne Knott.
If you know of other books, websites, etc, relating to this place, please tell me.
Page updated November 2005