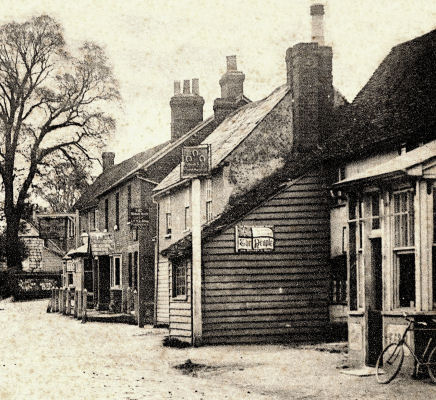 Inns and Public Houses are key buildings in any local or family history because they often have distinctive names which continue for generations. This page looks at some sources of information about the village of Walkern

James Allison, beer retailer
Miss Elizbeth Pearman, White Lion

George Waldron (41, born Colswell?, Herts) Publican, White Lion
Sarah Aylott (wife of George Aylott, 53, born Walkern) Publican, Red Lion
Henry Elliott (28, born Ardeley) Bricklayer & Publican, Yew Tree Public House
James Allison (58, born Walkern) Agricultural Labourer & Publican, Robin Hood & Little John

18

66 Post Office Directory

Thomas Collins, beer retailer
Daniel Dearman, beer retailer
John Dickison, beer retailer, Clay End
Phillip Dilley, & shopkeeper, Red Lion
Mrs Eliza Elliott, White Lion
Thomas Moulden, butcher & beer retailer
John Smith, beer retailer

James Bray (51, born Walkern) Brewer, Village St
Isaac Canning (48, born Bath Somerset) Inn Keeper, White Lion, Village St
Thomas Collins (65, born Bennington) Publican, Village St
James Culver (61, born Walkern) Publican, Village St
George Waldock (46, born Walkern) Publican, Village St
Frederick Wray (36, born Walkern) Innkeeper, Village St
Emma Wright (widow, 41, born Melbourn, Cambs) Brewer, Brewery House

Unfortunately the census enumerator did not bother to record the names of the smaller public houses - you may be luckier with other villages and other census years.

1882

Kelly's Directory

James Bray, brewer & builder
Isaac Canning, White Lion
Thomas Collins, beer retailer
James Culver, Red Lion
John Dickinson beer retailer, Clay End (baker in census)
William Green, carpenter & beer retailer (carpenter in census)
George Waldock, beer retailer & shoe maker
Frederick Wray, Yew Tree
Samuel Wright (exors of), brewer & maltster

1890 Kelly's Directory

Isaac Canning, White Lion & tax collector

John Dickinson, beer retailer & baker, Clay End

William Green, furniture dealer & beer retailer

William Newberry, blacksmith & Yew Tree P.H.

George Waldock, Red Lion P.H.

Samuel Wright & Co, ale, stout & porter brewers & maltsters & aerated water manufacturers, Victoria brewery & mineral water works. See Advert

The publican in several of the smaller establishments has multiple occupations. This was actually very common and many of the smaller beer houses were basically the parlour of a house where you sat round the fire of an evening with the landlord, who worked during the day time.

Extract from Hertfordshire Inns & Public Houses

[The book describes premises still operating in about 1990] In addition to the three surviving houses discussed below, there were three others licensed by 1899 which have since closed. First of these to go was the King's Cross, privately owned by Mr F Cotton-Browne of Walkern Park and situated east of Walkern on a minor road just south of Bassus Green, at the corner of the lane leading to Walkern Park. The King's Cross was licensed as an alehouse at least as early as 1897 and is listed in Kelly's 1899 Directory with G. Allen as licensee, but it probably closed soon afterwards. The Three Horseshoes was a beerhouse in the High Street which survived at least until 1919 when it was owned by Simpsons of Baldock. The Red Lion, an alehouse owned by S.Wright & Co. of Walkern, has not been traced before 1897, but it did not close until 1955.

ROBIN HOOD


63 High Street
Earliest known reference 1877
Beerhouse: beer & wine 1947, full licence 1953
Discovery Leisure
Built in about 1810 by James Spriggins of Walkern, purchased in 1877 by Fordham, brewers of Ashwell, and licensed to George Baldock. John Phillips was the licensee in 1899.

Could Baldock be an error for Waldock? - see above

WHITE LION

formerly Rose & Crown
31 High Street
Earliest known reference 1766
Alehouse: full licence 1919
Greene King
In 1766 this inn was part of the marriage settlement of Mary Field on her marriage to John Smith of Hitchin. It was then the Rose & Crown; the name did not change until about 1786. In 1796 it was bought by John Crabb, brewer of Hitchin. Some 16th century work remains inside and there is a good 18th century doorway

YEW TREE
57 High Street
Earliest known reference 1737
Alehouse; full licence 1919
McMullen
The house was acquired in 1737 by William King of Walkern and it seems that he was the person responsible for the rebuilding and the addition of a bowling green which are mentioned in a document of 1740. During the 19th century a blacksmith's shop formed part of the building and there was also a brewhouse.
---
The Robin Hood and the White Lion Public Houses are listed buildings.
Dead Pubs lists the publicans of the White Lion and Yew Tree from 1882
Still Open with web sites: White Lion, Yew Tree
---
Carol Fleg (nee Culver) (allan_quincy @t hotmail.com) of Ontario, Canada wrote: I would like to clarify the name of George Waldock. I believe he is related to James Culver re: The Red Lion Pub, James Culver owned this pub. He married a Martha Waldock. James was my great uncle on my father's side. He would have been my father's uncle. I am not sure if he was his brother-in-law or a nephew of Martha's. I am still checking out my family tree. Their first born child was named after George Waldock b. 1850. I hope this gives you some information on the name you weren't sure of. Baldock or Waldock.
If you can add to the information given above tell me.
| | | |
| --- | --- | --- |
| December 2011 | | Restructured with new information and links |
| | | |