Alfred was a well know Hoddesdon photographer who was born in Great Amwell in 1854, the son of Charles and Ann Burton. He married Eliza in about 1878 and had five daughters and one son, Charlie. In the 1871 census he was described as a labourer living with his parents at Hertford Heath, and in 1881 and 1891 censuses he was described as a gardener living in Hoddesdon, having moved to Roman Street, Hoddesdon prior to 1891.
Clearly something happened as in 1899 the Hertfordshire Kelly's directory records him as a photographer in Roman Street, and in the 1901 census he described himself as a photographer and taxidermist. with Charlie being his assistant. The business continued under Charlie from 1913 until about 1951.
[Information from census returns, trade directories and Hoddesdon's Past in Pictures]
It would be interesting to know how the move from being a gardener to running a photographic business occurred. In one census he was described as a domestic gardener (as opposed to a market gardener) so perhaps he worked in the garden of a big house, and his employer encouraged his interest in photography? Can anyone tell me what happened?
Denise Hutchin.(denise.hutchin @t ntlworld.com) writes: Alfred Burton was my great grandfather. I also asked this question myself some years ago and an expert in Hertfordshire photography, Mr Doig if my memory serves me correctly, suggested as a gardener he would have worked with chemicals and therefore understanding the concept of photography at that time would have been a reasonable transition for him. The earliest photo I have is probably dated late 1880s.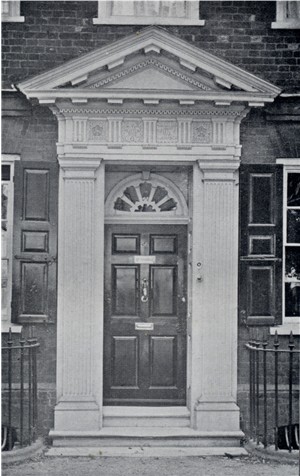 Rathmore House
from A History of Hoddesdon
photo by Burton