| | | | | |
| --- | --- | --- | --- | --- |
| | | The Langsdorff & Co. Art Postcards of Hertfordshire | | |
Langsdorff & Co started to sell postcards in about 1905. Early in 1906 they moved to 19 City Road, London E.C. and their distinctive trade mark was applied for in May 1906. They described themselves as Fine Art Publishers, and published many artist cards of good quality. The company appears to have ceased trading on the outbreak of war in 1914.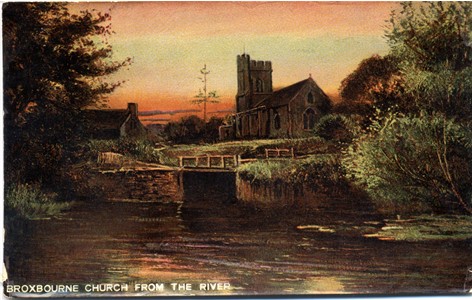 Broxbourne Church from the River
The cards shown here all relate to Broxbourne - and are "Copyright no 683" and have identical backs with the Zeus trademark and the words "Printed in Saxony" in the stamp box. One (Broxbourne Bridge) was posted in October 1906, and a copy of another (Wormley Church) was posted in September 1907. They were presumably all issued at the same time in the summer of 1906. All are painted in the same style, possibly commissioned for the purpose, but unfortunately the artist is not identified.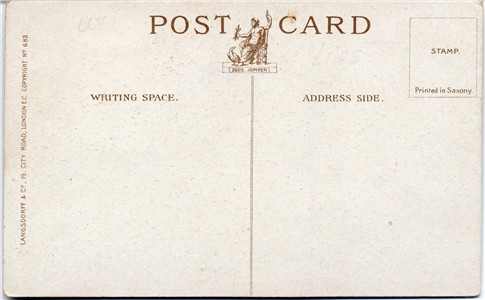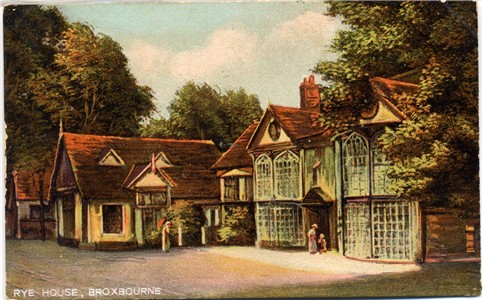 Rye House, Broxbourne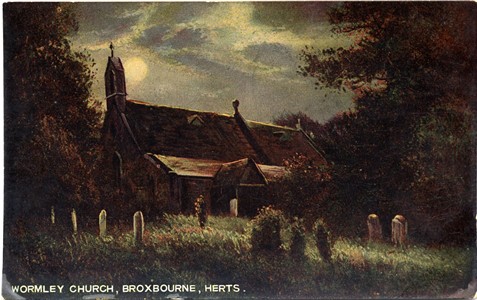 Wormley Church, Broxbourne, Herts
---
| | | |
| --- | --- | --- |
| | | Martin writes from California: I read on your website that Langsdorff & Co started selling postcards about 1905, but no mention of whether they were in business prior that date. I have a monochrome print of a Henry Parker painting that was published by Langsdorff & Co in 1901, giving the address of 19 City Road, and I'm trying to get some info on it. Your site is the only one with pertinent info that comes up on various online searches for Langsdorff & Co, but mentions only the postcard publishing. Any info you may have would be much appreciated. |
My source was the book Picture Postcards and their Publishers by Anthony Byatt and all it says about their pre-postcard publishing days is:
About 1904 Langsdorff & Co changed their designation from Merchants to Fine Art Publishers and in addition to their premises in Mincing Lane, London, took over 19 St Dunstan's Hill, E.C., moving early in 1906 to 19 City Road, and so into the area of "The Postcard Mile." They disappeared from the scene with the outbreak of World War 1.
I note that there was a Hans Langsdorff who in 1891 was a visitor to a house in Hampstead and described as an unmarried 31 year old merchant born in Germany. In 1901 he was boarding in Hampstead and this time he was described as a "merchant drysalter". I could not locate him in 1911 and there were no other possibly relevant Langsdorff in the London area. Simple googling for Hans Langsdorff proved impossible because google is flooded with references to a famous namesake, the Captain of the German Battleship, the Graf Spee.
Mincing Lane
included a number of large office blocks, and in 1899 "
Langsdorff & Co., merchants
" was one of 38 companies listed in
Market Buildings, 29 Mincing Lane
. 1
9 St Dunstan's Hill
was a similar building with several firms listed on each of five floors.
19 City Road
was occupied by
Suckling
&
Aldom
, school stationers.
In 1910 Langsdorff & Co were described as "fine art publishers" and the only occupier of 19 City Road - and it would appear from the address on the print that they were there by 1901.
I suspect that Hans was the London agent of a German family firm, and its is possible that he saw a new market in fine art printing and started out in a small way, possibly from the London office in Mincing Lane. This proved profitable and expanded into the postcard market. However to be certain one need to know what the company was doing in Germany.
Please tell me if you have any further information on Langsdorff postcards in Hertfordshire or can identify the artist.
| | | |
| --- | --- | --- |
| June 2006 | | Page created |
| November 2012 | | Query about 1901 print |