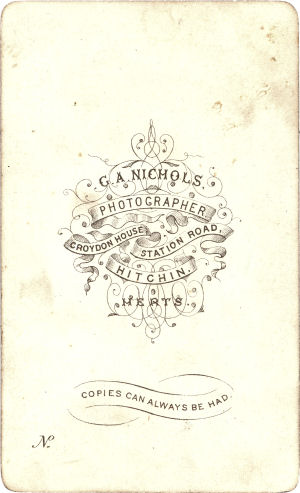 George Albert Nichols (31, born Cambridge) was a photographic artist living at Southbridge Road, Croydon with his wife Elizabeth (28, born Paddington) in 1871. In 1875 his studio at No 4, London Road Croydon, was taken over by Jesse Holloway (Photohistory of Sussex). He is listed at Croydon House, Station Road, Hitchin in 1878 but in 1881 and 1891 he was living in Stamford, Lincolnshire, as a photographer, with wife Rebecca (he actually married Rebecca Fosdyke in 1883). He died in 1897, and his wife continued as a photographer in Stamford in 1901 and 1911.
It would seem that between 1875 and 1881 he moved from Croydon to Stamford via "London House", Wormley and "Croydon House," Hitchin. He may only have been in Hertfordshire a short time - but the back of the cards suggests a professional approach - rather than a beginner just setting up in business for the first time.
A Google search provided the following quote "born in Cambridge, went to America, returned to Hertfordshire as a photographer in 1870s & then went to Stamford where he ran a photography business until his death in 1897" (Cambridgeshire History).