A Short History of Bernards Heath
The Beech Bottom Shooting Range
During 1859 there was threat of a possible invasion from France and at a meeting in December it was decided to form a rifle volunteer corps in St Albans. They needed somewhere to practice and Earl Spencer offered them Beech Bottom. A bank was built across it to form the butts and a gap cut in the side to give a maximum range of 600 yards. This was used regularly over the years for both practice and competitions.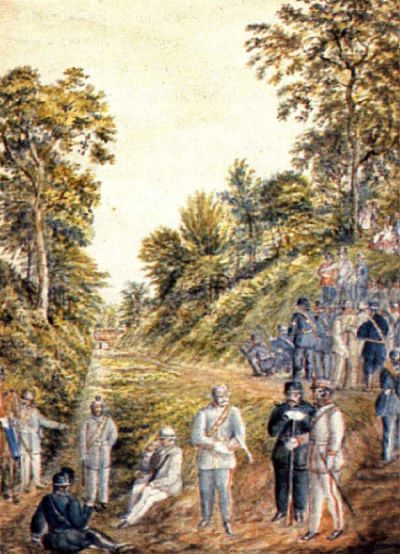 The Militia in Beech Bottom (A Window on Victorian St Albans)
The annual prize competition held on 23rd August, 1872, was a typical event, where the challenge cup was offered by the Rev. H. N. Dudding, vicar of St. Peter's. Captain H. R. Howard took the scores which involved shooting over 200, 400, 500 and 600 yards. After the competition the members of the Company took supper at the George Inn, where the table was headed by Captain Howard, the honorary chaplain the Rev. P. U. Brown, and Lieutenant A. Rumball. On the following Sunday the Company was to attend a service at the Abbey Church in aid of St Albans Hospital. The Company band was to arrive at the parade ground at 10 o'clock, while the rest of the men were to be there in full uniform a quarter of an hour later, prior to marching to the church.
There were also the athletic sports , such as those held at Beech Bottom on the 1st January, 1873. The events included running races over 100 yard to half a mile, high jump, putting the weight, and walking over one mile. Entry fees were one shilling for a single event, with entries to Private G. Everitt, at the Crab Tree, St. Peter's Street.
The range was abandoned because the volunteers were issued with a more powerful rifle in 1895, and a few years later a new range was opened north east of Sandridge. However the military were soon back on the Heath. In 1908 the Territorial Force (later Army) was formed and the 1st Hertfordshire Battery, Royal Field Artillery, was based at St Albans. In September 1910 the Herts R.F.A. riding school was opened on the part of Bernards Heath now occupied by Edmund Beaufort Drive.
In 1914 St Albans became a garrison town for the 2nd London Division within weeks of the outbreak of the war. Soldiers were camped on Bernards Heath and a large marquee was erected on the lawns of St Saviour's Vicarage to provide entertainment for the troops.
Next: Sport on the Heath
See also Chalk Hill Rifle Range, Sandridge, First World War