The Brickmakers of St Albans
A Talk given to the St Albans & Hertfordshire Architectural & Archaeological Society at St Albans on 7th January 2003
The Bernards Heath Brick Fields
18th/19th Century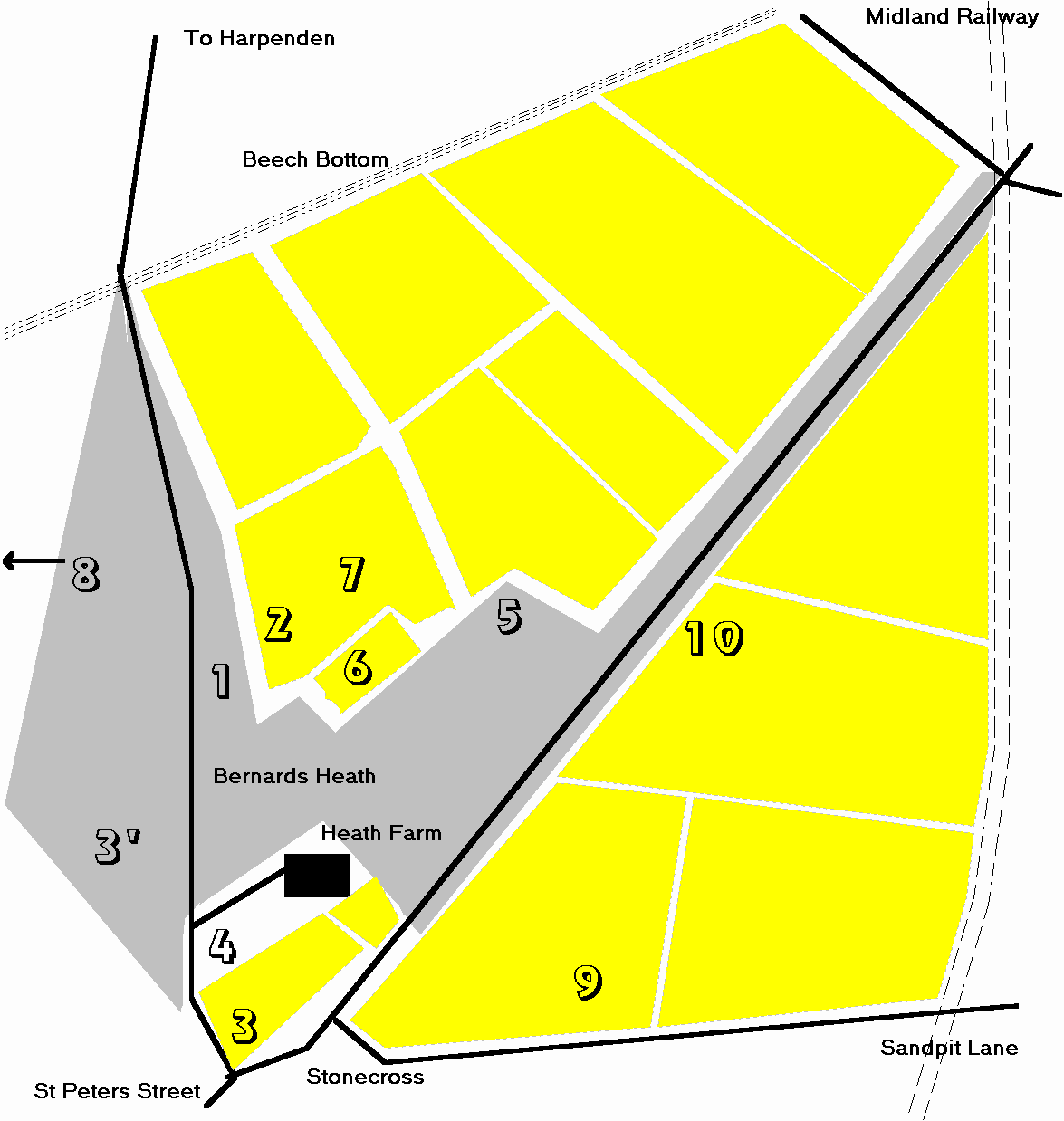 1 Brickkyln on 1726 map
2 Brick Close on 1726 map. (May be the Brokeclose of 1556). It was farm land when let to William Brown in 1809.
3 Benjamin Fowler enclosure of 1813. In 1833 became the site of the original waterworks. House later known as Swiss Cottage, and became the Hitchcock's straw bleaching works, partly burnt down in 1879.
3' Possible site of sheds improperly erected on Heath by B. Fowler in 1822.
4 Joseph Kinder of Sandridgebury (1831)? [Father & brother made bricks.]
5 Possibly William Bennett between about 1833-1865, later almost certainly Miskin's until about 1893. Disused by 1897 Ordnance Survey
6 George Farr Arnold from 1864. May have reverted to "field" by 1871.
7 George Farr Arnold from 1868. Became Lewis & Wiles tallow works by 1890.
8 Frederick Barford in 1869. Only used for a few years.
9 James Dickson in 1890. St Peter's Brickworks closed down in 1899. The land on which these brickworks were situated was sold for housing - but some builders excavated the brick earth instead. Other nearby brick pits were owned by Mr. Savage and others.
10 Probable site of Jacob Reynolds' Brickworks in 1894, and possibly earlier. Jacob Reynolds involved with Heath Brick & Pottery Works circa 1900. Miskin on site in 1905 and still on the Heath in 1913 but may not have been making bricks at these dates. Became Bygrave & Stratton's builder's yard after 1st World War.
Supplementary Information
Sources will be given later, when the individual brick fields are described
If you can add to the information given above tell me.