The Brickmakers of St Albans

James Dickson

1844-1927
James DICKSON was born in Dublin in about 1844 and came to St Albans about 1882 where he lived at Townsend, St Peters Street. He was a building contractor who had a brickworks and wire works in the Heath Road/Walton Street area off Sandpit Lane, the brickworks closing in 1899.
James DICKSON was the son of John DICKSON (1819-1892)and the following is taken from "The Teign Valley Line" by Peter Kay, Wild Swan Publications, 1996, which is a very detailed story of the Exeter, Teign Valley & Chagford Railway. [ollis info]
John and James Dickson were brothers, sons of the perhaps better known John Dickson (1819-1892) who had been active as a railway contractor in the 1840s to 1880s period and had lived since the 1860s in Swansea where he had promoted the Neath & Brecon Railway as a 'contractor's line' and bought up the Oystermouth Railway, which he ran himself as the "Swansea & Mumbles Railway Ltd". Later he had become involved in promoting the Mersey Railway and the Whitby, Redcar & Middlesbrough Union Railway. John Dickson (Junior) had qualified as an engineer and had been Engineer to his father's Swansea & Mumbles Railway. In the mid 1880s he moved to North Yorkshire where he took over the Glaisdale Ironworks about the same time as James settled in St. Albans, renting the Townsend Estate, and was manager of the Holborn Wire & Cage Works at 48 Grays Inn Road, London. James was also active as a contractor, primarily on sewerage/drainage/waterworks schemes in the 1880s to 1910s period but also engaging in railway contracts when he could, notably for the Sutton & Willoughby Railway in 1885/6 and its extension to Mablethorpe in 1886-8 and later the GWR's Garnant to Gwaun-cae-Gurwen line in 1904-8. The Exeter, Teign Valley & Chagford Railway was the only contract that James and John are known to have taken on together.
The Dicksons are mentioned quite a lot in the book for their railway construction and for the quarrying businesses they moved on to, a number of the quarries are still visible today. James's son, John Harvey Dickson, continued the quarrying business. He liked to be known as Paddy Dixon, traded as "J.H.Dixon" and founded the Devon Basalt & Granite Co. Ltd at Trusham Quarry. I believe John Dickson (Senior) was made bankrupt over the first Mersey Tunnel. James' sewerage/drainage/waterworks referred to in the book may well include major works in St. Albans, which could explain why he moved here.
At the time of the 1881 census James was living in Dorset House, Sevenoaks, Kent, with his family [IGI search].
| | | | | |
| --- | --- | --- | --- | --- |
| Jas. DICKSON | 36 | Dublin, Ireland | Head | Contractor |
| Rhoda A. DICKSON | 36 | Swansea, Glamorgan | Wife | Contractor Wife |
| John H. DICKSON | 13 | Cadoxton, Glamorgan | Son | Scholar |
| Jas. W. DICKSON | 11 | Swansea, Glamorgan | Son | Scholar |
| Ethel E. DICKSON | 1 | Swansea, Glamorgan | Daur | |
| Ann DAVIES | 25 | Swansea, Glamorgan: | Servt | General Servant Dom |
| Mary JOHNS | 25 | Clariston, Pembroke | Servt | General Servant Dom |
In April 1881 James Dickson, of Sevenoaks submitted a tender for the St Albans City sewerage works sewerage works (Herts Mercury 9th April, 1891) and he obviously won the tender, although it was not the lowest bid, as an advert in October noted in 1883 [HA 1883] shows that he had been the contractor for building the main sewerage works in St Albans.
In addition the building of Culver Road, Bernards Heath, St Albans, had not started at the time of the 1881 census, but at least some houses were occupied by October 1882. As Culver is a place in Devon in the Teign Valley, with a station on the railway (now closed), it seems likely that James Dickson named the road. If so he was presumably the main contractor when work started on Sandridge New Town. The brickworks in the corner of the estate may well have started at this time, although initially he may have brought bricks from one of the other local brickworks.
What is known is that in October 1883 James Dickson, Half Moon Yard, Chequer Street, was one of the builders advertising their willingness to make connections with the newly installed main sewer.
In 1886 [St Albans Almanack 1886] he was recorded as living at Townsend, St Peters, where he continued to live. The earliest reference to his making bricks is from a press report [HA 1888] of the Sandridge Vestry meeting in March 1888. The paper reported that " The attention of the vestry was also called to the fact that Mr Dickson was now erecting a new brick kiln nearer towards Sandridge than the others, and it was stated that the fumes of smoke being close to the cottages, the occupiers would not be able to remain in them when the wind was in a certain direction, and it was asked what steps could be taken to prevent what would undoubtedly prove a serious nuisance. – The subject the dropped, it being understood that the chairman [Dr Griffith] would investigate the matter." [Sandridge Vestry]
The location is not clear, but if the "nearer towards Sandridge" meant "nearer to cottages in the parish of Sandridge" this would fit the known location of the brickworks adjoining Sandpit Lane. In July 1889 there was a severe storm affecting the Bernards Heath area. The runoff from Heath, Boundary and Culver Roads, with that from Mr Dickson's brickfields did considerable damage to the adjacent allotments - locating the brickfields adjacent to the new-built up area. [HA 1889a]. In November two local lads, John Harris (10) and William Paul (9) were charged with stealing lead piping belonging to Dickson. One of his employees, William Howard, reported that the piping had been connected to a pump in a clay pit immediately adjacent to St John's Road (later renamed Walton Street), which confirms the location more precisely [HA 1889b]. The earliest directory record is in the 1890 Kelly's Directory for Hertfordshire, where his entry reads:
DICKSON James, red brick maker, drain pipe manufacturer, contractor for building operations, St Peter's Street and Bernards Heath.
In 1890 a five year old child drowned while playing near a flooded clay pit, and his foreman, Mr Howard, gave evidence. Mr. Dickson quickly erected barbed wire and wooden railings round his pit, and the owners of other pits were urged to do the same [HA 1890]. The works were between Walton Street and the site where St Saviour's church was later built. In 1893 another youngster was rescued from drowning in a water-filled pit in the area - which was almost certainly another disused brick pit [HA 1893].
In 1891 he sold 300,000 bricks, consisting of 1st and 2nd quality red and grey stocks, together with 2,000 2-inch and 3-inch agricultural draining pipes [HA 1891].
At the time of the 1891 census he was living in Townsend (although the house was not named in the returns.) The house was in St Peters Street between Hall Place and Stonecross on the same side if the road. The household then consisted of:
| | | | | |
| --- | --- | --- | --- | --- |
| Jas. DICKSON | 46 | Ireland | Head | Contractor |
| Rhoda A. DICKSON | 46 | Swansea, Glamorgan | Wife | |
| John H. DICKSON | 23 | Neath, Glamorgan | Son | Contractor's Agent |
| Jas. W. DICKSON | 21 | Swansea, Glamorgan | Son | Undergraduate Law Student |
| Ethel E. DICKSON | 11 | Swansea, Glamorgan | Daur | |
| Olga R M DICKSON | 8 | Swansea, Glamorgan | Daur | |
| Susan W RAYNER | 51 | Swansea, Glamorgan | Sister in Law | Living on own means |
In 1894 some chickens owned by James Dickson were stolen from "the washhouse belonging to an old cottage on the Heath" but it is not clear if this was related to the brickworks. A witness in the case was William Smith, a carter in his employ [HA 1894].
In 1896 No. 16 Heath Road (formerly St John's Road) was built and it was used for his sieve manufacturing and wire working business until 1928 [Fookes]. At about the same time two houses were erected in Sandpit Lane, backing onto the works. One was called Teign House (later numbered 23, then 19) and Devonia (25, then 21). It is suggested that these were built for James Dickson's two daughters, and Ethel Sergant (nee Dickson) lived there from her marriage in 1907 until 1927. [ollis info]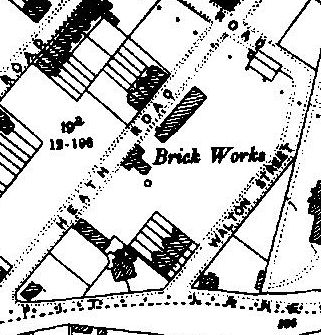 The Brickworks in 1897.
Sandpit Lane runs along the bottom of the map [OS 1898].
The 1898 trade entry from Kelly's Hertfordshire Directory was similar to the previous edition but included details of his wire working:
DICKSON James, brick, terra cotta & drain pipe maker, wire weaver and worker, railway & public works contractor, St Peter's Street & Bernards Heath.
In 1899 the brickworks were closed down and the plant sold off, as the following advert from the Herts Advertiser shows:
ST PETERS BRICK YARD,
HEATH ROAD, ST ALBANS
SALE OF BRICKMAKER'S PLANT
Messrs HARDING, LOW & HARDING
Are favoured with instructions to sell by auction, on the premises, on Friday, November 7th, 1899, at Twelve for One o'clock.
The whole of the BRICKMAKING PLANT at the above works, which are about to be closed, comprising a corrugated iron and timber-built engine shed, and brickmaking machine ditto, a 4-h.p. Portable Engine, set of Rolls and Pug Mill, Washing Mill, Mortar Mill, Brickmaking Machine, one 10in, one 8in, two 6in, and one 4in. Centrifugal Pumps with Suction Pipes complete, wheelbarrows, weathering, and all the usual plant of a brickmaker.
Catalogues may be obtained of Messrs Harding, Low and Harding, estate agents, land and timber surveyors and auctioneers, 49 Finsbury Pavement, London, E.C. and St Albans.
Herts Advertiser, 4th November, 1899
He was still living in St Peters street with family and two live-in servants in the 1901 census.
| | | | | |
| --- | --- | --- | --- | --- |
| Jas. DICKSON | 56 | Ireland | Head, Widower | Contractor for Public Works |
| James William DICKSON | 31 | Swansea, Glamorgan | Son | Solicitor |
| Ethel Eugene. DICKSON | 21 | Swansea, Glamorgan | Daur | |
| Olga Rhoda Mabel DICKSON | 18 | Swansea, Glamorgan | Daur | |
| John DICKSON | 48 | Wellington, Shropshire | Brother | Civil Engineer |
At the time of the 1901 census Robert G Shapcott (61, born Exeter, Devon, was manager of the Wire Works, and living in Devonia, Sandpit Lane with his wife Eliza (65, born Exeter) and his son, Bertram (20, born Old Kent Road, London), an apprentice at the wire works.
Kelly's St Albans Directory [Kelly] shows James was still living at Townsend up to the 1907 edition - with the 1909 edition showing him at Cumberland House, Cumberland Road. In the 1911 census he described himself as a railway contractor. He was still at Cumberland Road in the 1922 directory, but was at Cadoxton (now St.Raphaels Blind Home), Avenue Road in 1925, which backed onto Sandpit Lane opposite Teign House. He was not listed in 1927.
James died on 18th September 1927and was buried with his wife Rhoda (who died 9th January 1900) in a vault in St.Peter's graveyard, St.Albans, with their son J. W. Dickson and Rhoda's sister Susan Dyche Rayner [ollis info].
James Dickson's impressive stone in St Peter's Churchyard (2014)
Sources and Notes
Fookes: Made in St Albans - Ten Town Trails Exploring St Albans' Industrial Past, by Michael Fookes, 1997
HA 1883: Herts Advertiser, 6th October, 1883
HA 1888: Herts Advertiser, 31st March 1888
HA 1889a: Herts Advertiser, 27th July 1889
HA 1889b: Herts Advertiser, 30th November, 1889
HA 1890: Herts Advertiser, 19th & 26th April, 10th May, 1890. See The Death of Leonard Margrave
HA 1891: Advertisement for an auction sale, Herts Advertiser, 5th September, 1891
HA 1893: Herts Advertiser, 24th June & 5th August, 1883
HA 1894: Herts Advertiser, 31st March 1894
IGI Search: A preliminary search of the IGI, etc., and query messages posted on the relevant RootsWEB forums produced no earlier information about him and his family.
Kelly: Kelly started publishing street directories for St Albans from 1900 (pushing the older St Albans Almanack out of business). There are copies in the St Albans City Library covering most years but there were gaps around the time of the First World War.
Ollis info: Information provided by Brian Ollis, James Dickson's great grandson, October & November, 2001
OS 1898: From the 1898 1:2500 map of the area [Hertfordshire Sheet 34.08], surveyed 1877-8 and revised 1897 - as reprinted in the Godfrey Old Ordnance Survey Maps series.
Sandridge Vestry: It could be useful to check reports of other meetings of the Sandridge Vestry for further references.
St Albans Almanack 1886: This is the first year of a number of years for which there is an entry for James Dickson in the St Albans Almanack (published annually), and there is also an entry in Kelly's Hertfordshire Directory for 1886 (published at about 4 year intervals).
Additional Genealogical Information
Supplied by Brian Ollis (brian @t mhsd.co.uk)
James Dickson born Dublin 17/6/1844, died St. Albans 18/9/1927. He had a brother John and a sister Helen. James married Rhoda Anne Rayner born Swansea 7/8/1844, died St. Albans 9/1/1900, a distant descendant of Dr William Harvey. Her father was a builder in Swansea employing 20 men (1851 Census). James' sister Helen married Rhoda's elder brother Gilmore. They set up home in Cadoxton, just outside Swansea, and produced 6 children:
John Harvey Dickson born 8/4/1867.
James William Dickson born 1869 died 25/12/1948.
Ethel Eugenie Dickson (my Grandmother) born 6/6/1879, married Charles Frederick Sargent 1/8/07, died Worthing 19/4/1965.
Martha Dickson born 1881, died 1888.
Olga Dickson born 5/6/1882, died Worthing 1978.
Violet Martha Elizabeth Dixon born 18/4/1888, died 18/7/1888.
November 2006
Steven Eyres (eyres31 @t fsmail.net) is researching the family of John Dickson, railway contractor, the father of James Dickson, and would be interested in exchanging information with others interested in the family.
If you can add to the information given above tell me.
| | | |
| --- | --- | --- |
| April 2007 | | Page updated |
| ? 2014 | | Picture of grave added |
| February 2016 | | 1911 census data & 1881 sewer contract added |