The Brickmakers of St Albans

William Alexander Dixon

1860-1934
William Alexander DIXON was the son of a corn dealer who was based in Alma Road and was agent for a brick yard in Sandpit Lane for no more than about a dozen years from about 1891.
[Unless otherwise stated family information comes from the IGI, VRI, and census data.]
The first reference I have linking William A. DIXON to brickmaking is the 1891 census when he was living at Alma Road. He was described as a 31 year old brick merchant born in St Albans. In July 1893 the following advert was appearing in the Herts Advertiser.
W A DIXON
ALMA ROAD, ST ALBANS
MANUFACTURER OF BRICKS, LIME,
CHIMNEY POTS, FINIALS
PLAIN AND FANCY GARDEN POTS
GRAVEL FOR GARDEN PATHS
PRICE LIST ON APPLICATION
All Orders by Post promptly attended to.
The St Albans Almanack lists few or no names in Alma Road before 1888 when W A Dixon is listed as living there. He is also listed in 1889, (not 1890), 1891, 1892, 1893, (not 1894 through 1900) and 1901 (at No 39,). He is listed as living at 122 Fishpool Street between 1897 and 1900. The 1898 Kelly's Directory lists William Alexander Dixon as a brick maker of 122 Fishpool Street, which was also listed as his private address. However he was still trading from Alma Road in 1902 when the following advert appeared in The City of St Albans.
W. A. DIXON


Coal, Coke and Brick Merchant
39, ALMA ROAD, ST. ALBANS.
——————
BEST COALS Supplied at Lowest Possible Prices.
Order by Post receive prompt attention.
The latest reference comes from the 1904 Directory of Clayworkers which records that Mr W A Dixon, Alma Road, St Albans, was agent for the Sandpit Lane Brick Fields. The 1898 large scale OS map shows a brickworks about a mile east of Bernards Heath, near Marshalswick, and just north of Sandpit Lane. A 1906 reference suggests that the disused brick pits at Marshalswick were being used by John Cable, a local jobmaster, as a tip for the city rubbish. However they may have been taken over by W. G. Bennett.
When houses 29-37 were demolished in Verulam Road, brick marked W. A. Dixon were found at No. 35. The picture shows a brick recovered in Culver Road in 2001 [Thank you Roger Miles].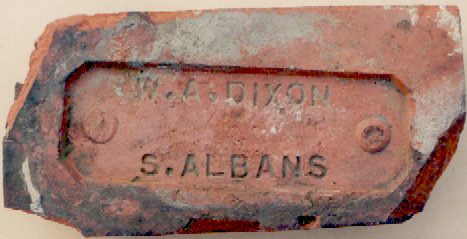 The appears to be no precedence for William Alexander Dixon's involvement with bricks and the 1881 census shows him to be a Drapers Assistant living with his parents at Worley Road, St Albans:
| | | | | |
| --- | --- | --- | --- | --- |
| William DIXON | 59 | Head | Retired Corn Dealer | St Albans |
| Sophia DIXON | 46 | Wife | Retired Corn Dealer Wife | Baldock |
| William A. DIXON | 21 | Son | Drapers Assistant | St Albans |
| Ernest DIXON | 13 | Son | Scholar | St Albans |
| Albert DIXON | 11 | Son | Scholar | St Albans |
| Ann G. DIXON | 9 | Daur | Scholar | St Albans |
William Dixon senior was not in the area at the time of the 1851 census - but the evidence from the 1851 census combined with the following trade directory entries suggests that he was in business with an Ernest Dixon (his father or brother?) and had links with Redbourn. The entries suggest that he may have retired from the business in the 1870s (through ill health) and probably died in 1881/2.
1839 No DIXON
1850 No DIXON
1855 DIXON, Ernest & William, maltsters & corn dealers, George Street
1862 DIXON, Ernest & William, maltsters & corn & coal merchants, George Street & Railway Station
1862 DIXON, Ernest, miller, Prae Mill
1867 DIXON, Ernest, miller, Prae Mill
1867 DIXON, William & Co, Maltsters, George Street
1870 DIXON, Ernest, miller, Prae Mill
1870 DIXON, William & Co, corn & coal merchants, 26? George Street
1877 [Langley's Directory] George Street, Dixon, Ernest & Co, Millers, &c.
1878 DIXON, Ernest, Prae Mill
1878 DIXON, Walter City Mills, George Street
1878 DIXON, Ernest & Sons, millers, corn, coal & hay & straw merchants, City Mills, George Street; & at Redbourn & Wheathampstead.
1882 DIXON Ernest, Cambridge Ho, London Road
1882 DIXON Mrs, Worley Street
1882 DIXON Walter, City Mills, George Street
1882 DIXON Ernest & Sons, millers, corn, coal, hay, straw, & agricultural seed merchants, City steam mills, George Street
1886 DIXON Ernest, Cambridge Ho, London Road
1886 DIXON Walter, 3 Abbey Terrace
1886 DIXON Ernest & Sons, seed merchants, George Street
1890 DIXON Ernest, London Road
1890 DIXON Walter, 3 Abbey Terrace
1890 DIXON E & Sons, corn & seed merchants, & steam millers, George Street & Market Street
January 2004
Wilma Wright (wilroy @t shaw.ca) of Edmonton writes My husband's great grandfather was William Alexander Charles Dixon, born Dec 26, 1859 in St. Albans, son of William & Sophie Dixon. He died Feb 1, 1934 in Edmonton, Alberta, Canada.

He married married Margaret Elizabeth Booth, Sept 11, 1882 in Emmananuel Church, Camberwell Rd., London. Margaret was born May 4, 1859 in Carey Place, Watford, daughter of John Stocks Booth (first organist at St. Albans Cathedral) and Esther Anne Blackwell. William and Margaret had 12 children. About 1906, he and his brother, probably Ernest, immigrated to Edmonton, Alberta. Their plans were to start a brickyard. However, for some reason, plans changed and William opened a general store. Margaret and all the surviving children immigrated the following year. We have speculated on the reason for immigration. Alberta had just become a province of Canada as opposed to being a part of the North West Territories and Edmonton was the capital city of the new province. It was a boom time for the prairie city.
Thank you for this very helpful information - which explains why William vanished from St Albans. A lot of people went from England to the Alberta early in the 20th century - which is why my wife and I were briefly in Edmonton in 2003, on our way to the centenary celebrations in Lloydminster and one of Helen's relative built the first wooden house there. At the time William left England most small brick makers in Hertfordshire were going out of business because of the competition from the far cheaper mass produced bricks from more suitable geological deposits in Bedfordshire. William may well have left England for this reason - and perhaps hoped that there would be a demand for bricks in the new state of Alberta. I wonder if William found that most of the buildings being put up in Alberta in the early days were of wood - and it could be that the local geology lacked the kind of brick earth he would have needed for making bricks.
April 2007
Nigel Gale (nigelgale @t tiscali.co.uk) writes: I happened across your interesting articles on bricks and wanted to share with you that much of my house, 2 Worley Road, St Albans, is made of red bricks stamped "WA DIXON ST ALBANS" in the frog of the brick, like the one shown in the article. We understand that the house was built about 1905, so that fits in with your chronology.
If you can add to the information given above tell me.
Page updated April 2007