The Brickmakers of St Albans

Joseph Fenwick Owen
Letter to Hertfordshire Countryside, June 1980 by Gilbert W Smith.

Hill End brickworks, between St Albans and Hatfield, was owned and operated by the Owens family of Gustard Wood, Wheathampstead, who were also builders responsible for many of the buildings around Wheathampstead at the turn of the century, and which are still standing today. These houses were erected with tiles and bricks which they manufactured at that time.

When the original owner of the business passed away, namely J. Fenwick Owen, it was then carried on by his eldest son Fenwick Owen (Jun.).

During his lifetime J. Fenwick Owen was a local celebrity. He always drove around the countryside accompanied at all times by his clerk of works, Mr. George Brown of the Swan Hotel.

1901 Census

Living in Gustard Wood, Wheathampstead, were Joseph F Owen (44, builder, gravel merchant & brick maker, born Reigate, Surrey), his wife and several children including his 17 year old son Joseph F Owen (17, assistant manager of brickworks).
When Hill End Asylum was build Joseph Fenwick Owen opened a brickworks on the edge of the site (see above map) to make the bricks from local brickearth.
The following selective references are taken from Kelly's directories:
1882: Not listed
1886: J Fenwick Owen, builder, Wheathampstead
1890: listed as a builder & contractor (also gravel merchant) at Gustard Wood, Wheathampstead.
1899: Joseph Fenwick Owen gravel merchants; builder & contractor; workmen sent to all parts of the country, Gustard Wood, Wheathampstead; & Redbourn & St Albans. (but not listed under St Albans,)
1902 Joseph Fenwick Owen, gravel merchant, Mill House Lane & Hill End, & brickmaker, Hill End; & builder & contractor; workmen sent to all parts of the country; Gustard Wood, Wheathampstead, St Albans & Redbourn.
1912: Joseph F. Owen, brickmaker & gravel merchant, Hill End; Joseph F. Owen & Son, brickmakers, Digswell Hill, Welwyn; Joseph Fenwick Owen, builder, Gustard Wood, Wheathampstead
1922: Joseph F. Owen, brickmaker, Hill End & Gustard Wood; Joseph F. Owen & Son, brickmakers, Digswell Hill, Welwyn.
1933 at Hill End, Gustard Wood & Digswell Hill.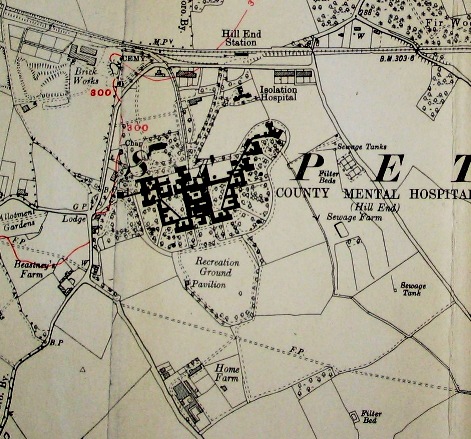 Detail from 6" to 1 Mile Ordnance Survey Map circa 1920.
There is significant additional biographical information on the Owen Family on Wheathampstead.net. Joseph Fenwick Owen's great-grandson Flight Lieutenant Robert Fenwick Owen DFC Service No. 84914 was a bomber pilot during WWII dying in action 22 December 1941. He had started to takeover the brickworks before the war and his death, together with the downturn in requirement for high quality bricks post WWII, was the reason the brickworks were closed and sold in the late 1940s.
---
Recalling Hertfordshire Brickworks
by Lyle Perrins
Hertfordshire Countryside, April 1981
In earlier times brickworks in Hertfordshire must have been as unpopular as gravel diggings are today. Most towns and villages were lucky in having a supply of clay suitable for brickmaking. The results were great gaping pits, smoky clamps where the bricks were burnt, and devastation of the local woodland which supplied the fuel. The fame of. Hertfordshire brickmakers was such that in the early sixteenth century they were sent for to make the bricks to build Hampton Court.
One of the old established sites was on the boulder clay at Digswell Hill, Ayot Green, owned by the Wilshere family of the Fry the. The lease was held in 1832 by George Wailer originally a bricklayer. He prospered and the next record is that of James Wailer who lived at Digswell Water. The works passed into the hands of Thomas Wells in 1874 and, when he died, onto Mrs. Maria Wells in 1886. John Deards & Sons operated from 1899 to 1912 when Joseph Fenwick Owen who already owned Hill End works took over.
By 1912 the old horse driven horizontal pug mill in which the clay and water were mixed had become disused. When the A 1 was widened a few years ago the mill was uncovered and recorded by the Welwyn Archaeological Society before completely disappearing. The works closed down during World War One and re-opened in 1919. The brick making team was then Will Temple, Fred Chamberlain, Arbor Bracy, Stan Jordon, and Messrs. Males, Scargill and King. Around 1927 Mr. Shadbolt became manager and remained until the firm closed in 1940. The only remains apart from the overgrown pits are the brick built office and the managers house in which Mrs. Shadbolt still lives.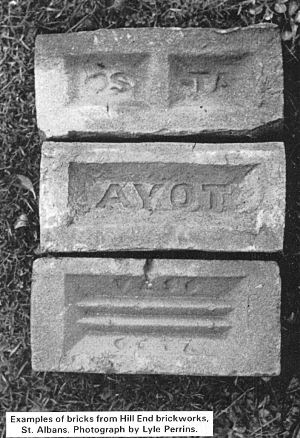 Joseph Fenwick Owen a builder who had his office and builders yard at "Owen's corner", Wheathampstead, started Hill End Brickworks, St. Albans, in 1899. Both brickworks were proud of the quality of their product. So good were these bricks that those from Digswell Hill marked AYOT were used for the bridge over the River Mimram at Welwyn and those from Hill End marked OSTA (Owen ST. Albans) can be frequently seen in perfect condition in many garden walls in St. Albans.
In 1923 St Albans Brickworks was opened on the north side of the railway line at Hill End station, by a Mr. Hopkins in partnership with Mrs. Massey. Mr. Hopkins was a freelance fancy brick moulder. In 1926 the works was taken over by Hill End brickworks. It continued to trade under the St. Albans name.
All three works differed in their treatment of the clay. Digswell Hill boulder clay contained few stones, it was dug out into piles to weather during the winter. Bricks were made from Easter to October by mixing the clay with water from surface ponds in a vertical pug mill and moulding three at a time. The sand for dusting the moulds came from under the thirty foot seam of clay.
Hill End and St. Albans were also on boulder clay but there were more stones present. Hill End removed the stones by slurrying with water and filtering off the stones. After standing in the settling beds the excess water was drained off and the clay fed to a machine that moulded six bricks at a time. Squints and saddlebacks were made by hand moulding using wooden moulds that were made from 1920 to 1925 by Cecil Pruden. The bricks were placed in heated drying sheds so that production could proceed throughout the year. Firing was in a continuous kiln.
Hill End brickworks extended both sides of Ash Path now Ashley Road. The Cottages in Ash Path opposite the end of Cambridge Road, now no longer in existence, were occupied by Charles Charge (manager), Edward Sida (foreman) and Thomas Tibbett. The bricks were delivered by Messrs. Stanton and Roberts. Brickmaking stopped in 1940 and part of the site was requisitioned by the government in 1941.
St. Albans Brickworks used heavy edge grinding wheels to crush the pebbles which remained in the clay. Difficulty was experienced as the workings deepened because nodules of chalk in the bricks changed to lime on firing. When these bricks came into contact with water they shattered as the lime slaked. The bricks were dried in heated sheds and fired in beehive kilns. Brickmaking struggled on until 1942 but then stopped and the chimney was blown up in 1946. The site is now part of the Marconi works. To the casual passerby the only record of both works is the street name, Brick Knoll.
---
If you can add to the information given above tell me.
Page created July 2008