A Visit to the Paper Trail
Apsley, Hemel Hempstead
January 2009
Paper making has been a major local source of employment in the Gade Valley from the late 18th century until the late 20th century, but in recent years most of the factories have been demolished and replaced with housing and other commercial developments (the Sainbury's supermarket occupies part of the former John Dickinson's works). The industry is therefore important for anyone researching their family history in the area, but is also internationally important because of the development of the Fourdrinier paper making machine in the early 19th century.

One of the huge Victorian Fourdrinier machines is still in full working condition and a few years ago work started to include it as part of a working museum called the Paper Trail. It is now open, thanks to a large Heritage Lottery grant, which also covers other community related activities in the historic buildings that still survive. However there has recently been newspaper reports of funding difficulties caused by the current economic depression and while I had visited the site some years ago I decided to visit it again to seen how the work towards developing the museum had progressed.

The Web site (www.thepapertrail.org.uk) includes the following description:

Frogmore Mill is the very heart of The Paper Trail project and the 'jewel in its crown'. So why is this site so unique? - It was at Frogmore that the world's first machine for making a continuous roll of paper was built (the birth of paper's industrial revolution) and Frogmore Mill is still producing paper today.

The primary objective of The Paper Trail is to conserve, restore and maintain Frogmore as a working paper mill using a 'Fourdrinier' paper machine which dates back to 1895 (and is driven by steam!) and to make this unique industrial heritage accessible to the public.

A tour round Frogmore Mill is fascinating. Not only can you see paper actually being made on the machine (unlike most modern machines which are fully enclosed) but it is almost like walking back in time to the Victorian era.

I found the visit very interesting - and particularly the tour round the mill. The is an initial exhibition area, with some interesting exhibits, including a large bust of John Dickinson, and a case containing a selection of paper products produced by John Dickinson & Co. There is also a video to watch while waiting for a tour around the mill, and a work area where children can be shown the principles of making paper. You then come to a window which allows you to see a large letterpress shop - which is still used to print some House of Commons documents. It may be one of the last working letterpress shop in the UK as the technology has almost totally been replaced by computer typesetting world wide. On the way to the working mill you pass the pre-war works Dennis fire engine before coming the the working machinery.

The mill currently recycles paper and the visit starts with a view of where the original undershoot water mill was - and it is planned to re-install a water wheel. The visit continues with a series of machines which shred the paper and convert it first into a crumb and finally into a very watery suspension ready to be fed to the paper making machine. As you will see from the following diagram of a similar machine, which shows human figures to scale, the machine is huge - the model at Frogmore mill having eighteen drying cylinders.


Diagrammatic representation of a Fourdrinier Machine (from exhibition booklet Watermark 74)
When I visited the machine was in operation making a red-coloured paper - which was then being cut into sheets from the huge rolls than come off the machine. It is currently has a full order book for speciality papers. I understand that school parties regularly visit the mill and I am sure it provides them with memories that they will never forget. I remember, as a child, being very impressed on a school visit, to the scale of the machinery in our local gas works.

After your visit there is a pleasant little cafe and a shop which sells copies of the useful booklet The Early History of Machine Paper-Making (which was printed on paper made in the mill) and the book The Endless Web: John Dickinson & Co Ltd. I was perhaps a little disappointed that I could not see a poster (possibly on a long narrow strip) illustrating the Fourdrinier machine - such as shown above. I am sure that such would be wow with school children who have visited the museum - particularly if they were required to write an account of their visit when they returned to school. A booklet on the letterpress office, printed in the office, with illustrations and including various type sizes and type faces, would be a useful addition.

All in all a very satisfactory visit which I can strongly recommend for anyone whose ancestors were involved in paper making, especially if they lived and worked in the area.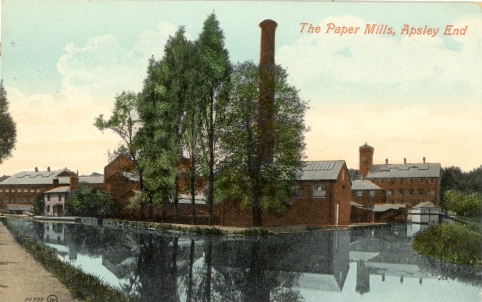 The Paper Mills, Apsley End
Valentine Card 54390 JV, posted 1911
However the visit raised the whole problem of preserving our industrial heritage. In almost every town and village you can visit the old parish church, and even those which are no longer in regular use are often preserved and protected. However there are few surviving relics of the industrial revolution which played such an important part in the life of many of our ancestors. In some cases the mill buildings still stand, but have long been stripped of the machinery and are used as small industrial units (such as the silk mill in Tring) or converted to flats. Factories of all types have been stripped of machinery and while a few samples have ended up as static displays in museums there are very few places where large fixed Victorian machines have survived and are still being used and every effort needs to be made to keep these running to help people learn to understand the past - and the great advances in manufacturing technology that became possible with the coming of steam power.

However there are many difficulties - and it is important that all interested in our history keep the machines, such as the Fourdrinier machine in Frogmore Mill, running for future generations to see, in the area which pioneered their use. For most people the only working 19th century equipment which they can see are railway engines and there are now many preserved lines. But railways are a special case. The steam railway engines were very visible, used by everyone, and glamorised by children's toys and books - and are still in books like Thomas the Tank engine. Railway engines are portable - so they can be moved to suitable locations - and most restored lines with working engines run through attractive countryside in tourist areas.

Specialised industrial machines are much harder to preserve - and I don't think there is a single town gas works surviving anywhere in England - much less with its machinery in working condition - despite the fact that 50 years ago there must have been thousands of them in operation. Machines such as the one in Frogmore Mill are far too big to move, are located in unglamorous industrial buildings, and are often far from the regular tourist haunts. When such machines were constructed they were hidden from the eyes of the public and it is possible that many of the people who worked in the paper mills at Apsley never saw the paper being made. There was never a market for children's books about "Foury the Paper Making Machine" although there were simple printing sets for children which could make the letterpress shop attractive. Any project trying to preserve such machines has difficulties in generating public interest - however historically important the machinery is.

For such reasons the museum has had problems in attracting enough individual visitors and needs more support. It is a must for school visits to allow them to get a feel for large scale Victorian technology at work - and would appeal as an outing for societies with an interest in history - or the printing industry - which made use of the paper. It is equally important that people whose ancestors worked with paper support the project - and I urge you all to give the museum a visit if you want to see (and your children and grandchildren to be able to see) one of the marvels of 19th century engineering skills at work.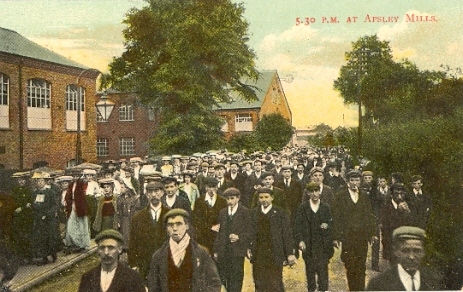 5.30 P.M. at Apsley Mills
"Art Series" card, photo by H. W. Flatt, Boxmoor - circa 1910
To illustrate how important the paper industry is to people whose ancestors come from the Hemel Hempstead area I have added an extract from the 1851 census of people who lived in the Two Water/ Apsley area whose occupations suggest that they worked in one of the paper mills. This is clearly incomplete as I have excluded people who worked on the canal or canal wharfs - some of whom would undoubtedly worked at the paper mills. I have also excluded people such as carpenters (although it is known that the mills employed some) and those whose occupation is simply described as labourer, errand boy, etc. I have also not included people from Boxmoor and the rest of Hemel Hempstead who might have had to walk a mile or more to work.
Name
Age
Occupation
Address
George
ALLCOCK
17
Millwright & Engineer
Two Waters
George
ALLSOP
40
Engine Fitter
Frogmore End
Sarah
AMBROSE
57
Paper Sorter at Mill
7 White Lion Street
William
AMBROSE
55
Labourer at Paper Mill
7 White Lion Street
Robert
BALDERSON
21
Paper Maker
Two Waters
William
BALDWIN
16
Type Founder
Boxmoor
Maria
BARRON
21
Rag Sorter at Paper Mill
Frogmore Lane
Charles
BASS
39
Paper Maker
13 Weymouth Street
Henry
BASS
18
Paper Maker
13 Weymouth Street
John
BECKETT
64
Mill Labourer
Frogmore Lane
Joseph
BECKETT
25
Letter Founder
Two Waters
Mary
BECKLEY
15
Work in Paper Mills
Two Waters
Thomas
BEDFORD
13
Typefounder
Two Waters
William
BEDFORD
15
Typefounder
Two Waters
Anna
BLOYS
12
Card Sorter in Paper Mill
Snatchups End
Benjamin
BLOYS
40
Mechanics Labourer
Snatchups End
Elizabeth
BLOYS
40
Card Sorter in Paper Mill
Snatchups End
Elizabeth
BONNETT
15
Paper Sorter at Paper Mill
1 White Lion Street
Sarah
BONNETT
17
Rag Sorter at Paper Mill
1 White Lion Street
Maria Ann
BRADSHAW
18
Envelope Maker
Two Waters
Elizabeth
BRETT
17
Rag Sorter at Paper Mill
Frogmore Lane
Ellen
BROWN
19
Rag Sorter at Paper Mills
Two Waters
John
BULLERING
9
Errand Boy at Type Foundry
Snatchups End
John
CARY
39
Paper Maker
Two Waters
Eliza
CHATER
33
Paper Sorter at Mill
Two Waters
George
CHATER
31
Labourer at Paper Mill
Two Waters
Henry
CHATER
14
Works in Type Foundry
Two Waters
John
CHILD
28
Mill Labourer
Two Waters
Jonathan
CHILD
51
Mill Labourer
Two Waters
Joseph
CHILD
16
Mill Labourer
Two Waters
Thomas
CHILD
22
Mill Labourer
Two Waters
George
CHILDS
25
Labourer at Paper Mill
1 White Lion Street
Ann
COKER
17
Rag Cutter
Two Waters
Edwin
COKER
14
Typefounders Labourer
Two Waters
Sarah
COKER
20
Rag Cutter
Two Waters
Ann
COOPER
37
Carder at Paper Mill
Two Waters
George
COOPER
10
Employed Envelope Room Papermill
Two Waters
Edwin
CROMACK
17
Machine Maker
18 Weymouth Street
Joseph
DAVIS
23
Labourer (At Type Foundry)
Featherbed Lane
Mary
DUNHAM
41
Paper Mill Woman
Boxmoor
John
DUNLOP
42
Millwright
Frogmore End
Henry
DURRANT
38
Paper Maker
Two Waters
Mary Ann
DURRANT
15
Rag Sorter at Paper Mill
Frogmore Lane
Edwin
EAST
13
Envelope Maker
Frogmore End
James
EAST
16
Type Founder
Two Waters
Jane
EAST
24
Paper Stainer
Two Waters
William
EAST
48
Paper Maker
Two Waters
William
EAST
37
Card Maker
Frogmore End
George
FLOYD
11
Boy at Paper Mill
Two Waters
George
FORTNUM
37
Pasteboard Maker
Snatchups End
George
FORTNUM
16
Pasteboard Cutter
Snatchups End
Hannah
FORTNUM
13
Pasteboard Sorter
Snatchups End
John
FORTNUM
34
Card Maker
Frogmore End
John
FRANCIS
31
Typefounder
Two Waters
Thomas
FRANCIS
55
Paper Maker
Two Waters
William
FRANCIS
12
Paper Sorter at Mill
Two Waters
Alfred
FRANKLIN
11
Mill Boy
14 Weymouth Street
William
FRANKLIN
15
Mill Labourer
14 Weymouth Street
Joseph
FREEMAN
24
Paper Maker
Two Waters
James
GLAISTER
40
Engineer
Two Waters
Dinah
GOLDING
22
Paper Sorter at Mill
Snatchups End
Mary
GOLDING
25
Paper Sorter at Mill
Snatchups End
Benjamin
GRIFFIN
57
Engineer
Frogmore End
Henry
GRISTWOOD
20
Paper Mill Labourer
Two Waters
Matilda
HALE
28
Paper Sorter at Mill
Frogmore Mill Lane
Samuel
HALE
69
Paper Maker
Frogmore Mill Lane
Frederick
HARBOURN
9
Sorter in Paper Mill
5 White Lion Street
John
HARDING
67
Rag Collector
Two Waters
Sally
HARRIS
50
Paper Sorter
Two Waters
Daniel
HARROWELL
58
Mill Labourer
Two Waters
James
HARROWELL
26
Mill Labourer
Two Waters
Henry
HERNE
36
Paper Maker
Two Waters
Sarah
HOARE
29
Rag Chopper at Paper Mill
Two Waters
Ursula
HOARE
27
Rag Chopper at Paper Mill
Two Waters
Frederick
HOBBS
27
Engineer
Frogmore End
Cecil
HOOKHAM
39
Paper Maker
15 White Lion Street
Robert
HOUSE
38
Labourer at Paper Mill
Featherbed Lane
George
HOWETT
46
Millwright
1 White Lion Street
Hannah
HUNT
60
Sorter in Paper Mill
Two Waters
Joseph
HUNT
41
Mill Labourer
12 White Lion Street
Sarah
HUNT
36
Sorter in Paper Mill
Two Waters
Hannah
HUTCHINSON
18
Sorter in Paper Mill
Two Waters
William
HUTCHINSON
24
Labourer in Paper Mill
Two Waters
William
JOHNSON
45
Paper Maker
Frogmore Mill Lane
William
JOHNSON
16
Paper Maker
Frogmore Mill Lane
William G.
KINGHAM
18
Paper Maker
Two Waters
Edward
LACEY
10
Works at Paper Mill
Snatchups End
John
LACEY
8
Works at Paper Mill
Snatchups End
James
LANE
30
Labourer at Paper Mill
3 White Lion Street
Joseph
LANE
25
Type Founder
Two Waters
John
LARKIN
13
Envelope Maker
Two Waters
William
LARKIN
9
Envelope Maker
Two Waters
Caroline
LATCHFORD
27
Rag Cutter at Paper Mill
Two Waters
Jemima
LATCHFORD
58
Sorter at Paper Mill
Two Waters
William
LATCHFORD
28
Mill Labourer
Featherbed Lane
John William
LEE
21
Letter Founder
Featherbed Lane
Louisa
LOVETT
25
Paper Sorter at Mills
Two Waters
William
LOVETT
29
Mill Labourer
Two Waters
John
MacKENSIE
35
Type Founder
Two Waters
Silvester
MANSFIELD
56
Card Cutter
Two Waters
Alex
McKECHNIE
20
Typefounder
Frogmore End
Daniel
McKECHNIE
17
Typefounder
Frogmore End
Elizabeth
MORRIS
17
Work in Mills
Two Waters
Charles
MORTON
10
Breaker Off (At Type Foundry)
Featherbed Lane
Rebecca
MUNN
29
Rag Sorter at Paper Mill
1 White Lion Street
Edmund
MUTTON
30
Paper Mill Labourer
Two Waters
Eliza
MUTTON
28
Sorter at Paper Mill
Two Waters
Eliza
PADDICK
21
Rag Sorter at Paper Mill
Two Waters
Emma
PADDICK
19
Paper Sorter at Paper Mill
Two Waters
Mary
PADDICK
23
Rag Sorter at Paper Mill
Two Waters
Samuel
PADDICK
41
Card Maker
Two Waters
Samuel
PADDICK
14
Labourer at Paper Mill
Two Waters
George
PALMER
26
Paper Maker
Snatchups End
Alexander Willson
PAUL
16
Typefounder
Two Waters
William
PAUL
37
Typefounders Smith
Two Waters
James
PHILIPS
19
Type Founder
Two Waters
James
POWELL
40
Labourer at Paper Mill
Two Waters
John F.
PROUD
9
Sorter at Paper Mill
6 White Lion Street
Daniel
PUDDEFOOT
27
Labourer at Paper Mill
Two Waters
William
PUTMAN
28
Paper Finisher
Snatchups End
Charles
RICKETT
13
Paper Sorter at Mill
Two Waters
William
RICKETT
36
Paper Maker
Two Waters
Alfred
ROBINSON
10
Paper Maker
Two Waters
Charles
ROLPH
27
Mill Labourer
Frogmore Lane
Mary
ROLPH
16
Paper Sorter at Mill
Snatchups End
Thomas
ROLPH
19
Castor in Type Foundry
Snatchups End
Augustus
SAUNDERS
22
Paper Maker
Frogmore End
William F.
SAVAGE
41
Engine Fitter
1 Weymouth Street
Elizabeth
SEABROOK
18
Rag Sorter at Paper Mill
Two Waters
George
SEXTON
14
Mill Boy
Frogmore Lane
John
SEXTON
21
Paper Maker
Frogmore Lane
William
SEXTON
45
Mill Labourer
Frogmore Lane
Anna
SHRIMPTON
53
Rag Sorter at Paper Mill
Frogmore Lane
William
SHRIMPTON
57
Labourer at Paper Mill
Frogmore Lane
Fanny
SLADE
17
Paper Maker
Two Waters
William
SMITH
25
Typefounder
Frogmore Mill Lane
Charles
STEVENS
48
Paper Manufacturer
Two Waters
Isaac
SUTTON
30
Engine Fitter
Frogmore End
Elizabeth
TERRY
26
Paper Stainer
Two Waters
Thomas
TIMS
45
Paper Maker
6 Weymouth Street
Job
TOMLIN
10
Works at Paper Mill
Two Waters
William
TOMLIN
36
Mill Labourer
Two Waters
William
TRIPP
10
Employed at Type Foundry
Frogmore Lane
Francis
TYERS
14
Boy at Paper Mill
Snatchups End
William
TYERS
9
Boy at Paper Mill
Snatchups End
Sarah
WALLER
38
Rag Sorter
Two Waters
Henry
WHITE
28
Mill Labourer
Two Waters
Joseph
WHITE
21
Type Founder
Two Waters
William
WHITE
55
Paper Mill Labourer
Two Waters
Isaac
WINTER
29
Millwright
Two Waters
Richard
WOOD
25
Castor in Type Foundry
3 Weymouth Street
Stephen
WOOD
22
Paper Maker
3 Weymouth Street
Charles
WORRELL
31
Paper Maker
Two Waters
Sarah
WORRELL
73
Pauper (Paper Sorter)
Two Waters
William
WORRELL
42
Mill Labourer
7 Weymouth Street
William
WORRELL
16
Mill Boy
7 Weymouth Street
Alexander
YUILE
10
Letter Founder
Frogmore End
Andrew
YUILE
23
Typefounder
Frogmore End
James
YUILE
34
Letter Founder
Frogmore End
If your ancestor is listed above make a date to visit the Mill and see how and where the paper was made.