The British Library

[and other major online catalogues]

WARNING

Many Genealogy web sites are continually being updated and it is impossible for me to monitor all these changes. You should therefore visit this web site to discover the facilities currently offered.
The British Library is the main copyright library for the United Kingdom and its main site is a new building in London - having formerly been situated in the British Museum. Books and other material may only be seen in its Reading Rooms and access is only available to those with a good reason to use it. (If all you want to do is to consult books which are readily available at other UK libraries - perhaps through inter-library loans - you should not expect to be able to get a pass.)
Even if you cannot visit the Library to consult the books, the web site has a very useful and comprehensive online catalogue which allows you to identify books which you may then be able to access elsewhere. However it is important to realise that while its collections are very extensive they don't include everything. There are gaps in their older collections (I recently purchased a dictionary by A Fisher, published in 1777, and found that I have an earlier edition than any they hold) and even some modern works can be missing - despite the fact that the law requires copyright copies to be deposited there.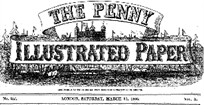 Their newspaper catalogue and many digitised newspapers are available online - allowing you to discover which old Hertfordshire newspapers are available at Collindale, London. The Penny Illustrated Paper has been digitised and is searchable online - and contains some Hertfordshire News.
The COPAC online catalogue includes the British Library and is easier to use.
~~~~~~~~~~~~~~~~~~~~
This is a facility which allows you to search across 20,000 journals for free and order the full text quickly and easily using your credit card.
I have not yet explored its scope but in clearly includes journals relating to Genealogy and Family History.
~~~~~~~~~~~~~~~~~~~~
http://dspace.dial.pipex.com/town/square/ac940/weblibs.html
The British Library and the other copyright libraries should be considered to be libraries of last resort - and if possible you should try and get books from a pubic library and many of these have their library catalogue online.
The UK Public Libraries Page lists the web sites of a large number of public libraries and identifies which have their catalogues online. It also lists a number of other library resources. If you are looking for information about Hertfordshire - and perhaps want access to a key work - such as the Victoria County History for Hertfordshire - you could use this site to locate the nearest UK library to you with copies.
~~~~~~~~~~~~~~~~~~~~

Copac Academic & National Library Catalogue
This site covers 24 major UK libraries including the British Library and other copyright libraries and is easier to search than the British Library catalogue.
~~~~~~~~~~~~~~~~~~~~
A very impressive looking site which claims to cover 9000 libraries world wide. A search for Turnor's History of Hertford, published in 1830, showed copies located in 16 US libraries, 6 in the United Kingdom and 1 in Japan. When I first tried this site in 2007 there seemed to be problems - but these to have been ironed out and I can now find copies of my book, The London Gunners come to Town worked properly and I will monitor the situation.
See also Locating Books
If you can add to the information given above tell me.
Last updated June 2010