There are two museums at St Albans and the web site covers both of them. The Verulamium Museum, in St Michaels, St Albans, is in the centre of what was the Roman city of Verulamium, and while is exhibits paint a vivid picture of Roman life more than 1600 years ago they are of less interest to the average genealogist and family historian.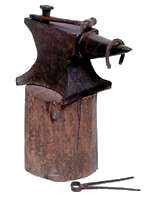 The Museum of St Albans, in Hatfield Road, is far more likely to reveal identifiable information about your ancestors who lived in the area. It has regular exhibitions with a local flavour - for instance in 1995 it had an exhibition on St Albans in the Second World War while at present (March 2001) it is displaying a large number of old prints of Hertfordshire. There is a particularly impressive collection of old tools.
The Museum of St Albans is of particular interest to me. When it was built in 1898 the bricks were made at the brickworks belonging to my great grandfather, Jacob Reynolds. The Museum's first curator was Arthur Ernest Gibbs, one of my newspaper publishing relatives. The Museum also has a collection of local views painted by E A Phipson - who is a distant cousin of my wife.
Online Pictures

The museum web site includes a extensive data base of pictures in the museum collections, including views. buildings, people and events. If you have a particular interest in the St Albans area it is well worth exploring the site.
The museums both have gift shops which sell relevant material, including books, postcards, etc. relating to their own holdings. Unfortunately their web site does not identify what is currently available. The following publications are described on this site:
A Window on Victorian St Albans, by Felicity Hebditch and published 1988 (believed out of print)

Around St Albans by Anne Wheeler & Tony Stevens and published 2001 (still available new)

The Cock Inn (on right) with St Peters Church in distance, St Albans - postcard of painting by E A Phipson (The shop always has a selection of cards but the current availability of this one is unknown)

WARNING
Many Genealogy web sites are continually being updated and it is impossible for me to monitor all these changes. You should therefore visit this web site to discover the facilities currently offered.
December 2009 - Information on online pictures