The Exploring Family History Tutorial
Birth Certificate
Available for most births after July 1st 1837
While we have collected a lot of information on Thomas William Horwood, we are missing key information about his early years.

Task: Obtain Thomas William Horwood's Birth Certificate in 1863 to identify his parents and place of birth.
The quickest way to search the Birth Certificate index is by using the FreeBMD web site.
| | |
| --- | --- |
| First Name | Thomas |
| Last Name | Horwood |
| From | Jan 1862 |
| To | Dec 1864 |
| Counties | Greater London |
The search produces no response but exploring FreeBMD further shows that virtually none of the index entries for 1863 are yet in the data base. In these circumstances it is appropriate to use findmypast to look at the individual pages of the index quarter by quarter.
Births Mar 1863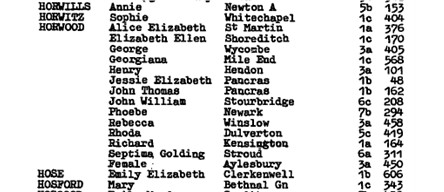 Births Jun 1863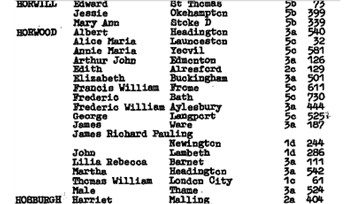 This shows that Thomas is listed in the June quarter of 1863, reference "London City 1c 61". Using this reference a copy of the birth certificate was purchased online from the General Register Office: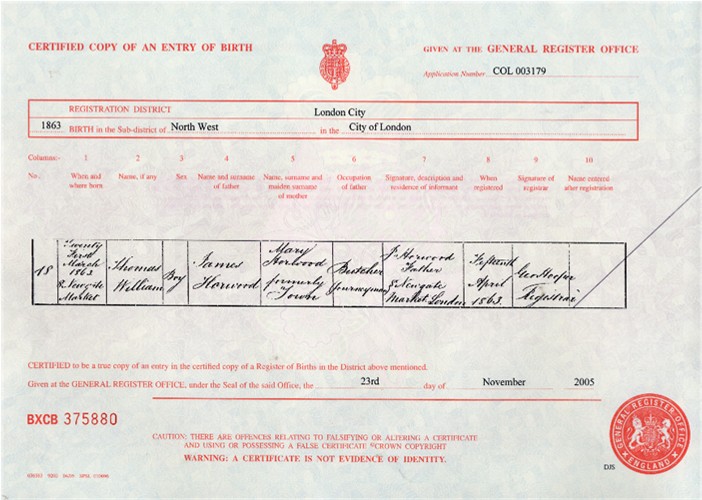 | | |
| --- | --- |
| Registration District | London City |
| Sub-district | North West |
| When and where born | Twenty First March 1863; 8 Newgate Market |
| Name, if any | Thomas William |
| Sex | Boy |
| Name and surname of father | James Horwood |
| Name, surname and maiden name of mother | Mary Horwood, formerly Town |
| Occupation of father | Butcher (journeyman) |
| Signature, description and residence of informant | J Horwood; Father; 8 Newgate Market, London |
| When registered | Fifteenth April 1863 |
| Signature of registrar | Geo Hooper; Registrar |
In transcribing the certificate I initially had a problem in interpreting what is show above as "8 Newgate Market" because I didn't realise the first character was a number. As I am not familiar with the London markets I did a google search for "Newgate Market" and one of the first hits was a website Victorian London at www.victorianlondon.org which includes the following description from Mogg's New Picture of London and Visitor's Guide to its Sights, 1844:
Newgate Market is the second great place for country-killed meat; and at both Leadenhall and Newgate markets are sold pigs and poultry killed in the country, together with hog-meat, game, fresh butter, eggs, &e. to an astonishing amount. These markets supply the butchers of London and its vicinity almost entirely, and the surrounding towns and villages pretty generally to the distance of twelve miles and upwards; the prevailing opinion among these people being that cattle can be bought cheaper at Smithfield than at any other place: the poulterers and porkmen of London and its vicinity all purchase their supplies at Leadenhall and Newgate markets.
I followed this up with a search of the Digital Library of Historical Directories. There is currently no directory online for London close to 1863 but a search for Horwood in the 1841 Post Office directory produced two possibly relevant entries in the street directory under Newgate Market, 26 Warwick Lane:
[No number] Horwood, Martha (Mrs) meat saleswoman

26 [Newgate Market] Horwood Thomas A, carcase butcher
Bearing in mind James Horwood's occupation, and the fact that there were Horwood butchers at the market 20 years earlier, the address of 8 Newgate Market seems very likely.
Result of Investigation
Another successful search which provides information on Thomas's parents to allow the search to go back a further generation. In the 19th century a son would often follow his father's occupation - and it can not be common that the son of a butcher enters the jewellery trade. This is a matter that needs further examination.
The "side" investigation has provided the opening for finding out more about where James Horwood worked, and possible relatives in the meat trade.
[The information found agrees with, and extends, the information given in the bible about Thomas's birth. (view)]
Page created November 2005