William Arthur Stradling

1851-1902

in Watford circa 1883-97

March, 2016
William Arthur Stradling was born in the summer of 1851, the son of Charles Stradling, a draper of 8 Northumberland Place, Teignmouth, and his wife Laura. He went to Church House Hill School, Teignmouth, and later to the Western Collegiate School, Pennsylvania, Exeter, under George Patterson and Thomas De Pomeroy. It is clear that from an early age he had a great interest in the natural world.
He went to London to study medicine at St George's Hospital, London, and was said to be the youngest medical student at the time, completing his studies at the age of 19, but had to wait until he was 21 before being admitted to the Royal College of Surgeons. On qualifying he entered the Royal Mail Service and went to sea as a ship's surgeon, spending at least some of the time on the steamer Elbe. This gave him an opportunity to sea the world and, as he later said, "the opportunities for collecting specimens were exceptional." During this period he carried out experiments on himself to test the effects of treatment for rattlesnake bites and his paper in The Lancet gained widespread publicity. In 1880 he sent a new species of tarantula from Brazil to the Zoological Society in London which was named in his honour Homťomma stradlingi. In the same year he also presented the Zoo with a Marbled Polychrus (a lizard from Trinidad). At the time of the 1881 census he was staying in a hotel near the port in Southampton and was described as a surgeon on the Elbe.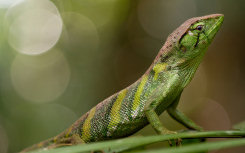 Marbled Polychrus
He obviously left the Royal Mail service shortly afterwards and by October 1883 he was described as a surgeon at Watford, having been called to attend a train driver fatally injured in an accident. It seems that throughout his stay in Watford he lived in a house called Flores, in Station Road, although for a time he also had an address (surgery?) in Watford High Street. He was still practicing as a surgeon in Watford in 1897. At some stage he had his photograph taken by Fred Downer.
He married Emmeline Isabella Renny, second daughter of Thomas Renny, Esq., of Durham Lodge, Shirley, Hants at St James's, Shirley, on 29th August, 1884, Their only son, Arthur Renny Stradling was born at Flores on 22nd June 1885. The household living at Flores at the time of the 1891 census was:
| | | | | | |
| --- | --- | --- | --- | --- | --- |
| William A | Stradling | Head | 39 | Surgeon & General Medical Practitioner | Teignmouth, Devon |
| Emmeline I | Stradling | Wife | 33 | - | - |
| Arthur R | Stradling | Son | 5 | - | Watford |
| Emma S | Renny | Wife's Mother Visitor, Widow | 67 | Living On Her Own Means | Sheerness, Kent |
| Adelaide M A | Renny | Wife's Sister Visitor, Single | 30 | - | - |
| Martha | Spencer | Servant | 35 | General Domestic Servant | Stepney, Middlesex |
| Esther A | Jarvis | Servant | 22 | General Domestic Servant | Over Norton, Oxon |
While he may have been earning a living as a surgeon there can be little doubt that his interests in the natural world, and particularly snakes, dominated his life. He was elected a Corresponding Member of the Zoological Society. London, in 1880 and after moving to Watford he was actively involved with the Hertfordshire Natural History Society and Field Club, at one stage becoming its president.
He gave many talks about snakes, the first I can trace is described in an account of an event organised by the Teign Boating Club and reported in the Western Times of 3rd March, 1882: "During the second part of the entertainment the platform was occupied by Dr. Stradling, C.M.Z.S., the well-known collector of and authority upon reptiles, who performed several clever tricks of legerdemain with astonishing neatness. In the course of the evening this gentleman introduced two of his "pets"Śa young boa constrictor, about 5ft. long, and another about 8ft., but notwithstanding the various tunes played them they could not be induced to leave their snug, quarters in the box. The doctor explained that the room was too cold, and then he exhibited them with naked arms, showing with evident pride the various snake bites he had from time to time received. This was the only portion of the learned doctor's share of the entertainment, which the audience did not care to too closely examine into."
He also wrote about snakes in many magazine articles - which often included tales of adventures and incidents during the period he had been collecting specimens - such as an article in the Chambers Journal in 1882 describing when he was shipping a rattlesnake intended for the Zoo in Hamburg - which turned out to be pregnant and he found live baby rattlesnakes in his cabin. In the same year he wrote an article "How to Tame Snakes" in The Boys Own Paper. In November 1885 he travelled to Scotland to give lectures on snakes, illustrated by some living examples and later that month gave a talk at Watford to the Hertfordshire Natural History Society which is reported in detail in the Herts Mercury of 28th November, 1885.
It would appear that his collection was kept in his house in Watford as the Herts Mercury of 2nd October 1886 reported: "Last week a Japanese serpent, the Vibikari, or sacred snake, in Dr. Stradling's collection, gave birth to between 60 and young ones. Thirty-nine living and 11 still-born snakelets were collected in a cage and transferred to a warm box, making a total of 50; but it is believed that at least a dozen more were devoured by some garter-snakes inhabiting the same case as the mother, who were preying ravenously on the brood when the event was discovered. As this is the first time that this species has bred in Europe, the matter will be of considerable interest to zoologists. We are informed that the little family is thriving, having cast their skins, and arc beginning to eat earthworms and small slugs. They vary from three to four inches in length."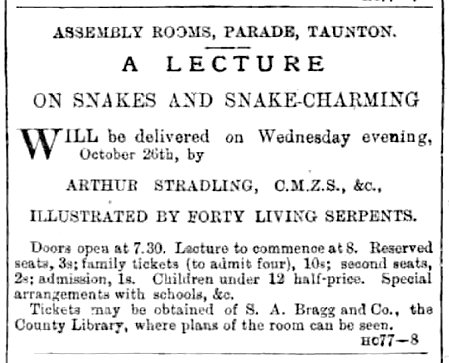 He continued to give lectures around the country, often accompanied by as many as 40 live snakes, as this advert from the Taunton Courier of October, 1887, shows. However when he gave the same talk in December to the Leeds Church Institute he had 80 snakes with him. He continued to give this talk for some time and was in Cardiff in April 1889
However he did talk on other matters and in 1886 he gave lectures in Scotland on "The Great Sea Serpent." His talk to the Hertfordshire Natural History Society at Watford in February 1888, reported in detail in the Herts Mercury, was on "Toads and Frogs" and he also gave at talk on "Cats" in the Watford Public Library in October 1889.
He seems to have been less active on the lecture circuit after about 1890 but was clearly still actively interested in snakes and in 1896 he was president of the Hertfordshire Natural History Society. There was also a proposal to form a "Reptile Society" with him as president - but whether this went ahead is uncertain.
What is clear is that in 1886 he went to Ceylon to study the snakes that were found there and in May many papers reported that he had died from snake bite - which proved to be untrue as he returned to England shortly afterwards. He gave an interview including some details of his early life and interest in snakes which was published in the Manchester Courier of 11th July 1896 but after that there is a comparative silence although press reports show that in 1897 he was still practicing as a surgeon at Watford and gave a lecture at Newbury.
He died of an overdoes of cocaine in a hotel in High Holborn on 16 May, 1902, and the long list of addresses in the advertisement for creditors suggests that he had left Watford (and his wife?) and wandered around between lodgings and hotels for several years having become addicted to narcotics.
WILLIAM ARTHUR STRADLING

sometimes known or called

ARTHUR STRADLING

formerly of

Watford, Herts,

afterwards of:

6 Courtney Place, Teignmouth, Devon

51 Castle Street, Reading, Berks

10 Waldemar Avenue, Fulham, London

Highshot House, Twickenham, Middlesex

5 Cambridge Villas, Twickenhan, Middlesex

Waterloo Hotel, York Road, London S. E.

Bedford Hotel, Covent Garden, London W C.

Waverley Temperance Hotel, Southampton Row, London W. C.

Montagu Mansions, Great Russell Street, London W. C.

Midland Hotel, St Pancras, London N. W.

17 Bloomsbury Street, London W. C.

Durrant's Hotel, George Street, Manchester Square, London W.

Bingham's Hotel, Southampton Buildings, Chancery Lane, London W,C

and late of

229 & 239 High Holborn, London W. C.

Surgeon, deceased

Reading Mercury, 6th September 1902
His widow, Emmaline I Stradling died in Kensington, London, in 1925 and his son Arthur Renny Stradling was an artist living in Tenterden, Kent in 1939 and died in Kent in 1971. I could not find either of them in the 1901 or 1911 censuses.