Family Background
Thomas Downer (1775-1852?, born Watford) married Mary Carter (1781-1855?, born Shrewsbury, Shropshire) at Abbots Langley on 13 December 1805 and had five children baptised at Abbots Langley: Benjamin (1806, born Leavesden, became a carpenter in Watford), George (1807, born Leavesden, became a master builder in Watford), David (1812, see below), Decimus (1815, became a carpenter but was buried at Watford in 1845) and Thomas (1818-1828). Thomas senior was a carpenter, listed in the 1839 Pigot's Directory) and the family probably moved to Watford before 1828 with Thomas and Mary both living there at the time of the 1841 and 1851 censuses.
It is not known when or where David Downer (1812-1887, born Leavesden) and Sarah (1811-1891, born Croydon, Surrey) were married but their eldest son David was born in the summer of 1837 and baptised at Watford St Mary on 15th October, 1837. Later children were born, and subsequently baptised, in 1839 (William), 1840 (Frederick), 1842 (Louisa), 1845 (Decimus) and 1848 (Emma). David senior was listed as a hair dresser and stationer in the 1839 Pigot's Directory and a variety of sources show he continued both activities in Watford High Street, until his death. His son David continued the business of as hairdresser and stationer in the High Street until at least 1902.
However in 1853 the hairdressing and stationary business, and the family, moved from one shop in the High Street, not far from the Essex Arms, to what was almost certainly a larger premises, a few doors away from the George Inn, at what was later to become 97 High Street. The newly acquired property consisted of a shop with two floors above, and the extensive grounds at the rear included a cottage, stabling, a coach house, and access to Loates Lane.
Frederick Downer (1840-1919)
According to his obituary in the Watford Observer Frederick initially worked as a junior clerk in a solicitor's office, but was so keen to study art that he would get up at 4 am to catch the train to London to attend an early morning class, returning to Watford in time to get to the office at 10 am. It is not known if he learnt about photography in these classes but in 1862 he opened a studio in a room at the back of his father's shop where patrons could get portraits in oil, charcoal or as a carte de visite photograph. On 14th March 1863 the Watford Observer reported on the celebrations for the marriage of the Prince of Wales "A photograph, understood to be very successful, was taken by Mr. Frederick Downer at this time from a window in Mr. Sedgwick's house."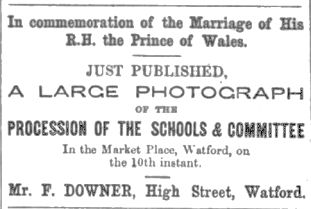 His business was so successful that he moved his studio to the cottage at the rear of the site, on Loates Lane, with glass panels in the roof to provide daylight for his upstairs studio. Changes were also made to the yard between the shop and the cottage so it could be used for large groups and equestrian photographs. In 1870 he exhibited at the Royal Photographic Society exhibition with Studies and A Frame of Four Landscapes.
By the time of the 1871 census he was employing his younger brother Decimus as an assistant photographer. ...
To be continued
Fred Downer was a member of the Watford Club who performed the Marquis de Corneville in Les Cloches de Corneville in St Albans in 1895, and was also responsible for painting one of the sets. The Stage.
Can You Help? I want this article, when finished, to encompass as many aspects of Victorian and early 20th century photography as possible - to show what can be done. I have many examples of his post cards but would like digital images of more examples of his work to use as illustrations. Areas where he is known to have worked (and in some cases where I have no illustrations) are:
Portraits in oils or charcoal (possibly from photographs)
Studio Photographs - including those with painted backcloths
Group pictures
Early Views (cabinet or carte de visite - not post cards)
Pictures with horses
Lantern Slides
Moving Pictures (circa 1909)
Books, etc., illustrated by his photographs
Work by the Watford Engraving Company
If you can let me have digital scans proper credit will be given.