MONK, Hemel Hempstead, 19th century
June 2001
Mike Jarman (mikej @ xtra.co.nz) of Waiheke Island, New Zealand, earlier asked about his grandfather, Arthur Jarman - see JARMAN, Great Gaddesden, Redbourn & Hemel Hempstead, 19th/early 20th century - and in commenting on my answer he said My Grandmother, Clara Grace (nee Monk) was however a lovely warm lady. I know even less about the Monks although I assume they came from Hemel Hempstead. Her father was Charles (died 1912) and her grandfather was Thomas but that's about all I know.
A quick check of the 1881 census CD shows a number of MONK households in Hemel Hempstead. The following was at Two Waters, Hemel Hempstead, and includes your Grandmother, Clara G Monk. Clearly Arthur Jarman married well - as there would not have been many people in Hemel Hempstead employing over 20 people.
| | | | | | | |
| --- | --- | --- | --- | --- | --- | --- |
| Charles MONK | M | 42 | M | Hemel Hempstead | Head | Builder Employing 19 Men 3 Boys |
| Mary A. MONK | M | 39 | F | Hemel Hempstead | Wife | |
| Mary E. MONK | U | 17 | F | Hemel Hempstead | Daur | |
| Sarah A. MONK | | 11 | F | Hemel Hempstead | Daur | Scholar |
| Harriet H. MONK | | 8 | F | Hemel Hempstead | Daur | Scholar |
| Clara G MONK | | 6 | F | Hemel Hempstead | Daur | Scholar |
| Frances M. MONK | | 4 | F | Hemel Hempstead | Daur | Scholar |
| Sidney C. MONK | | 1 | M | Hemel Hempstead | Son | |
.In addition the following household almost certainly includes your great great grandparents, living in a house called "Saint Bernards" which I believe was close to Marlowes. (Marlowes was the road running between Two Waters and Hemel Hempstead High Street - and is now the main shopping area.
| | | | | | | |
| --- | --- | --- | --- | --- | --- | --- |
| Thomas MONK | M | 76 | M | Burton, Bucks | Head | Retired carpenter |
| Elizabeth MONK | M | 70 | F | Hemel Hempstead | Wife | |
| Martha MONK | U | 37 | F | Hemel Hempstead | Daur | Domestic Help |
A check shows that Thomas Monk is listed as a carpenter at Moor End, Hemel Hempstead (which is adjacent to Two Waters) in the 1839 Pigot's Directory, and at Two Waters in the 1850 Post Office Directory. In the 1870 Post Office Directory he was listed as a builder and shopkeeper in nearby Boxmoor. In an 1889 Directory produced by J Brackett, a stationer of Hemel Hempstead, Charles Monk is listed as a builder at Apsley End (which could have included Two Waters.)
Mike Jarman (mikej @ xtra.co.nz) replied Thanks again for information on family of Clara Grace Monk. The 1881 census has her Grandfather, Thomas Monk, coming from Burton in Bucks. My research reveals no such place in Bucks...could this be Bierton which is just the other side of Aylesbury? I noted a lot of Monks came from Stone.
I agree with you that "Burton" is almost certainly a mistake. The 1881 (and 1891) census for Buckinghamshire is available with a powerful search package called MACH (Mapping and Analysis of Census Households) which allows the results of a search to be shown on a parish map of the county.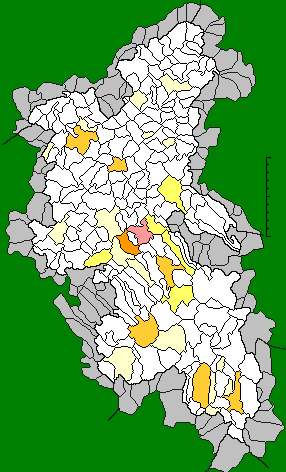 A search for Monk shows 25 in Aylesbury, 15 in the adjacent parish of Stone to the west, and 4 in Bierton to the East with several more in nearby parishes. Some of the Monks born at Bierton were chair makers. There is also a cluster of 9 in the parish of Burnham - which turns out to be a single large family - with the head of family a "wood bailiff" born in Burnham, and a son with the occupation "woodman" - with more Monks in nearby parishes. It may be relevant that your Thomas Monk was a carpenter.
As the "mistake" may be in transcription you should check the microfilm but my preference is for Bierton rather than Burnham. The Bucks Family History Society was an index of the 1851 census for Buckinghamshire which will allow you to find out more about the Monk family at an earlier date.
July 2001
Mike Jarman (mikej @ xtra.co.nz) replied: Through the Public Library at Aylesbury (they have been very helpful), I have ascertained that Thomas Monk was born in Bierton in 1804 (Bierton was also referred to as Burton in 1806 "Magna Brittania") Thomas Monk's father was James Monk who was Publican of the Plough Public House in Bierton.
August 2001
Ray Collins (rayc.colins @t btinternet.com)writes: I have just started researching my Monk family and mine are the chairmakers at Bierton. At present l have got to a James Monk b1801 who married a Susannah. He was a chair maker but shown in the 1861 census as a Beer House Keeper and Chair Turner. His son Charles was also a chairmaker but is shown living at the Bell Inn in the 1871 census. There were other Monk families living in Bierton who all appeared to be Agricultural Labourers but l have not yet found if theses are related.
While Bierton is on the Hertfordshire border, it is actually in Buckinghamshire, and it is suggested that any further discussion about the Bierton Monks is carried out by email between the interested parties on the rootsweb list BUCKS-L.
Page relocated April 2005