Robb. Gorr (gorr9900 @t yahoo.com) of Petawawa, Ontario, Canada writes The 1851 census of Berkhamsted parish shows my ancestor James Holliday and family living at "Ashlyns Hall" where James is the "bailiff". Was Ashlyns Hall an estate? Who owned it? What exactly was a bailiff in the first half of the 19th century? My James Holliday was born illegitimately in 1787 in Northchurch to a reasonably comfortable family. The birth was treated differently than others in the community during the same period. In his baptism record James was not called "baseborn" or "bastard" as were other illegitimate children. He was the only child where no bastardy bond papers were filed and so, the father is unidentified. His mother Frances (Fanny) Holliday was later married (1794) to the paid militia man Thomas Saunders, a native of Stoke Newington, Middlesex by whom she had four more children. James Holliday went on to become a bailiff which I had been told was a position of some authority and responsibility. Members of our family speculate that James' father may have been one of the local gentry and that is why his birth was treated differently and he was given such opportunity.
Illegitimate births can present real problems, even if the mother knew for certain who the father was - which may not always have been the case. Where there was no dispute as to who was to pay for the child's upkeep it is very easy to look for years without luck. I had a similar problem with one of my ancestors and it may help if I give details:
William Speed Locke was born on 15th February 1796, apparently in Aylesbury, Bucks. No baptism, or other legal record has ever been found of his birth or parentage. However a one line entry in the Overseer's of the Poor Accounts book revealed the truth. On 26th March 1796 the Overseer wrote "Wm Speed for Widow Lock's lying in month, £2/0/0" Another record - of the death of Widow Lock's husband, was a short entry in a late 18th century private diary, which had been reprinted in a 19th century newspaper - which had survived as an undated cutting in a private scrap book (now in the Bucks Records Office). Both these references were found because I had a lot of relatives in Aylesbury (which is only about 6 miles from where I live) and I was ploughing through the documents for any reference to any possible relative.
I am not sure what Berkhamsted related records exist which might be helpful - for instance if James Holliday has an influential "patron" he may have been sent to school - but further research could be tedious with no guarantee of success. One possible clue might come from the witnesses at his marriage - but that is a long shot.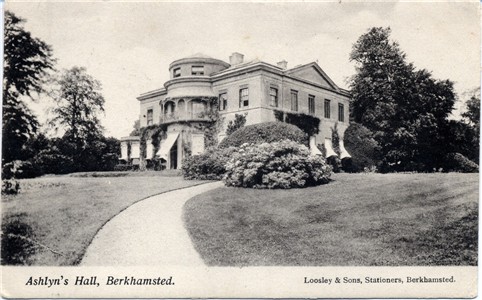 Ashlyns Hall - Published by Loosley, Berkhamsted - posted 1907
It was built towards the end of the 18th century
As James Holliday was Bailiff at Ashlyns Hall in 1851 he would have been employed by Augustus John Smith (1804-1872), "King" of the Scilly Islands (off Cornwall). He was presumably responsible for general upkeep of the house and grounds, and William Gough, described as his lodger, may well have been the head gardener. Augustus Smith was born at Ashlyns Hall, his father, James Smith, having brought the house in 1801. I don't know how much time Augustus Smith spent in Berkhamsted, once he had acquired the Scilly Islands, but the house was occupied by William Longman in 1859. However Augustus Smith's action over Berkhamsted Common was in 1866 - so he clearly kept close contacts with the town.
See also: Augustus Smith and Berkhamsted Common
September 2014

Diane wrote Saw you information about HOLLIDAY being a bailiff at Ashlyns, the home of Augustus John SMITH who was Lord Proprietor of the Scilly Isles. You may already know that in the 1861 Augustus John SMITH is shown in that year's census living on Tresco in the Isles of Scilly aged 56 with a Charles HOLLIDAY, servant, unmarried, aged 37, born Berkhampstead, in his household. Also on the island in that 1861 census and living at Bay Tree Farm is William HOLLIDAY age 46 Bailiff born Berkhampstead and his wife Susan age 49. So the SMITH family's connections to the HOLLIDAY family extended to SMITH's time on Scilly (from 1834 till his death in 1872).
From the Scilly Isles census it is all to easy to jump to conclusions that William and Charles were brothers or at least closely related. However a quick check suggests that they are not even first cousins. The following events are recorded at Berkhamsted:
William Holliday Baptised 17 December 1809 son of John and Mary Holliday

William Holliday Buried 22 November 1812, aged 3

William Holliday 14 June 1817 son of James and Fanny Holliday and living with his parents in 1841 census James being 52 and a Bailiff.

Charles Holliday 25 November 1816 son of John and Mary Holliday and living with his parents in the 1841 census John being 55 and a Wheelwright.

John Holliday Baptised 26 June 1785 at Northchurch (Berkhamsted St Mary) the son of William and Susannah Holliday

James Holliday Baptised 14 January 1787 at Northchurch (Berkhamsted St Mary) the son of Fanny Holliday
November 2014
Robb. Gorr commented on my speculation: I just wanted to reply that your "quick check" that William & Charles Holliday, employees of Augustus John Smith on the Scilly Islands, were not close relatives is not correct. Diane had it right- they were brothers and sons of the James Holliday who was Smith's bailiff at Ashlyns Hall in Herts. William Holliday (1817-1895) was James' second son. He was married on Scilly in 1846 and is recorded as Smith's bailiff there in the 1851 and 1861 census. By 1871 he has returned to Berkhampstead where he has replaced his father as the bailiff at Ashlyns Hall. His brother Charles Holliday (1822-1898) is recorded as a footman and house servant on Scilly in 1851 and 1861 and is recorded as a valet (possibly for Smith) in London in 1871. After retiring from service he married in 1873 to Jane Simpson, a former kitchen maid and then cook on Scilly. By 1881 they are pensioners living back in Berkhampstead. Also interesting to note is James' eldest son Matthew Holliday (1811-1875) who was aided by Smith in obtaining a position as a gardener to Smith's fellow M.P. Sir Denis LeMarchant at Chobham Place in Chobham, Surrey. What was the connection of James Holliday, an illegitimate child, to Augustus Smith and why did Smith favour James and his sons throughout their lifetime? James Holliday, who died in 1879 at the age of 92 years, has a large tombstone in St. Mary's churchyard in Northchurch, the only member of his family before or afterwards to have such a memorial.
I don't know what happened, or which records I checked at the time, but you are right about the Holliday links with Augustus John. There were two Charles Holliday born in Berkhamsted at about the same time and I have now found the |"missing" Charles in the 1841 census
In 1841 Charles, son of the James Holliday who worked for Augustus John, was (almost certainly) staying at the house of an architect, James Wild, living in Piccadilly where he is recorded as one of the house servants. Also in the house was a James Smith, aged 70 of independent means - who was almost certainly Augustus Smith's father - James Smith (1768-1843) of Ashlyns Hall. In fact Charles could well have been working for James Smith at Ashlyns Hall - and accompanied his master on a visit to Piccadilly! If this is correct it seems quite reasonable that Charles moved on to be a footman for Augustus Smith in the Scilly Islands in 1851 and 1861.
It is interesting to note that James Holliday's third son was Joseph a he never seems to have worked for the Smith family.
One can, of course, speculate about James Holliday being illegitimate and whether this is a reason why he and his family did so well by the Smith family. James Smith, being born in 1768, was old enough to have fathered James Holliday, and illegitimate boys were often given the name of their father. However James Smith only moved into Ashlyns Hall in 1801 - and I don't know if there was any Smith family connection with the town before that. Definitely the Holliday family are not mentioned in James Smith's 1843 will, and neither are any other servants, etc.
On the other hand it might be that James Holliday was just the right age to have started to work at Ashlyns Hall when James moved in 1801 - and if he proved exceptionally competent could well have been promoted to become a farm bailiff 40 years later. I have not consulted Augustus Smith's will (I gather it is lengthy) to see if he makes any bequests for staff, including James Holliday.
If you can add to the information given above tell me.