Jane Gourlay (JOHNjfgourlay @t aol.com), of Plymouth, Devon, says: I am making queries about a house that I used to live in and my father and Grandparents before, 140 Sandridge Road. When exactly was it built? It is part of a row originally called Battle Mount, I believe it was no.6 When did it become part of Sandridge Road. I am led to understand that my grandparents were the first occupants of this house.
The posting REYNOLDS, Sandridge Road, St Albans, circa 1900 describes a lower numbered house on the East side of Sandridge Road and a key factor was that the houses in the road were renumbered around 1930. However it is clear that your number "140" is after the renumbering as the 1949 Kelly's Directory for St Albans lists a Mrs E. Noaks as the occupant of 140 Sandridge Road.
The above map, from the 1897 ordnance survey revision of the area shows, centre left, a terrace of 20 houses facing onto Sandridge Road, an undeveloped space, and then the school. A comparison with the 1949 directory suggests that these houses are now numbered 92-130 Sandridge Road. The house you are interested in falls in the gap between this terrace and the school - so was not built in 1897. The area to the north of Boundary Road was in Sandridge Rural, while to the south of the Boundary Road houses buildings were in St Albans City.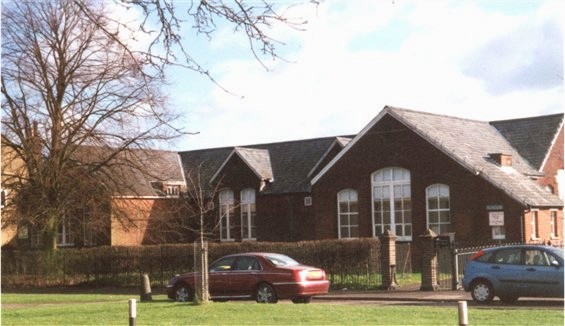 The School as it is now
My press index of the area shows that 10th June 1905 issue of the Herts Advertiser reported that the St Albans Rural District Council had approved building plans submitted by Messrs C. Miskin & Sons (major local builders). These were for 12 cottages in Sandridge Road and 20 cottages in the adjacent Upper Culver Road. - which would nicely fill the gap south of the school in the above map. Later in the year (Herts Advertiser 18th November, 1905) Mr Miskin approached the School about the overgrown boundary hedge - from our point of view confirming that this was the site he was developing.
This strongly suggests that the house which is now numbered 140 Sandridge Road, and its immediate neighbours, was one of a number built by C. Miskin and Sons in 1905 or very shortly afterwards.
St Albans Central Library has a very complete set of early 20th century street directories for St Albans, and an examination of these should reveal when the house you are interested in was first listed. By looking at successive copies it should be possible to date any changes of name or numbering. They also have a good collection of large scale maps.
Jane (JOHNjfgourlay @t aol.com) replied: Thank you for answering my query about 140 Sandridge Road. I had always been led to understand that my father had moved into the house when he was very young, having started his life in Upper Culver Road. As he was born in 1906 that would confirm it. I was unaware that the houses that backed on to ours in Upper Culver Road had been built at the same time. Mrs. E. Noaks was my Grandmother and in 1949 my father, mother and myself were living there as well as my Uncle, with my Grandmother.
For other houses in Sandridge Road see REYNOLDS, Sandridge Road, St Albans, circa 1900 and DUMPLETON, Sandridge Road, St Albans, 20th century
If you can add to the information given above tell me.