REYNOLDS, Sandridge Road, St Albans, circa 1900

November 2001
Steve Clarke (steve_clarke @t fsmail.net) of 68 Sandridge Road, St Albans writes: According to the title deeds to my house, the property was purchased by Jacob Reynolds in 1896 from Horace Slade and remained in the family until his wife's death in 1936. I am interested in learning more of the early history of the property, and wondered whether you had information about when it was built, by whom and anything else which may be of interest.
Prior to about 1881 the east side of Sandridge Road, St Albans, consisted of fields associated with Heath Farm, Bernards Heath, farmed by my great grandfather, Jacob Reynolds, and owned by Earl Spencer. Definitely there are no houses there at the time of the 1881 census. Number 68 is situated on part of a 20 acre field called Gallows Field. I don't have the details but it is clear that most if not all of this field was sold off for development circa 1881. Information received earlier this month about James Dickson suggests that he may have been the contractor who built (and named) Culver Road which runs parallel to Sandridge Road, behind your house.
My guess is that the land along Sandridge Road was sold off as a number of separate plots but I don't have definite evidence although the appearance suggests that different groups of houses were built by different builders at different times. Some plots may have been brought by the local well-to-do either with a view to speculation and/or with a view to building a posh house for themselves. However as "Sandridge New Town" developed it was clear that the area was going to have a much lower tone than the housing developments to the south of Sandpit Lane, such as Avenue Road. In fact Bernards Heath became a malodorous area - with the smells from the brickworks, Lewis and Wiles factory (where the fire station now is) and the town rubbish tip (infilling disused brick pits). In addition a pond on the Heath near Heath Farm was called the "Black Pond" and I suspect from some of the things said about it that it contained the drainage from the cattle yard ...
It may well be that Horace Slade, who was a straw hat manufacturer, purchased the land for speculation and sold the plot to Jacob Reynolds in 1896. Definitely this part of the road was not fully built on in 1897 [See the republished Old Ordnace Survey Map, St Albans (N.E.) which is probably being sold by the Central Library). My understanding is that the group of houses was built by Jacob Reynolds, using bricks (labelled JR) from his brickworks (which were further up Sandridge Road, just beyond and behind the school), around 1900.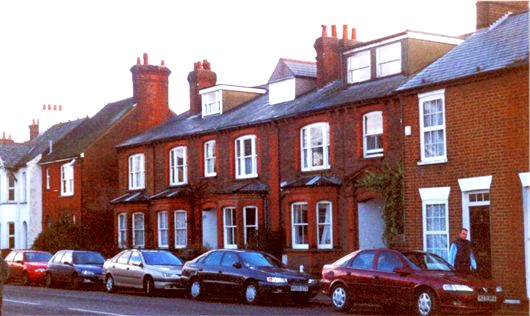 It may well be that all the initial occupants of the houses were employees of Heath Farm Dairy or relatives of Jacob Reynolds. When I did some research some years ago I was "partisan" and concentrated on your next door neighbour, Number 70 (which was originally numbered 82). Checking on selected Kelly's Street Directories in the Central Library I came up with the following list of occupiers:
1902 [no entry] [82 not yet built?]
1903 82 Sandridge Rd H F Reynolds, MRCVS, vet. surg.
1906 82 Sandridge Rd Richard Thomas Grove
1907 [no entry]
1909 82 Sandridge Rd Samuel Coles
1910 82 Sandridge Rd Samuel Coles
1911 82 Sandridge Rd Mrs Coles
1912 [no entry]
1913 82 Sandridge Rd Arthur Martin
1922 82 Sandridge Rd Mrs Martin
1926 82 [70] Sandridge Rd Mrs Martin
1937 70 Sandridge Rd Mrs Martin
1939 70 Sandridge Rd Mrs Martin
1949 70 Sandridge Rd Mrs Martin
1954 70 Sandridge Rd Miss Groves (sic)
1958 70 Sandridge Rd Cyril Hedges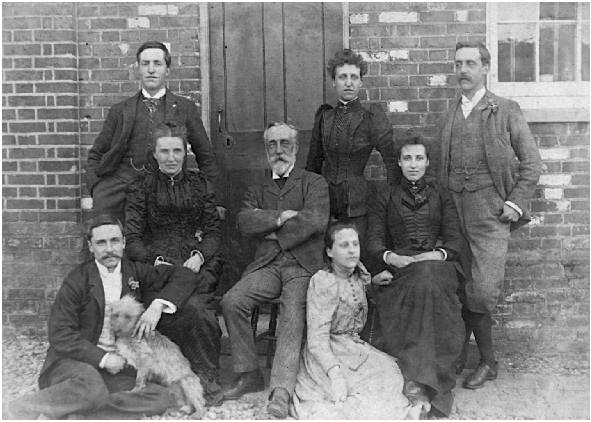 The Reynolds Family in 1892
for further information see A Short History of Bernards Heath.
Harry Finch Reynolds was Jacob Reynolds' eldest son (and my grandfather). He had built a house somewhere in Sandridge Road which almost immediately burnt down in 1901 and presumably moved here while the impressive replacement, Calverton, was built at the top of St Peters Street (now offices).
Richard Thomas Grove was an architect who married Jacob's daughter, Ellen Frances Reynolds in 1904.
I don't know who Samuel Coles is but suspect he was an employee (may be the manager) of Heath Farm Dairy. He would appear to have died about 1910.
Arthur Frank William Martin was the manager of Heath Farm Dairy and married Jacob's daughter Rose Mary Martin in 1912. He died in 1922 and his widow remained in the house until her death.
Beryl Elizabeth Grove was the daughter of Richard and Ellen Grove, but was in part brought up by her Aunt Rose and inherited the house from her Aunt. She later moved into the ground floor flat of Heath Farm where she remained until it was demolished in about 1975.
I have no idea who Cyril Hedges was - and didn't follow the history of this house further.
~~~~~
On the other side, now number 66, Ellen Reynolds moved in sometime after she was widowed in 1926 and lived there until her death in 1935.
~~~~~
You should be able to find out who was in number 68 (previously 80) in the same way as I did for 70 (previously 82) by looking through the Kelly's directories in the St Albans Central Library. If you do I may be able to identify some of the occupants if they worked at the farm.
~~~~~
February 2002
Steve replied: Thank you for the information posted in reply to my earlier query.

I have researched house numbers 66-74 Sandridge Road in the collection of Kelly Directories held at the central library, and the results are contained within a spreadsheet. I have included here details of the occupants up to 1940, which I suspect is as long as any Reynolds or Heath Farm connection is likely to remain.
66 / 78 - Kellicleve
1903 Anderson, James Edward
1906 Tanner, John Charles

A Mr Tanner occupied a different cottage in Sandridge Road in 1891.

1907 Smith, George W
1909 Smith, George W
1910 Smith, George W
1911 Salmon, Mrs N
1912 Salmon, Mrs N
1913 NO ENTRY
1914 Kerr, Mrs
1922 King, Frederick
1927 King, Frederick
1928 Davis, Aug Geo
1929 Davis, Aug Geo
1930 Davis, Aug Geo
1931 Reynolds, Mrs
1932 Reynolds, Mrs
1933 Reynolds, Mrs
1934 Reynolds, Mrs

Mrs Ellen Reynolds, widow of Jacob Reynolds, moved in when Heath Farm Dairy was sold to the Pullens, and died 31st December 1935.

1936 NO ENTRY
1937 Green, Stanley B
1938 Green, Stanley B
1939 Higgins, Martin
1940 Higgins, Martin
1941 Higgins, Martin
68 / 80 - Brambleside
1903 Burgoine, Miss
1906 Burgoine, Miss
1907 NO ENTRY
1909 Thompson, William Henry
1922 Thompson, William Henry
1923 Thompson, Mrs Ellen
1933 Thompson, Mrs Ellen
1934 NO ENTRY
1936 Thompson, Mrs Ellen
1937 Thompson, Mrs Ellen
1938 Thompson, Miss LE
1941 Thompson, Miss LE
70/82
[Given above]
72 / 84
1903 Hall, Sydney

I am sure he would have been the Mr Sydney Hall who attended a Conservative Meeting on Bernards Heath in 1905. He may have been the Mr S. Hall who was one of the welcoming celebrations when the Rev. Darwin Burton, of St Saviour's Church, returned from the war in South Africa in 1900. He was probably the Mr. S. Hall who attended an accident in Harpenden Road in 1905. (see @@@@)

1906 Buck, Frank S
1907 Buck, Frank S
1909 NO ENTRY
1910 Lenell, Mrs
1911 Lenell, Mrs
1912 Lenell, Mrs
1913 Patterson, Robert E
1914 Patterson, Robert E
1922 Scott, Cecil
1925 Scott, Cecil

Cecil Scott, son of William Scott of Oster Hills (see SCOTT, Oster Hills, St Albans, late 19th century) died 29th May 1925. His wife was Lizzie Gertrude Reynolds, daughter of Jacob Reynolds. I have her as living in Ridgemont Road, St Albans in 1937.

1926 Scott, Mrs
1927 Scott, Mrs
1928 Kidman, Mrs
1938 Kidman, Mrs

Identity unknown but might be a Reynolds relative - The Kidman family married into the local farming network. (See Who is Related to Who?)

1939 Beswick, Gordon
1940 NO ENTRY
1941 NO ENTRY
74 / 86
1903 Williams, William Lloyd (Surveyor)

W. Lloyd Williams attended a meeting of the Verulam Cycling Club in 1899.

1906 Yates, Misses
1907 Yates, Misses

Maybe the Misses Yates who attended a Heath Farm Lumber Sales to raise money for St Saviour's Church in 1897.

1909 Gale Bernard
1910 Gale Bernard
1911 Patterson, Robert E
1912 Patterson, Robert E
1913 NO ENTRY
1914 NO ENTRY
1922 Webber, Harry
1939 Webber, Harry
1940 Webber, Miss EP
1941 Webber, Miss EP
In the course of my research I also noticed the following entries which may have some connection to the Reynolds family and Heath Farm:
from 1933 onwards:
3 Sandridge Rd - Frank Ernest Reynolds
His daughter still lives there
From 1911:
106 Sandridge Road - Thos Alfred Newbury - dairyman.

I didn't note the details, but there was also another Webber living in a house nearby.

You mentioned that the house numbers changed - based on Kelly's this would have happened in 1928.

If you have further information on the people listed, I would be most interested.
I have inserted comments above, including some from my Bernards Heath Press File.
For more information see Jacob Reynolds
For other pages relating to Sandridge Road see DUMPLETON, Sandridge Road, St Albans, 20th century and NOAKS, Sandridge Road, St Albans, 20th century).
If you can add to the information given above tell me.