Heather Hunter (wkhhunter @t tri-countyelectric.net) of Santee,S.C., USA, asks Do you know if there was a street named "Christgate" in Ware . It shows up after my Ancestors name on Page 138 of Pigots Directory for 1839. His name was Robert PAGE and he operated a Brewery. I have tried to find it on OLD MAPS but was unsuccessful. Any help would be appreciated.
I am afraid your information is wrong, as the entry in the 1839 Pigot's Directory reads "Churchgate", but by looking at other sources it may be possible to tie down where Robert Page had his Brewery.
The 1823 Pigot's Directory entry for Ware includes
Grocers, and Retail Dealers in Sundries

Page, J. R. Star-lane

Maltsters and Coal, Corn & Seed Merchants

Page Joshua (& factor) Water-row
Page Henry, Churchyard

Water Conveyance

Page Joshua, Water-row
The 1839 Pigot's Directory includes
Brewers

Page, Robert, Churchgate

Coal Merchants and Dealers

Page, Henry, Churchgate
Page, J C & N, High Street
Page, Jonathan Brown, Bridge foot

Coopers

Page, Robert, Churchgate

Corn Dealers

Page, Henry, Churchgate

Maltsters

Page, J C & N, High Street [also Malt Factor]

Millers & Mealmen

Page, Henry, Churchgate
The 1850 Post Office Directory lists the following Page in Ware including:
Page, Charles, maltster, Baldock Street
Page, Edward, pork butcher, Amwell Street
Page, Henry, maltster & miller, Back Street
Page, Nathaniel, maltster, corn & coal merchant, barge owner & wharfinger, High Street
Page, Robert W, brewer & cooper, Back Street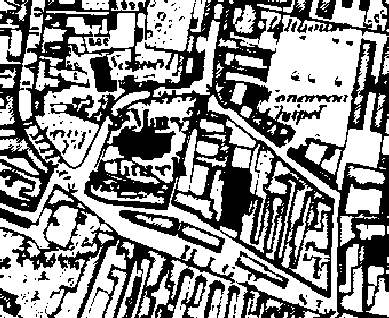 Area around St Mary's Church, Ware, in about 1883
[from Old Maps]
The key entries would appear to be those relating to Henry and Robert Page in Churchyard (1823), Churchgate (1839) and Back Street (1850). These probably all refer to the same properties. If you look at the above detail of the 1883 Ordnance Survey map you can see St Mary's Church with the High Street to the south. Modern street maps show the basic layout unchanged with the road running from the High Street, round behind the church and back to the High Street now being called Church Street. Such a road may well have attracted the name "Back Street" in earlier days - and its line may represent, in part at least, the boundary of the original "Church Yard". My guess is that Robert (and Henry) Page had property in or near the modern Church Street - and it is interesting to note that there is a "Malthouse" marked on the above map to the north of Church Street. [However the full map shows several other malthouses in Ware.
There will almost certainly be material at HALS, and possibly in Ware itself, which could throw more light on this - but most will only be available to personal callers or their agents. However the 1841 and 1851 censuses should be available to you through your nearest LDS Family History Centre (address on familysearch) and you may be able to tie the address down using the approach described in Locating Census Addresses on Maps. If you have located baptism entries the register may also include some address information, and birth certificates should be even more helpful.
If you can add to the information given above tell me.