Sheila Bound
of Newbiggin by the sea, Northumberland, writes
George Wilson son of Isaac was born about 1815. The IGI shows a George Wilson baptised 3 5 1815 son of Isaac and Harriet at The Abbey, St. Albans. When he married Sarah Hanshaw at Little Stanmore on 23 9 1839, the marriage certificate shows him as a widower and so far I have been unable to trace his first wife. Sarah Hanshaw was the daughter of Elisha Hanshaw born about 1809 in Watford.
George was a coachman on his son Archelaus' birth certificate in 1843 and an Innkeeper on Archelaus' marriage certificate in 1869. Although Archelaus' place of birth is Chequers Yard, Watford, he and his siblings, Sarah 1844, Elisha 1846, Lucy 1848 ,Emily 1849 and Charles 1849 were baptised at St. Marys , St. Marylebone , IGI. No trace of George or Sarah on the 1881 census and Emily, unmarried , was staying with Archelaus in Lancashire. Are there any local books which might tell me more about Chequers Yard and perhaps where George was an Innkeeper? I would also be grateful for any suggestions to help me further my research.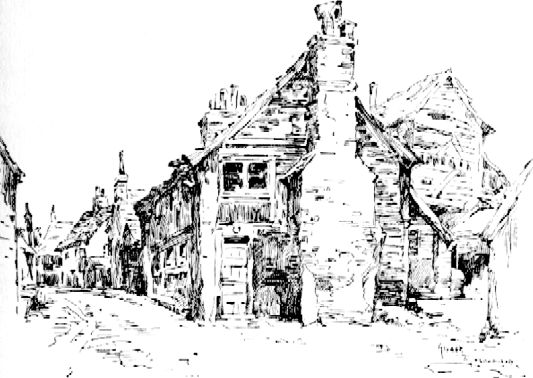 Old Houses, Chequer's Yard, High Street (demolished)
from "History of Watford"
Chequers Yard was the yard behind the Chequers, and in the 1839 Pigot's Directory, the Chequers is listed under "Taverns & Public Houses" and was run by Thomas Coles. In the 1850 Post Office Directory it is listed as being in the High Street, and was run by John West, who was also a butcher. (I have not checked for the Chequers in later directories - see archiveCDbooks if you want to know more) The buildings in such yards were often originally stables and associated facilities, and often became some of the worst kinds of slum properties.
You don't say George Wilson's occupation or address at the time he married in 1839 in Little Stanmore, but in 1843 he was a coachman in Watford. In 1844 he appears to have moved to St Marylebone (occupation and address not yet determined from baptism registers or birth certificates). When his son married in 1869 he described himself as an innkeeper, but there is no reason to associate this with Hertfordshire - but you might find him in a London trade directory.
It would be useful to know from the 1841 census for Little Stanmore or Watford, what he was doing as there were major changes in the area due to the opening of the London to Birmingham railway through Watford in 1837. Just one coaching inn in St Albans is reported to have laid off 200 horses as long distance traffic switched from road to rail, and there would have been matching redundancies among coachmen, grooms, stable boys, etc. Big houses would still have employed their own staff - and I note that George's son Archelaus was employed as a domestic coachman at the time of the 1881 census. However it is quite possible that George Wilson was affected by the dramatic changes in the horse transport related job market in Hertfordshire around 1840, and he move to London in 1843/4 was to look for work - possibly in a new trade. You may well be able to get an address from one of the 1849 birth/baptisms to allow you to find him in the 1851 census - and Archelaus's address when he married might have also been his father's address - perhaps allowing you to find George in the 1871 census.
It may be worth noting that a Thomas Hanshaw, 40 year old boot, and shoemaker, born Watford, is listed as living in Holywell Hill, St Albans, with his family, in the 1851 census.
Chequers Yard is not listed in the Street and Place Names of Watford, and I have very little indexed material on Watford to help. However many books have been published on Watford - see Looking for Books as to how to locate them.
Sheila Bound writes: Many thanks for your work in answering my query. The background that you have given me has provided me with much to think about. George Wilson was a post boy at the time of his marriage in 1839 and the only address given was Little Stanmore. His son Archelaus was married at Bothwell Bank, Scotland residence Middleton Uphall, Scotland.
If you can add to the information given above tell me.