Nicole Neale (nicole.neale @t btinternet.com) writes On your page regarding the Grand Junction Canal, you have a picture entitled "Grand Junction Canal, north of Watford". My Great Grandfather, Arthur King, was born in Canal Lock House, Cassiobury Park, Watford on the 25 July 1893, son of Walter and Emily King (source birth certificate). Emily's maiden name was Atkins and according to her marriage certificate of 1893, her father James was a lock keeper on the canal. Walter and Emily were living with James at the time of Arthur's birth. My query is whether you have further information relating to the photograph you have on this page. If it is the Canal Lock House then I am looking at my great grandfather's birthplace and I would thank you for a wonderful present.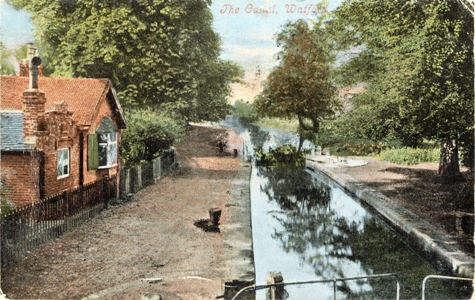 The Canal, Watford, Valentine Series, posted 1904
There were three locks and two lock keepers cottages on the Grand Junction Canal in Cassiobury Park, Watford. To the North there were a pair of locks, numbered 75 & 76, then a single lock, 77, close to the Iron bridge, and then a fourth, 78, shortly before the canal left Cassiobury Park. I have looked in a number of books - and the naming of the locks varies depending on where you look - and none use the phrase "Canal Lock House". The following description come from Alan Faulkner's The Grand Union Canal in Hertfordshire.
... we then enter Cassiobury Park. The next two locks [75 & 76], less than 200 yards apart, are sometimes known as Albert's Two or Norman's Two, after former lockkeepers. There is a lock cottage at the second lock [76], and then a picturesque stretch brings us to Ironbridge Lock [77], where a bridge [bridge 167] below the lock provides a popular vantage point in the park to watch the boats go by. The former lock cottage has long been demolished, as has been the nearby mill.

Another wide and picturesque stretch of canal follows through the park, with the River Gade close by to the east before reaching Rouse Barn Lane bridge [bridge 168], sometimes known as the Earl of Essex's Bridge. Cassiobury Park bottom lock [78], usually called Cassiobridge Lock, is now in sight.
If you look at the picture it must be looking north, because the lock is full and the canal surface, not visible in the foreground, must be at a lower level. However you are actually looking down on the lock, so must be on a bridge. The picture can only be the much photographed Ironbridge Lock.
The 1881 census gives a clue. It lists a "Cassiobury Park Lock Cottage" and a "Cassiobury Lock Cottage". In the first lived a Charles Norman (Lock Keeper, aged 50, born Marsworth, Bucks) and his family. A William Gillings (Carpenter, aged 28, born Thurlaston, Warwick) was in the other. No other lock keeper is listed in the Cassiobury area. This suggests that only one of the two cottages mentioned in the above description were occupied by lock keepers in 1881 - and the fact that locks 75 and 76 were known as "Norman's Two" suggests that Charles Norman was in the cottage by lock 75.
The 1891 census lists the following household in "Lock Cottage, Cassiobury Park"
| | | | | |
| --- | --- | --- | --- | --- |
| James Atkins | Head | 45 | Lock Keeper | Chesham, Bucks |
| Emma Atkins | Wife | 41 | | Northchurch, Herts |
| Mary ?Hampshire? | Wife's Mother, widow | 65 | | Berkhampstead, Herts |
| Emily Atkins | Daughter | 18 | Paper Mill Hand | Chesham, Bucks |
| Joseph J Atkins | Son | 16 | Paper Mill Canal Boat | Chesham, Bucks |
| Harry Atkins | Son | ? | | Chesham, Bucks |
| Rose Alice Atkins | Daughter | ? | | Watford, Herts |
There was also a "Lock Cottage Cassiobury Park" occupied by George Chalk (Carpenter, 48, Abbots Langley) and his family. This may well have been the one occupied by the carpenter William Gillings in 1881.
In the circumstances it seems very likely that James Atkins succeeded Charles Norman as the only lock keeper in Cassiobury Park, occupying the cottage adjacent to Lock 75 - which is not the one in the above picture.
I am afraid I have not been able to locate a picture of the cottage at Lock 75, and as I have not walked this section do not know whether it is still there. Perhaps some other reader can help.
~~~~~~~~~
Only a few days after this was posted Nicole writes: I have just read the information you have found out and I am very grateful. Whilst it may not be my great grandfather's birthplace, it has brought about a nice ending in that I have been contacted by one of Emily's sister's descendents so I will be able to find more family!

There are web pages for Watford, Cassiobury and the Grand Junction Canal

---
Col Coleman (cco84286 @t bigpond.net.au) of Townsville, Queensland, Australia, writes: My maternal grandfather was Frederick Charles Norman, born at Watford approx 1861, his father was Charles Norman, Lock Keeper, Watford, Herts. I obtained this information from F C Norman's marriage certificate, dated 1/8/1899. he was married at Saint James Cathedral, Townsville, Queensland. I would like to make contact with any relatives of Charles Norman of Watford,

For information on earlier Norman lock keepers see
NORMAN, Lock Keeper, Marsworth, 19th Century
If you can add to the information given above tell me.