Col Coleman (cco84286 @t bigpond.net.au) of Townsville, Queensland, Australia, has seen Lock Cottages, Cassiobury Park, Watford, circa 1900 and writes: My maternal grandfather was Frederick Charles Norman, born at Watford approx 1861, his father was Charles Norman, Lock Keeper, Watford, Herts. I obtained this information from F C Norman's marriage certificate, dated 1/8/1899. he was married at Saint James Cathedral, Townsville, Queensland. I would like to make contact with any relatives of Charles Norman of Watford,
| | | | | |
| --- | --- | --- | --- | --- |
| Norman Norman | Head | 53 | Canal Lockkeeper | Aylesbury, Bucks |
| Cathering Norman | Wife | 50 | | Blisworth, Northants |
| Charles Norman | Son | 20 | Canal Labourer | Marsworth, Bucks |
| Ann Norman | Daughter | 18 | Strawplaiter | Marsworth, Bucks |
| Edward Corkett Norman | Illegitimate Son | 9 m | | Marsworth, Bucks |
This was not very helpful in determining whether he was living by the canal, possibly in a purpose built cottage, or not. Norman Norman appeared not to be listed in the 1861 census, and his son Charles had become a lock keeper at Watford (married with the start of a family) by this date, so that didn't help location where Norman Norman's cottage was at Marsworth.
Moors
Norman Norman
40
Lock Keeper
Catherine Norman
35
Charles Norman
10
Ann Norman
9
Stephen Norman
1
do
Charles Redhead
30
Lock Keeper
Cook's Wharf
Hugh Cook
45
Ind (and family)
The 1841 census was more helpful in that it showed that Norman Norman and his family were living at "Moors", as was another lock keeper, Charles Redhead, and the next property was called Cook's Wharf - which must have bordered the canal. The enumerator book states that it covers the part of Marsworth Parish to the east of the Grand Junction Canal, which rules out the collection of buildings, including the White Lion Inn, at Startops End - which are on the west of the canal and listed separately. As Norman Norman is the first name listed in the book it is likely that his house was at a "suitable" starting position alongside the canal.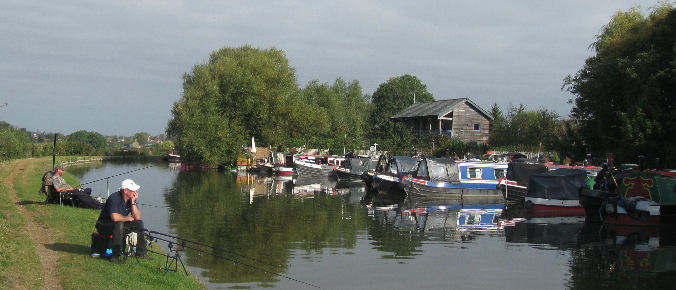 Cook's Wharf. Marsworth, September 2009
To make thing's simple, Cook's Wharf still exists, as a hamlet close to the point where the canal enters the parish of Pitstone, and a long way from Marsworth village proper.. Last year, when walking my dog, Franci, I took the above photograph of of some fishermen on the bank opposite the wharf, which is now a marina for canal boats.
This helps fix the route taken by the census enumerator. and hence locate Norman Norman's lock cottage. The enumerator started along the canal at the bridge near the Red Lion public house and walked east along the canal until he came to the double locks, now numbered 37 and 38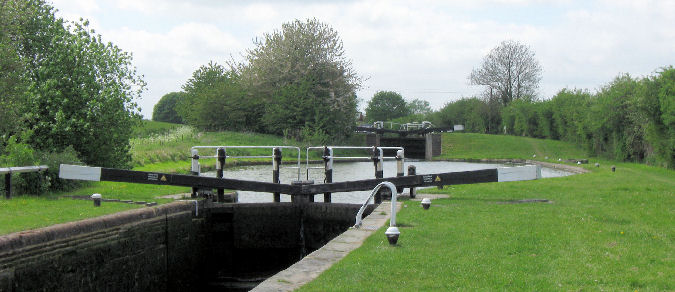 Double Locks No 37 and 38, east of Marsworth Village
These locks are in open countryside (The Moors?) and in 1841 he would have found lock cottages beside the canal in this otherwise isolated position. There would also be a pumping station - which would need attending, presumably by the lock keepers.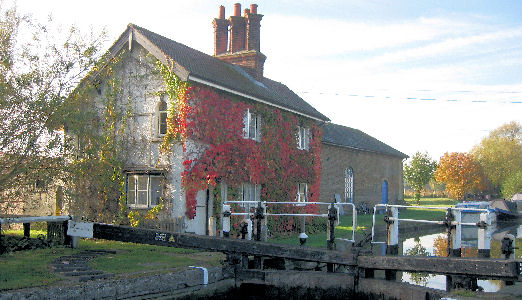 Lock Cottage and Pumping Station
The pumping station building is still there, but the current lock cottage (now a private house) was built in 1909, presumably replacing the earlier lock cottages that were occupied by Norman Norman and Charles Redhead.