Carolynn Langley
(
norfolk12 @t aol.com
) of Milton Keynes asks:
I am looking for the location of a house called Roona at Brown Springs, Potten End
.
Requests for private houses by name, unless they are of the size of
Ashridge House
or
Gaddesden Place
, can be difficult to answer, as the name may well change with the owner, and they are often not listed by name in census returns (latest available 1901) which is the latest period I am routinely covering in these questions. A search for
Welling
at
Potten End
in the
1901 census
was negative and to make matters worse Viviane J M Bryant's excellent book
A History of Potten End
is not indexed. More in hope than desperation I thumbed through the pages hoping to spot something ... Then, by luck, my eye alighted on the following:
Potten End, with its scattered cottagers and independent-minded villagers, could not have been an easy area for even a conscientious [school attendance] officer to control; some of the difficulties are illustrated by the elusive children of Harvey Welling, coachman to Mr MacLehose of Little Heath:

1900: July 13: Ethel Welling, aged 8, has only attended school 9 times out of 40 possible, since the beginning of the quarter. I have reported her several times to the Attendance Officer, but it appears to be of no use as she has been away two whole weeks since I last sent her name in. I can obtain no reason for her non-attendance. Her brother, aged 3½, has been to school twice out of 27 times.
Having details of a specific individual, with full name and age, allowed me to locate Ethel Welling, and her family in the 1901 census. They were listed under Great Gaddesden.
| | | | | |
| --- | --- | --- | --- | --- |
| Harvey Welling | Head | 34 | Gardener (not domestic) | Berkhamsted |
| Janet E Welling | Wife | 33 | | Harrington?, Cumberland |
| Ethel Welling | Daughter | 8 | Scholar | Derby, Derbyshire |
| Stanley Welling | Son | 4 | Scholar | Hemel Hempstead |
| Harvey Welling | Son | 1 | | Hemel Hempstead |
Using the approach described in Locating Census Addresses on Maps I looked at the route taken by the Great Gaddesden enumerator and found that it included a few houses that were in Potten End, but were probably part of the Great Gaddesden parish until the Potten End parish was created a few years earlier. Bearing in mind that the route taken by the census enumerator was "... thence to Potten End, commencing at Bird's Cottages, Blackwells Farm, ..." I checked the households listed by the census on this part of the route:
| | |
| --- | --- |
| Bird's Cottages | Hannah Waterstone |
| | Henry Shepherd |
| | Harvey Welling |
| | William Humphrey |
| | James Janes |
| | family left |
| | Frederick Cook |
| | Albert Foskett |
| Ashridge Cottages | Marcus Bedford |
| | Joseph Janes |
| | William Fenn |
| House and Bakehouse | Henry Clarke |
| The Fox Beer House | Henry Parsons |
| Potten End Farm | James Blackwell |
These appear to be properties along Water End Road backing on two small woods called Brown's Spring, apart from the farm, which is on the other side of the road.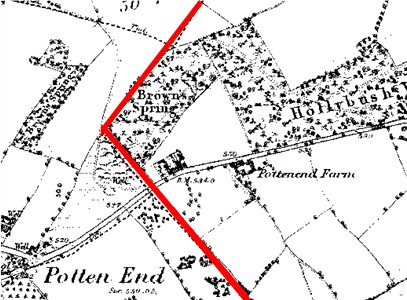 The above detail of the 1883 Ordnance survey, with the Great Gaddesden parish boundary highlighted, shows a cluster of buildings immediately to the south of Brown's Spring, with Potten End Farm to the east. The area of building at Brown's Spring seems rather small for the number of households listed in the census - but I happen to know that the baker's is still there - so the identification seems correct, and there are no obvious alternatives on any of the maps I have.. A check on the 1881 census show that the group of properties in the above table was all there in 1881 - so are clearly Victorian or earlier. If you visit the area they will be easy to distinguish from the many detached post WW1 houses and bungalows that now smother the area.
There is a web page for Potten End
If you can add to the information given above tell me.