Susan Needs (needs_uk @t hotmail.com) of Port Talbot, South Wales, writes: I have recently acquired a birth certificate from Hertfordshire of my great grandfather (Albert Beaven) who was born in Back Street, Ware on 23rd November 1852. His parents were John Beaven (grocer) and Sarah Anne Bannister. I have searched various sites for records of the marriage between his parents who are the named above people and am having great difficulty. I have also found Albert in the 1871 census onwards. I know he was married in June, 1878 in Hertford [registration district] to Harriet Amelia Chapman Pratt who came from Avebury, Wiltshire. Could you also give me some information on Back Street, Ware as I have no house number or any other information.
On the face of it it should be a simple task to find something further about Albert Beavan's parents. But it isn't, despite looking at the obvious name variants and in some cases searching for first name only. I checked the following.
Apart from Albert's birth certificate I found no evidence of the existence of John and Sarah Beaven, at least in Hertfordshire. However the following may be relevant:
Albert's father John Beaven said his occupation was a grocer and the 1851 census showed there was a major grocer's shop in Back Street: William Mail was a grocer who lived in Back Street with his wife, 5 children, 4 "Grocers Shopmen", a porter and two house servants. Could John Beavan have been working for him as a "Grocers Shopman" when Albert was born? (Herts Family History Society 1851 census index)
Familysearch shows that some variations - such as Bevan, do occur in Hertfordshire and I noted that 11 year old Ann Bevan was buried at Hertford All Saints on 28 November 1802 (Herts Family History Society Burial Index). This indicates that John could have been born in Hertfordshire as the surname was not unknown in the S.E. corner of the county.
There is one thing which needs checking which might help. That is the marriage certificate of Albert. There are a number of questions where it might give clues:
Does the information about Albert's father agree with the information on the birth certificate? (Errors can occur, and in some cases information supplied may be falsified.) And does it indicate whether his father had died? (If it says nothing this does not mean he was still alive.)
What was Albert doing to get married in the Hertford registration district? He had left the area to work (1871 census) and when married lived in Wiltshire (1881 etc censuses). Could there still be relatives in the area - and does his occupation or address give a clue to who they were?
Who were the witnesses - and could any be relatives?
What was Harriett Pratt doing in Hertfordshire? After all she was born in Wiltshire, and returned to Wiltshire when she was married. Could there be an earlier link between the Beaven or Bannister families and the Pratt family in Wiltshire?
These are somewhat long shots - but they might turn up something.
Unfortunately the search facilities in Ancestry do not (yet) allow one to search for all John Beaven (and variants) in England married to a Sarah and I am not hopeful that John Beaven left a will (but it might be worth checking).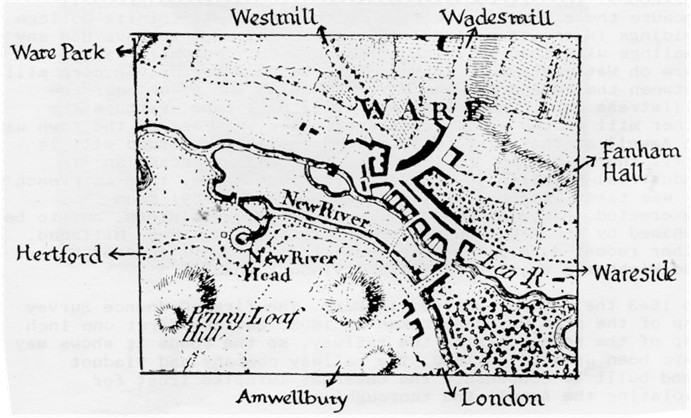 From The Streets of Ware (based on Dury & Andrews map of 1766)
You also asked about "Back Street" - which does not appear on modern maps. Originally there would have been a wide market place in the centre of Ware, and the houses backing onto the river were called Water Row, and on the other side Land Row. Almost certainly, in medieval times, if not earlier, some of the market stalls became permanent - and formed a Middle Row. The wider roadway between Land Row and Middle Row became the High Street, and the narrower space between Middle Row and Land Row became Back Street - now known as West Street and East Street.
If you can add to the information given above tell me.