A Topographical Map of Hertfordshire

By Andrew Dury & John Andrews

Published 1980,: ISBN 0-901354-17-1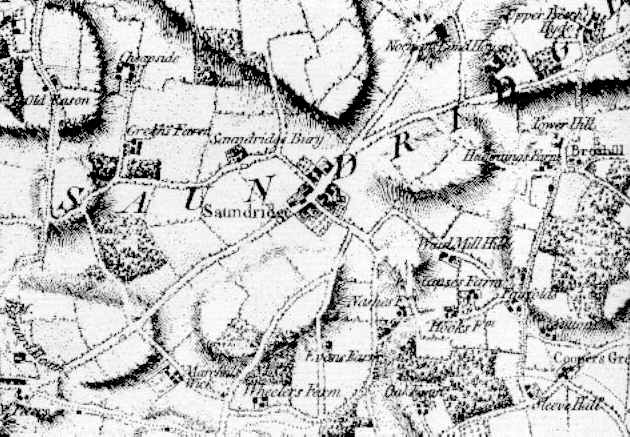 Detail of Dury's map showing the village of Sandridge
This book is a reprint of the map produced by Andrew Dury and John Andrews in 1766. The original was published in nine sheets at a scale of 1.95 inches to the mile - which is of sufficient scale to show farms as a collection of buildings - and while its accuracy is not as high as the later Ordnance Survey Maps it is the first county-wide large scale map. The book Printed Maps of Hertfordshire notes that the map included the words "N.B. The Western Part of the Country from Chipping Barnet along the North Road was Surveyed by John Andrews, the East Part by Andrew Dury." It points out that Dury was a London bookseller who probably provided most of the capital and arranged for the engraving and publication and it is likely that his part of the surveying was carried out by surveyors in his employ.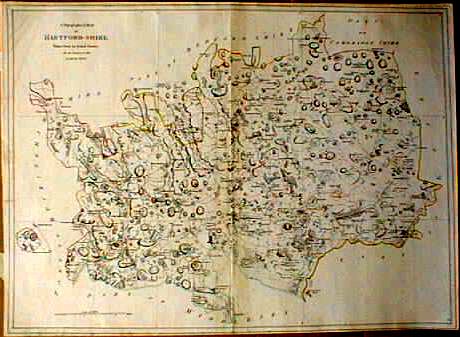 The map came with an index sheet to show how the other sheets fitted together and the above picture of this index sheet comes from the online catalogue of the Gillmark Gallery, 25 Parliament Square, Hertford, who priced it at £230 in March 2001.
The book also contains large scale maps of Hertford and St Albans by Andrews & Wren.
For the publishing history of this map see Printed Maps of Hertfordshire
========================================
The Hertfordshire Record Society have published a higher quality reproduction in 2005, which is to be recommended..
For another detail see Totteridge.
Page updated December 2008