Catherine Kaye (catkalozoiz @t hotmail.com) of Bricket Wood writes: I am trying to find out some information regarding my Grandfather Mr George Leslie Guy Card. He was admitted to Napsbury hospital between May 1930 to May 1935 and then moved to Shenley in July 1935 till he died in May 1949. I have discovered he was in the first world war and was a Royal Corps of Signals, his rank was as a "sapper" however, I am unsure as to what exactly this means?? I have also found out that his relatives were unable to arrange a funeral and that the RIA made all relevant arrangements. I would really like to find out where he was buried. I would also like to know exactly what was wrong with him and what the symptoms of his illness were. I would also like to know any information regarding his parents - the only information I have is that they were divorced.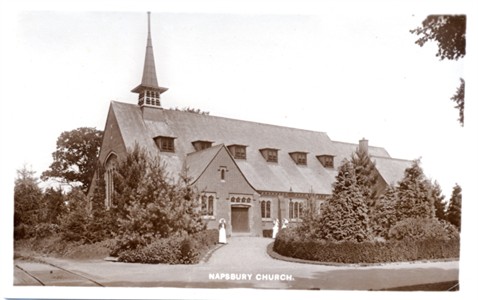 The Church, Napsbury Hospital - undated postcard
Normally I only answer questions about people associated with Hertfordshire before about 1901 but I can give a few quick pointers.
There is a web page on this site called The Long Stay Hospitals of the St Albans area which gives a brief description of the various mental hospitals in the area. It includes a link to a site which gives details of which hospital records survive and where they can be found. Napsbury and Shenley were for patients from Middlesex and if relevant records survive they may be in the London Metropolitan Archives.
If he died at Napsbury he was probably buried in the hospital cemetery - and for most mental hospitals this would mean no memorial stone or permanent indication of the grave. As to his illness, you should try and contact any elderly relative who knew him although at the time there was so much stigma that people who were in a psychiatric hospital were just never mentioned "in polite society".
A "sap" is a military excavation, such as a trench or tunnel, and the First World War involved the opposing armies building a vast network of trenches along the Western Front. A "sapper" was a soldier who made the "saps" - and was also used as an alternative to "private" in the Royal Engineers.
To find out more about George Leslie Guy Card and his parents, have a look at the Tutorial, which explains how you can do it yourself. If you use Ancestry and look at the 1901 census you will find George L G Card living with his parents and a younger sister, living in Southwark.
October 2010
Connie Hills (conhills @t aol.com) of Tenterden, Kent, writes George Leslie Guy Card was my uncle. George's parents were my grandparents and I know the history. Also I know the cause of death etc. I have tried contacting Catherine (the enquirer) via the email given but no luck. I would love to get in touch and share information.
I am posting your message here in case Catherine sees it - or someone who knows Catherine can pass the message on.
If you can add to the information given above tell me.