September, 2007
Linda Lancaster (L710L @t fsmail.net) from Pembrokeshire wrote: I have just received from GRO a copy of John Steers' (my great grandfather) death certificate which shows that he died in Hill End Hospital August 1932. Until I received this there was very little mention of him and no known photos - even though there are photos of his wife and other family members. He was born in 1863 and I was able to track him through the census up to 1901 when he was living at Leverstock Green with his wife Lillie and my grandfather, born 1899. There were 3 children born after this census. ... I was wondering if you had any suggestions as to how I could find where he was buried - other family members are in the churchyard at Leverstock Green but, again, no mention of John Steers.
This is not the first enquiry I have had on the subject of burials of Hill End Patients and following an exchange of emails Linda got the following message from Rosemary Shewry, St Albans' Cemeteries Manager: I have searched the cemetery records for your great grandfather John Steers who died in August 1932. He is not buried in Hatfield Road Cemetery St Albans (the only Council cemetery open at that time). I am aware that Hill End Hospital had it's own cemetery in Hill End Lane but little remains to see. The hospital land is now administered by Highfield Trust (01727 847242) who may be able to find the records of the burials in the cemetery. I have recently been contacted by HALS about Hill End Cemetery (there have been other enquiries) and they also may be able to assist you.
Quite independently Jim Robson (james.robson7@ntlworld.com) wrote: I noticed a comment on another page ref patients without known relatives being buried. In Hill End lane there is still a field which was the Hillend Asylum cemetery. The last time I visited it there was no sign of any stones or markers. Possibly the bodies were moved?
On virtually the same day I purchased a vast large scale map of St Albans from about 1920 - and this shows the Cemetery: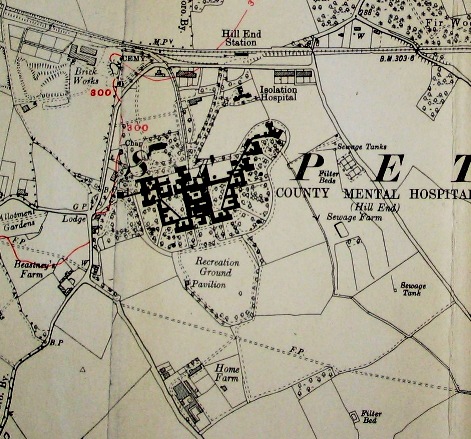 Detail from 6" to 1 Mile Ordnance Survey Map circa 1920.
The vast County Mental Hospital was founded in 1899 and a brick works was opened adjacent to the site to provide the bricks. The Chapel was just north of the main building, and the hospital farm is to the south.
The cemetery was a small triangle of land between Hill End Lane, the brick works, and the railway line (now dismantled.
The satellite view originally attached to this page showed that the area of the cemetery is still undeveloped. However it was a live link to Google and a later view had been substituted.

There is no sign of any tombstones - but this is not surprising because of the attitudes to mental illness at the time. Patients who died in the hospital would normally have been treated as paupers and placed in an unmarked grave. If a family wanted a stone (and could afford it) they would make sure that the body was buried elsewhere.
The key question is whether the burial register/map survives and if so where it is.
October, 2007
At the end of October I was in St Albans with some spare time and visited the site of the cemetery (I forgot my camera so the photographs were taken a week later). Since the 1920's map was printed the railway line has been closed and a public footpath has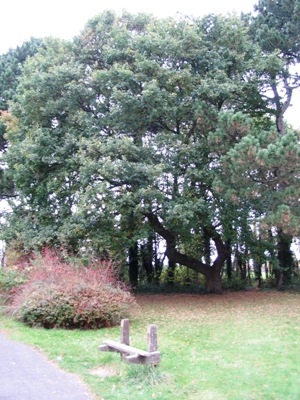 been constructed across the area to link up with the decommissioned railway line. A notice board has been erected - presumably in connection with the public footpath. There are two vandalized seats beside the path.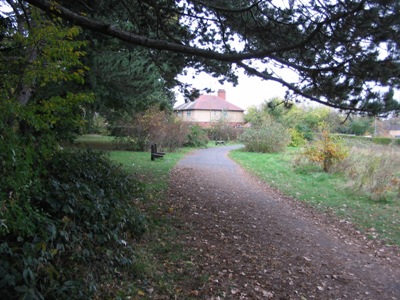 The road boundary has a thick and comparatively modern well trimmed hedge. The other two sides are enclosed by tall conifers and there is one large oak tree (pictured above) on the railway line side.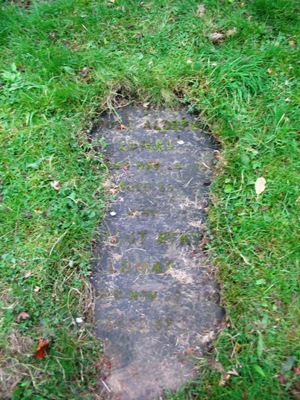 A small area is mown but most of the rest of the area is rough grass, with a few clumps of overgrown ornamental shrubs and several areas of brambles. This has not been cut for years and is notable for the large number of young oak trees of various ages up to perhaps 10 years (i.e. since the closure of the hospital). If left untouched the area will naturally turn into oak woodland - and perhaps a grove of massive oak trees would provide a wonderful living memorial to the many poor individuals who are buried there.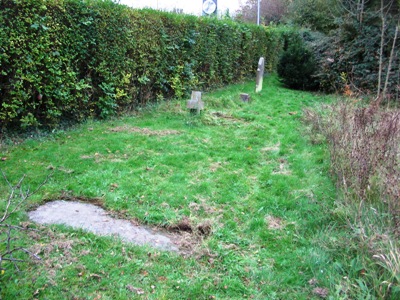 Towards the southern corner there were a few gravestones in a line against the road hedge.
The most interesting stone is that of Emily Evans, aged 55. The 1901 census was conducted on the night of March 31st - and she is recorded as a patient in the Hertfordshire County Lunatic Asylum. She died on April 1 and the stone carried the words "Released from sorrow and pain to rest forever with the Lord". (Her burial is recorded, with others, in the asylum burial register, currently at HALS. - See Hertfordshire Genealogy News, October 2011.)
Two other stones carry the surname Lomas. One stone carried the name of Samuel Adrian Lomas - who died on the 24th November 1901 aged 63 The other is harder to read (due to damage to the stone) but the name is probably Muel [Samuel?] Alderman Lom** aged 63 date unclear. The census records two patients: Saml Aldern Lomas (mis-transcribed as Lamt Aldern Lomas on Ancestry), aged 63, no occupation, and Murcot A Lomas, aged 61, no occupation.
It would seem likely that the stones represent some of the earliest patient deaths at Hill End, which opened in 1899 and expanded significantly in 1908. Perhaps the original intention was to record all burials with some kind of memorial marker (there may be older stones in the southern corner which is lost under brambles, etc.) - until they realised what it would cost. Minutes of management committee meetings are held at HALS and it would be interesting to see if the subject of the costs of burial were an issue in the early days. It is possible that burials continued there until cremation became an easier way of disposing of an unclaimed pauper's body - which probably means until sometime after Garston Crematorium opened in the 1960s. However there may have been a change of burial policy when responsibility for running the asylum transferred from the County Council to the National Health Service in 1948. Does anyone have recollections of an actual interment - and the approximate date?
November, 2007
My regular google news search for mental health issues in Hertfordshire came up with the following report on This is Hertfordshire. (I reproduce the text below, in addition to giving a link, because I am unsure of the archive arrangements on the This is Hertfordshire web site. You will need to look at the report to see the pictures that accompanied it, plus any comments added by members of the public.)
Could waste ground hold graves of former mental patients?
By Alex Lewis
An overgrown and untended patch of waste ground in St Albans appears to contain the unmarked graves of hundreds, perhaps thousands, of former mental patients.
Pamela Harding, who travelled from Wales on Monday in a search for the remains of her grandmother, Bertha Day, was horrified by the poor state of the former Hill End Hospital cemetery. Only a handful of gravestones are visible, and the land is overgrown with weeds and besmirched by discarded beer cans.
She said: "I feel awful - Bertha had an awful life, and she was just dumped in the hospital for years. Now it seems she has been dumped on since. It is disgusting. I wanted to put some flowers on her grave, but it is just a wilderness. I am sure other people will want to know where their relatives are. There should be a plan somewhere. I am sure she is there somewhere, but where?"
The former cemetery off Hill End Road, opposite Russet Drive, is extremely difficult to find, and a sign which presumably once told visitors about the many former patients and staff buried there is blank. Mrs Harding saw little sign the site was cared for in any way, and even a seat is broken.
The Highfield Park Trust, which took over the land when most of the hospital site was developed for housing in the 1990's, claims most of the graves had already been removed. But according to the Hertfordshire Partnership Trust, which runs local mental health services, most of the graves were marked not by headstones but by small stone plaques, which have become overgrown.
Director of the Highfield Park Trust John Ely told the Review: "Former patients and members of staff were buried there from about 1900. When we took over the area, we found six gravestones in one corner. We have not come across any marker plaques. The ground was very disturbed, and my theory is that the graves were exhumed, but we have not been able to prove that."
But the Home Office has told Mrs Harding that no licence to authorise exhumations was ever issued. She has also contacted St Albans Museum and the county council archive service in unsuccessful requests for more information.
Mrs Harding's grandmother Bertha Day lived in Ware with her husband and four children, but was committed to Hill End in 1921, living there until her death in 1933. It seems her husband, who may have caused her insanity by giving her syphilis, refused to acknowledge her existence, and Mrs Harding's mother grew up believing she had died in a road accident.
Mrs Harding, who lives near Welshpool, Powys, hopes anyone with information will contact her at kishamba @t talktalk.net or on 01938 556230.
A Declaration of Interest.
1. My Great Grandfather, Jacob Reynolds, Alderman on Hertfordshire County Council, was on the asylum management committee in the early 1900s.
2. My daughter Lucy killed herself while on home leave from Hill End in 1985. She was not buried in the Hill End cemetery.
3. As a member of the N.W. Herts Community Health Council I was involved in the resettlement of patients when Hill End closed.
4. I am currently a Governor of the Hertfordshire Partnership Foundation NHS Trust, which provides mental health services in the County.
Richard Upton, of the Hertfordshire Partnership Foundation Trust emailed to say that the hospital records held at HALS include a Register of Burials (May 1899-Feb 1948: ref: Off Acc 1025).
This register would cover the period the Asylum was in the care of the County Council, prior to its transfer to the NHS.
Pamela Harding (kishamba @t talktalk.net) writes: I have been told by Martin Booty who worked at Hill End hospital that the last burial was in 1963 and any deaths after that were cremated and their ashes scattered.
This suggests that there should be some NHS records post 1948.
---
The following description of Hill End Hospital comes from the Hospital Records Data Base at the National Archives, which also gives details of surviving records:
From 1860 mental patients from Hertfordshire were accommodated at the Three Counties Asylum (shared by Hertfordshire, Bedfordshire, and Huntingdonshire) In the early 1890's Hertfordshire County Council decided that new accommodation was required and 185 acres of farmland at Hill End on the outskirts of St Albans was purchased with a view to building an asylum for Hertfordshire patients. A visiting committee was later appointed to oversee the construction of the asylum and run it when it was built. The first patients were admitted to the asylum in April 1899.

In 1931 the hospital had a nominal capacity of 952 beds. Private patients were charged between £1 5s and £3 3s per week, and there was a separate country house for paying women patients. During World War II it served as a military hospital run by St Bartholomew's, and after the War St Bartholomew's continued to control about one quarter of the beds - for acute patients - the rest of the hospital being devoted to mental patients. This arrangement continued until c.1962.

The Hospital closed circa 1997
Stuart Walker (pawprint.14 @t btinternet.com) of Ruislip, Middlesex, was a patient in the St Bartholomew's section of the hospital and writes: Did you know that after the second world war many injured air men were operated on and given plastic surgery at Hill End? I was a patient in the children's ward and remember meeting many of these very brave men.
One thing one can be certain about is that no military patients who died at the hospital would have been buried in the graveyard associated with the mental hospital, as they would have received a standard military burial with a War Graves Commission gravestone - and there are no such stones present.
---
What should be done?
It is clear that the recent interest in the burial ground is causing people to think more about its future management. Effective long term management of graveyards is a problem everywhere and I have therefore posted a page on The Condition of Hertfordshire Graveyards so that the situation at Hill End can be put into context. The graves of well-to-do people who were buried with expensive stones in graveyards associated with churches or chapels are frequently treated no better than those of the poor people buried in unmarked graves in the isolated Hill End plot.
In my view a well-managed nature reserve, with a respectful sign giving details of its history, and repaired seats beside the footpath, is the best way forward. When my daughter Lucy was in Hill End she frequently wandered out of the ward and sat on one of the many seats that were provided in the extensive grounds. She was able to relax and forget her troubles watching the squirrels and birds. Thousands of other mental patients will have done the same over the years, including some whose remains lie in the ground at this spot. I cannot imagine a better memorial to the lost souls of Hill End than a quiet place where one can sit under a massive oak tree and contemplate the wonders of nature and forget the sins of the world.
Chris, November 2007
---
Matthew, of St Albans, asked if the burial ground was adequate for the number of patients. I replied that I could see no reason why anyone who was buried at Hill End would be buried anywhere but in the burial ground. The ground is quite big, and in many church graveyards - before people started putting up permanent markers - the same spot of land would be used again and again - with several burials in the same grave. For instance it is very common for husband and wife to go in the same grave, sometimes with children as well. I suspect that normally only unclaimed pauper burials would have been buried at Hill End - and few, if any of the private patients would have been laid to rest there. However the burial book at Hertford should show how many burials there were, at least up to 1948, and may even include the plot numbers, which would confirm whether they were all in the same area, as a different areas would have needed a different set of plot numbers.
Matthew also asked about the area between the Chapel and the burial ground, as he had seen a photograph showing a number of poles in that area. I pointed out that Hill End was a farm as well as an asylum, and undoubtedly some of the patients worked the land and grew much of the food for the other patients. I don't know what crops were grown, but the posts may have been for crops such as peas and beans, or to support young fruit trees, or possibly for other specialist crops. Almost certainly the reason my Great Grandfather Jacob Reynolds was on the management committee 100 years ago was that the was a significant local farmer who would have been able to advise on the running of the farm. There may be some records of the crops grown in the records at Hertford.

Another possibility was that the hospital also had a large laundry (I am not sure but I think it ran a commercial service as well as catering for the patients) - and there could well have been a field covered with posts to support the many washing lines that would have been needed before the days of tumble driers.
---------
Richard writes to say that the official name of the plot is the "Hill End Garden of Rest", and that he understands that something is to be done about the seats and notice board.
---
Hill End Garden of Rest
Plans are underway and if approved the ground will be levelled so it is safe to walk on and wildflowers seeded. It will not be able to identify and restore the individual graves but row lines will be marked. There will also be a plan showing the layout of the former cemetery and so relatives will have – once they have found the plot number from County Archives - a reasonably accurate idea of where relatives were buried. A central memorial feature is planned at which relatives can lay flowers.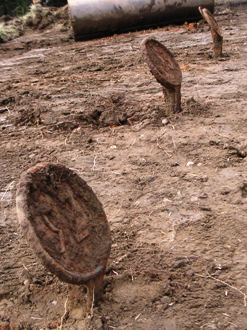 I have written a letter in support of the proposals - Click here to see letter.
Richard sent a copy of the work in progress taken several months ago by John Ely of the Highfield Park Trust, which shows the grave markers that have been discovered.
The burial records prior to the formation of the National Health Service in 1948 are at HALS and identify numbered plots. It would seem that each plot contains at least six burials.
Unfortunately the NHS records from 1948 until the deceased were cremated in the 1960's cannot be found.
I visited the site in mid-August and found that the site was much as it was in October 2007, apart from:
the top soil had been removed in a small area (pictured above) as part of an investigation to find some markers.

A paper notice has been placed on the notice board identifying it as the Hill End Garden of Rest, with a contact number and the Highfield Park Trust web site address www.highfieldparktrust.co.uk

The blackberries were ripe!
---
For more information on Hill End Hospital and the other long
stay hospitals in the area see Out of Sight, Out of Mind.
---
October 2017
The Google satellite view shows the Hill End Garden of Rest as it is in 2017 showing that a rectangular garden area has been laid out close to the footpath which links with the former railway line (now itself a footpath and cycle way). The other picture shows the street view looking along the footpath.
If you can add to the information given above tell me.