Vivien Concannon (vivien_concannon @t yahoo.co.uk) of Hemel Hempstead writes: Am researching Mew family and notice that the above family are living in Wards End Lane, Wigginton. Can you advise where this would be as I can find no reference to it on maps?
The guidelines Locating Census Addresses on Maps shows ways in which the location of the home of your ancestor can sometimes be identified.
If you look at the 1881 census returns for Wigginton you will find that the enumerator simply described the area covered as "The Whole of the Civil Parish of Wigginton" which is not very helpful.
However a look at the detailed returns shows a clear route. He started at Fox Road, then visited the Vicarage, then a number of households in "Wards End Lane" including the Mew family in the last one. Next comes the School House, followed by Church Row. He then passed the Brewhouse public house(see picture on the Wigginton page)
If you now look at a modern online map (such as Google Maps) you will find that Fox Road is still there and leads into Vicarage Road. Vicarage Road ends at a cross roads with a Church (if you look at the satellite image). But the census evidence suggests that the Mew family lived in a house somewhere between Fox Road and the Church - so we appear to be in the right area.
Switching to the large scale 1884 map of Wigginton available on Old Maps (see reduced extract below) you will find it marks Fox Cottages (on what modern maps call Fox Road) and continuing east you come to the Vicarage to the south of an unnamed length of road. East of the Vicarage is a School for boys and girls. This is to the south west of a crossroad junction, with St Bartholomew's Church on the north east corner - the road continuing as Church Row.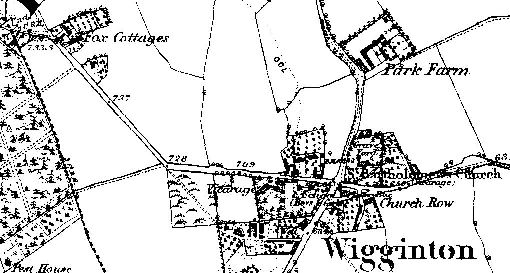 This suggests that Wards End Road was the unnamed road which ran passed the Vicarage in 1884, and which is called Vicarage Road in 2008. The Mew's house would appear to be the last house (apart from the School House) at the Church end. There are clearly houses on the north side of the road, but the map is not clear enough (at least in its digitised form) to tell whether there were houses on the south side or whether the black blobs represent trees.
If you can add to the information given above tell me.