`
| | | | | |
| --- | --- | --- | --- | --- |
| | | Pupils at Thomason House, Haileybury, Summer 1914 | | |
| | | |
| --- | --- | --- |
| | 15 | James Stuart Carnegie Alexander |
| | 12 | Stephen Ernest Axten |
| | 42 | Harold Schofield Barrand |
| | 28 | Wilfred Eustace Buller Bateman |
| | 27 | Harold Richard Bettinson |
| | 11 | Richard Forde Bourne |
| | 43 | Henry Lambton Carr |
| | 47 | Oswald Emerson Chapman |
| | 9 | Alan St. George Colthurst |
| | 13 | Herbert Neville Colthurst |
| | 46 | Cyril Conner |
| | 5 | Marc Albert Pierre Diamant |
| | 14 | Vivian Martin Harvey |
| | 39 | Denis John Hawkins |
| | 36 | Harold James Holbein Hendley |
| | 22 | Patrick McLeod Innes |
| | 30 | Arthur Cyril Chilton Johnson |
| | 21 | Theodore Garnett Jones |
| | 33 | David Marshall Lang |
| | 4 | Edward George Langstaff |
| | 35 | Arthur Augustus Lee (House Master, 1899-1919) |
| | 29 | Hugh Nugent Leveson-Gower |
| | 7 | George Lionel Spencer Lightfoot [Wrong initials - P D] |
| | 24 | Arthur Lord |
| | 10 | Arthur Lindsay Lyell |
| | 26 | Walter Howden Lyell |
| | 18 | Christopher Arthur Ranken McRae |
| | 38 | Brian Harford Morrison |
| | 32 | Fredericl Lionel Mullis |
| | 40 | Gerard Hamlyn Noel |
| | 2 | Edwin Kenneth Page |
| | 6 | Allan Thomas George Cumberland Peachey [Wrong initials - D H] |
| | 45 | Arthur Lunniss Powell |
| | 8 | Robert Edward Wychenford Sandall [Wrong initials R S] |
| | 17 | Thomas Bernard Washbourn Sandall [Wrong initials R K] |
| | 25 | George Norman Duff Sinclair |
| | 44 | George Laurence Tatham |
| | 37 | Terence Howard Tatham |
| | 1 | Dennis Trevelyan |
| | 19 | Alexander Lindsay Turnbull |
| | 23 | Edmund Robert Bruce Upton |
| | 3 | Arthur James Boileau Vincent [Wrong initials D E] |
| | 34 | Herbert Basil Vincent |
| | 41 | Arthur Christopher Fenwick Warner |
| | 16 | Cecil Arthur Winch |
| | 20 | Andrew Barkworth Wright [? H R W Rite ?] |
| | 31 | Frederick Walter Young |

Click picture for large version without numbers
Identifying the pupils: The picture has the names of the pupils written at the bottom and, making allowances for handwriting, it has been possible to match all surnames with the 8th edition of the Haileybury Register . In a few cases the initials on do not match the full name given in the register - and where this has happened it has been noted.
Dating the picture: All the pupils where there is no uncertainty in initials were there for the Summer 1914 term with one exception. The exception is Terence Howard Tatham, who joined in the Autumn term. However his brother was already at the school and he may have joined towards the end of the summer term.
Photographer: Soame, Oxford. - The image is of high quality as this detail shows: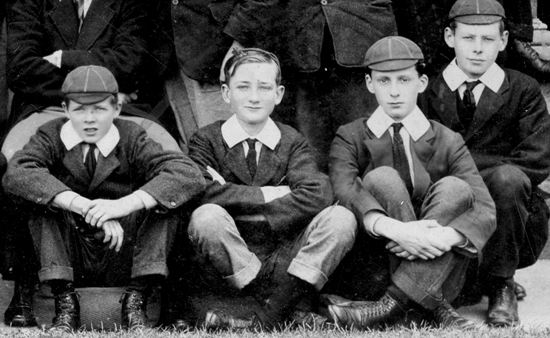 A. L. Powell, C. Conner, D. E. Chapman, T. P. Tatham
Hertfordshire Pupils - Details from Register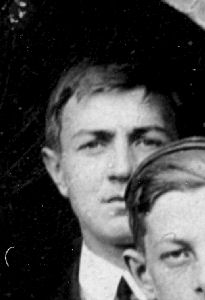 Edwin Kenneth Page. b. 23 Jan. 98, son of G. E. Page, Baldock. m. 21, Kate, d. of G. H. Arthur, Barbados. Th. 12.2-15.2. Vl. R.M.A. J5. Capt. R.A. France 16-18. M.C. 17. p.s.c. 29. Bt.-Maj. 35. G.S.O. 2nd Grade at W.O. 36. B.E.F. 40. D.S.O. 45. Brig. 46. O.B.E. 46. Comdr. of Carribean Area 48-51. C.B. E. 51. Ret. 52. Club: Army and Navy. Address: Brig. E. K. Page, C.B.E., D.S.O., M.C., Ashley, West Stour, Gillingham, Dorset, or c/o Lloyds Bank, R. Section.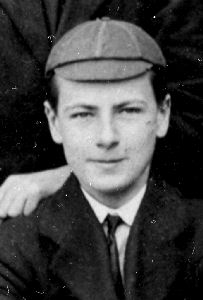 Brian Harford Morrison, b 31 October, 1898, s. of G. Morrison, St Albans. Thomason House 1913.3 to 1915.3. R.M.C,. Lt. 22nd Punjabis. Died at Quetta of wounds received on Afgan Frontier, 9 June, 1919.