ASHBY, Watford Area, Early 19th century

March, 2011
Nick Ashby (n-ashby @t o2.co.uk) of Eastcote, Middlesex, writes: I am trying to locate the parents of a William Ashby, indicated dob 1810 on the 1851 Census (in High St Watford) and 1861 Census (in Watford Fields), occupation brewers drayman/labourer. He married Ann Bates in Rickmansworth on the 31 May 1830 (Ann Bates born Rickmansworth) I have a copy of marriage details from church book, had 6 children, have details. Have checked microfilm baptisms 15 years either side, for Watford & Bushey. Tried LDS record's and Ancestry/Genes Reunited,

On request he also sent the following image of the marriage record from the parish of Rickmansworth.
Because civil registration only started in 1837, and the first census was in 1841 identifying your ancestors becomes much harder before these dates, records can be less informative, and some no longer exist. Some of the reasons are summarised in Where is my ancestor's baptism before 1837? and some of the solutions are given in Where to look before 1837 when the Parish Registers don't help.
In this case there is a problem in that Ashby is a comparatively common name in South West Hertfordshire - see Hertfordshire Militia Ballot Lists (possibly spilling over into Bucks and Middlesex). One of the common Christian names was William. Simply cherry picking a William Ashby that looked as if he might be the one (which is what a lot of beginners do) can end up following a false trails - See Right Name, Wrong Body. What you effectively need to do is to try and reconstruct families rather than looking for single names, collecting as much possibly relevant information along the way.
Let us start with William and Ann Ashby's family born after the wedding in 1830, using census data and baptism data from familysearch. In the days before contraception one could expect the first child to appear reasonably quickly, and the rest at about 2 year intervals. I noted the following children living with their parents:
| | | | | | | |
| --- | --- | --- | --- | --- | --- | --- |
| Name | Baptised | at | 1841 | 1851 | 1861 | Notes |
| Ann Maria | 24 Jun 1832 | Watford St Mary | ü[Mary Ann] | ?[Mrs Ann Norris] | | Was she Mrs Norris?? |
| Jane | 14 Sept 1834 | Bushey | ü | | | |
| Sarah | 4 Sept 1836 | Bushey | | | | Buried at Bushey 19 Feb 1837, aged 6 months |
| William | 15 April 1838 | Bushey | ü | ü | | |
| Frances | 30 Aug 1840 | Bushey | ü | ü | | |
| Robert | 11 Dec 1842 | Bushey | | ü | | |
| James | 9 Feb 1845 | Bushey | | ü | ü | |
The only uncertainty surrounds Ann Maria - who I assume was the Mary Ann Ashby in the 1841 census and Mrs Ann Norris, wife of William Norris, son-in-law. The burial information comes from the Herts Burial Index for 1800-1850.
Names run in families (see The Inheritance of Single Christian Names) and in the above list we see the first girl was called Ann (after her mother) and the first boy was called William after his father. Names such as Mary, Jane and Sarah were so common that they do not serve as a good signpost, but Robert, James and Frances are less common - but may have been inherited from either the Ashby or Bates family (which therefore also needs investigating).
The fact that the children were baptised in the Church of England is helpful, as this increases the odds that their parents' baptisms will turn up in a parish register. The baptismal registers will provide at least the father's occupation, and perhaps a more specific address than "Bushey". The four youngest children should all have had their births registered - which can provide additional information, and confirm what is known from other sources.
So what do we know about William Ashby from the census returns:
| | | | | |
| --- | --- | --- | --- | --- |
| Census | Address | Age | Occupation | Born |
| 1841 | Bushey | 25-29 | Grocer | Hertfordshire |
| 1851 | High Street, Watford | 41 | Brewers Drayman | Herts, Common? Wood, Watford |
| 1861 | Watford Fields | 51 | Brewer's Labourer | Herts, Watford |
| 1871 | Queen Street, Watford | 61 | Pork Butcher (master) | Herts, Watford |
There are several points to be noted.
The 1839 Pigot's Directory lists William Ashby as a Shopkeeper in Bushey, while the 1866 Post Office Directory lists him as a Shopkeeper in Queen Street, Watford. (To be listed you had to be the owner of the business).
The career progress is unusual - and somewhat surprising for someone who apparently could not write his own name at the time he was married in 1830. On the other hand a grocer who had difficulty with keeping records could well have not been successful - and ended up labouring. It should be noted that he would have had difficulty in setting up as a shopkeeper (at least significant enough to be listed in Pigot's directory) without financial or family support. When we trace his parents we need to look at the occupations and/or social status of his parents and siblings. One possibility is that he was apprenticed to a grocer who died leaving him in charge of the business.
Changes in his occupation, as recorded in his children's baptisms and birth registrations may clarify the situation, and should be investigated.

The place of birth entry given in 1851 is very unusual. The household form (which hasn't survived) would have recorded something like "Common Wood" and this was copied into the enumerator's book. The place name should be a town or village - and on checking the book the entry was deleted and Watford written instead. Such corrections were very unusual - as the place name was not needed for statistical purposes. The original entry could prove very useful in trying down a specific place of birth once we know more about William's origins.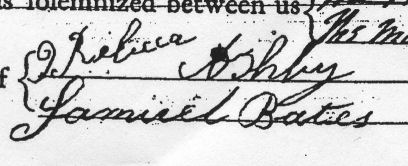 The marriage register provided a very important clue. While William Ashby and Ann Bates could not sign their names there are signatures for both witnesses - one of whom was a Rebecca Ashby. Rebecca started with a poorly formed letter and then wrote "Rebcca" in an unsteady hand which did not follow the line. Someone else then added the name "Ashby." It would appear that Rebecca could not read or write but had learnt enough to write part of her own name as a signature. It is very likely that Rebecca was a close relative, who may have been invited to be a witness because she could write her own name.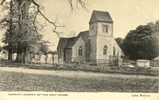 So who was Rebecca? Familysearch records that a Rebekah Ashby was baptised on 22 Oct 1805 at Sarratt, the daughter of William and Elizabeth Ashby. William and Elizabeth had seven children baptised in Sarratt. They were James (1797), Mary (1801), Thomas (1803), Rebekah (1805), Charlotte (1807), William (1810) and Robert (1812).
This is very interesting. We have a William Ashby born in 1810 - which fits "our" William except for the place of birth, and he had brothers called James and Robert - indicating some less common Christian names.
Before we shout "Eureka" we need to look to see what other evidence might be easily available.
Let us start by looking at Rebecca. She married James Coker on 13 Oct 1834 at Kings Langley, and a look at the marriage register could allow a signature comparison - which would confirm we have the same Rebecca. Checking her out in the censuses is interesting - in 1851 she is said to be born at Bovingdon (ditto her husband's place of birth) and her husband was a labourer - in 1861 she was said to be born in Watford and her husband was a Brewer's drayman - in 1871 she was a widow and she recorded that she was born at Common Wood.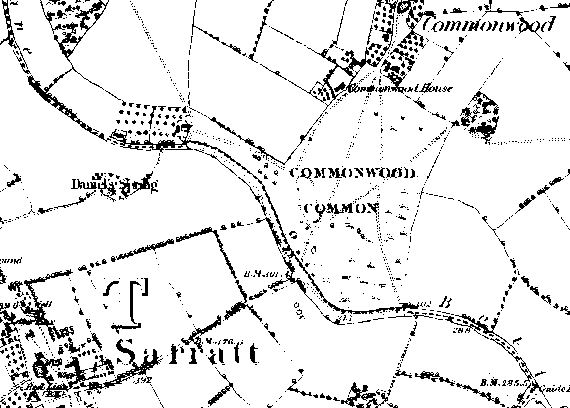 From 1883 large scale OS Map
The 1871 entry is a real clincher - In 1871, as head of household, Rebecca would have been responsible for recording her place of birth when in previous census her husband would have been the official source of information. So in 1871 she said "Common Wood" which is a hamlet to the north-east of the centre of Sarratt village, Even more interestingly Commonwood is recorded as being part of the parish of Watford in The Place Names of Hertfordshire as the place Common Wood Corner was used to describe the boundaries of Watford Parish in 1606. In practice families living there are far more likely to us the church as Sarratt than track all the way to Watford church - and I suspect that baptisms in the Sarratt register will give the parent's address as Common Wood.
"Common Wood" is what William Ashby had first said in 1851 - but which had been deleted. There can be no doubt that Rebecca was William's sister and his parents were William and Elizabeth Ashby, of Commonwood, near Sarratt
If you can add to the information given above tell me.